Announcing #MogoMonday: a chance at $1,000!

To celebrate reaching over 900,000 MogoMembers, we're excited to kick off the #MogoMonday money contest — giving our Members a whole bunch of prizes worth up to $1,000 every two weeks!1



Every second Monday starting September 23, we'll randomly select #MogoMonday winners from all participating Members. Wondering how to participate? It's very, very easy. Maybe too easy:
Have the Mogo app downloaded
Apple users: make sure push notifications are turned on in the Mogo app. Android users: go to your phone settings (not your Mogo app settings) to check that push notifications from Mogo are active.
Log in to the main dashboard of the Mogo app after the contest start date of September 11
Watch for a "winning" notification then take a screenshot of it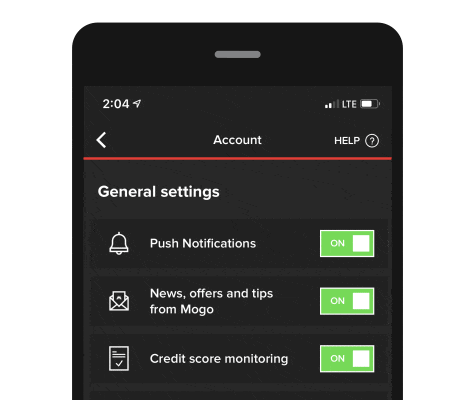 Seriously, that's all it takes to participate in every #MogoMonday!
It's all about celebrating you guys, our Members, with an easy-to-enter chance at 7 prizes every 2 weeks, ranging from $100 up to $1000.


So, what happens if you win?

Keep in mind, if you are selected as a winner, you'll need to take a few steps within a 3-day time window in order to receive your prize. Don't worry, they're also very, very easy and we'll email you the details if you've won.



Basically, you'll just need to share a screenshot of your winning notification on your Instagram or Twitter and tag Mogo (@MogoMoney). But until then, just keep an eye out on your notifications from Mogo every second Monday!


Winners To Date
September 23 Draw:
$1000 prize - Cindy R.
$500 prize - Rhivie C.
$100 prize - Shawna W.
October 7 Draw:
$1000 prize - Akshar P.
$500 prize - Kendyll M.
$100 prizes - Kyla E., Chariss F.
October 21 Draw:
$100 prize - Jennifer R.
November 4 Draw:
$1,000 prize - Warner F.
$100 prize - Mathusha T.
1 - No purchase necessary. The Mogo Monday Contest starts September 11, 2019 and runs until 11:59:59PM PST on December 14, 2019. Draws will occur on a bi-weekly basis starting on September 23, 2019. This contest is open to new and existing MogoMembers who meet the contest Eligibility criteria (including passing Mogo's know your client verification process), download the Mogo app (only available on iOS or Android) and log in to their Mogo app after September 11, 2019 (and before the applicable draw deadline) and have push notifications enabled in their MogoApp. Mogo will send each potential winner a push notification to their mobile device through the Mogo app. Potential winners must take a screenshot of this push notification and share it on Instagram or Twitter and tag @mogomoney. Potential winners must be eligible to activate MogoCrypto and answer a skill testing question. There are 7 prizes per draw date with a total value of $2,000. Each prize will be loaded to the winner's MogoCrypto Account and subject to a one-week withdraw hold period after which the winner may withdraw the prize in cash. See Official Rules & Regulations for full contest details.