Safety First! How to Help Yourself Avoid Bitcoin Scams
Don't leave your crypto cash in the hands of just any ol' person

Any investment puts capital at some risk, it's the nature of the market (namely, sometimes it goes up, sometimes it goes down). But in the world of crypto, another threat lurks: scammers. Find out how to help yourself avoid bitcoin scams here.

Safety First: How to Avoid Bitcoin Scams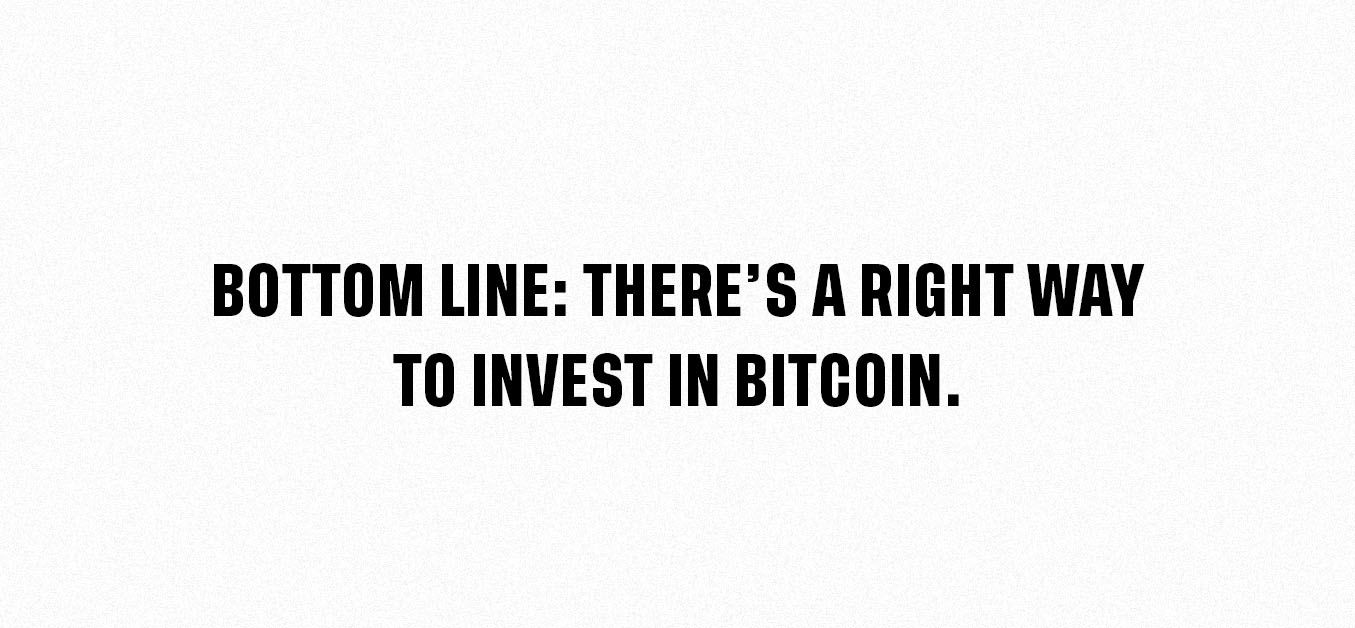 What are bitcoin scams? Basically, plots to bamboozle you out of your cash.

The most insidious of these scams take the form of "rug-pulls", where a bad guy convinces people to invest in bitcoin using a certain exchange. But then, rather than actually investing bitcoin on behalf of those investors, the bad guy simply makes off with the cash, pulling the rug out from under them.

But there are other more common types of scams too, like those that encourage you to invest a ton into crypto promising you'll make a ton in earnings. Or those that will charge you huge fees to withdraw your investment from their exchange platform.

Then, there's also the scammers that will commit identity theft to get your information and then use your bank and identity details to commit identity fraud. It can seem like a minefield out there.

In every case, you wind up out of your cash, and someone else makes off with it.

Bottom line: there are ways to help avoid scams when you invest in bitcoin. These tips can help you identify and avoid scammers.

Tip #1 - Know the Norms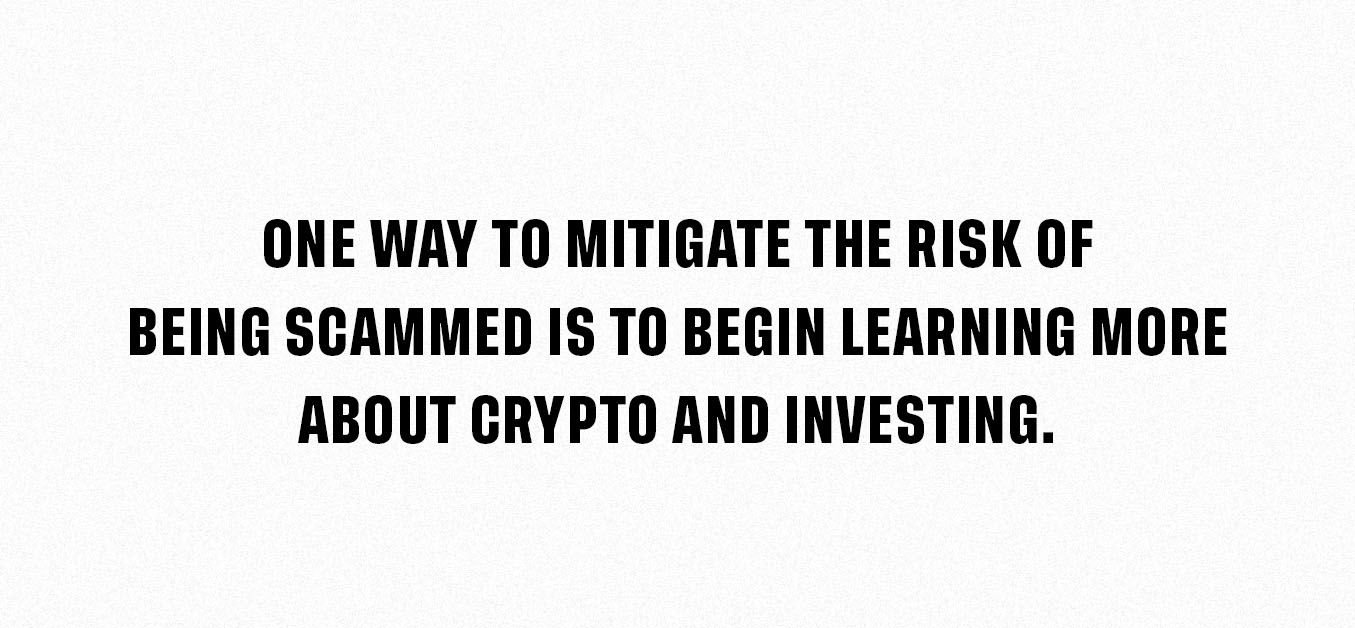 The crypto world is rife with scammers for one reason: there are a lot of folks dabbling in crypto investments without a solid foundation of knowledge.

That's no one's fault. Finance, investment, and cryptocurrencies are really difficult to understand, and we're not just saying that.

Without the tools we need to identify scams, scammers can capitalize and take advantage of us. Don't forget: scammers are bad guys, and they'll use all tools accessible to them to convince you that they're trustworthy.

One way to help mitigate this risk can be to begin learning more about crypto and investing. This way, if someone says, "I can guarantee you'll see a return of ten times before the end of this year!" You'll know just how impossible it is to make that guarantee.

You can learn more about cryptocurrency, blockchain, bitcoin, and exchange platforms on websites like Investopedia, Coindesk, and here on our blog.

Tip #2 - Think Critically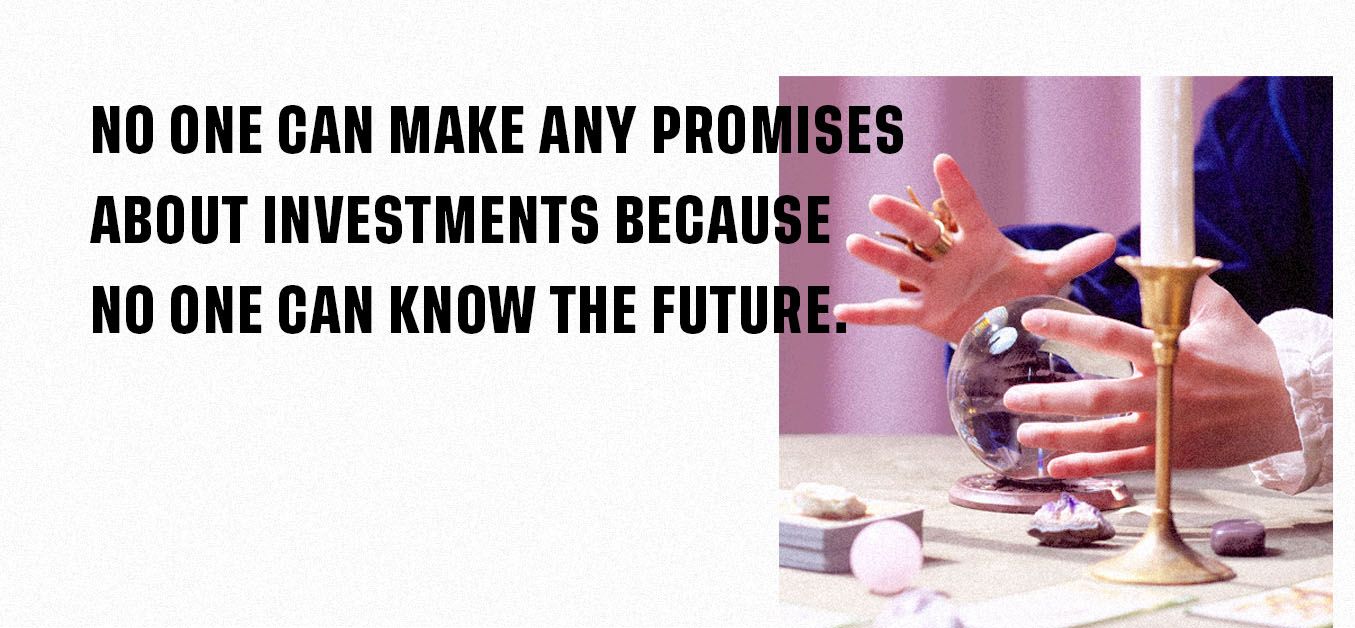 Once armed with your crypto knowledge, you should still act cautiously.

For example, there are a series of common scammer premises that you'll learn to recognize, no matter how the specifics change.

Be Wary of Promises

No one can make any promises about investments because no one can know the future. If someone is making promises about returns, like "you'll double your money if you invest in bitcoin," they are either uninformed or lying to you.

This is true of any asset, but especially of something as volatile as bitcoin. No one knows for sure where the price of bitcoin is going. Hedging our bets on another huge rally or investing more than we can afford to lose is not a good idea.

Watch Out For Big Claims

There are also folks out there making really big claims. Maybe they stop short of a specific promise, but they've got reason to believe "there's a big rally ahead and you'd better invest now," that sort of stuff.

Ask yourself: why would they know this? Who is saying this? Where would they get this information, and can it be independently verified?

No matter how confident someone may seem, or how knowledgeable they may seem, it's always best to trust your own knowledge, research, and instincts. And, we'll say it again for the folks in the back: no one can predict the future with absolute certainty.

Always Ask For Details

Both big claims and promises are often made without details or specification to back them up. So if you encounter a big claim but you're still not sure if it's a scam or not, ask for clarification.

How do you know? How is this possible? What mechanisms will make this big claim become reality?

Often, scammers won't have an explanation, or if they do, they'll be easily proven false. This is another case where building your own knowledge is critical. Ask lots of questions, and verify every answer independently.

Tip #3 - Only Invest Using Platforms Widely Trusted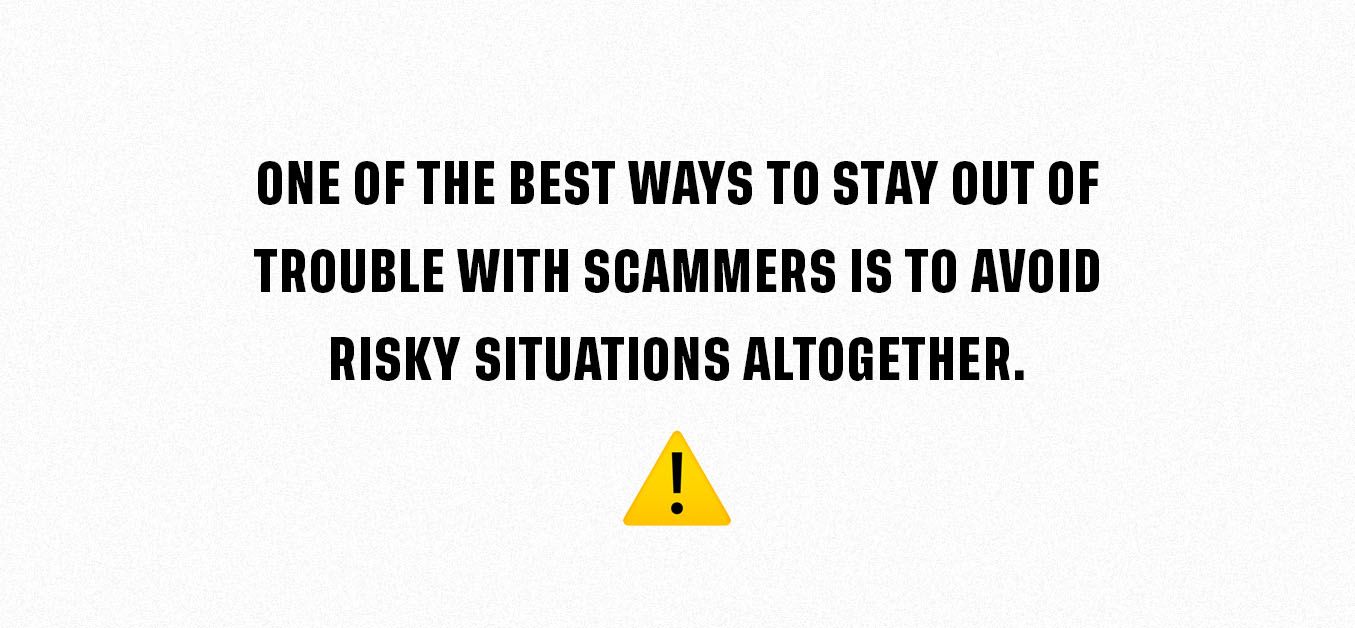 One of the best ways to stay out of trouble with scammers is to avoid risky situations altogether. This might seem counterintuitive, because crypto is by nature a bit of a rebel. But when investing in bitcoin, it's almost always best to stick with exchanges and brokers that are widely known and trusted.

This is for several reasons, really, with relative safety from scammers being only one. But big platforms that allow you to buy bitcoin also typically have the advantages of being well made, easier to use, reliable, and known to regulators.

When investing in a risky asset, don't try to reinvent the wheel. Do your research, find an exchange that works best for you, and move forward responsibly using trustworthy tools.

Just remember: if it seems too good to be true, it probably is.

Buy Bitcoin Securely with Mogo

We've got lots of opinions on this because we're also in the bitcoin-buyin' business. You can securely buy bitcoin using our in-app bitcoin platform, Bitcoin & Rewards.

And if you've got a Mogo Visa* Platinum Prepaid Card, you'll also get free monthly credit score monitoring and identity fraud protection.2 Did you know an unexpected drop in your credit score or hard credit check on your Equifax credit bureau could be an early sign of identity fraud? Learn more.
There's no time like the present to begin learning about bitcoin investments if it appeals to you. Just be careful, be skeptical, and never invest more than you can afford to lose. You got this. 💪
This blog is provided for informational purposes only, isn't intended as investment advice, and isn't meant to suggest a particular investment or strategy is suitable for any particular investor. If you're unsure about an investment, you may wish to obtain investment advice from a qualified professional. Nothing herein should be considered an offer, solicitation of an offer, or advice to buy or sell securities. Buying and selling bitcoin is risky and you may suffer losses. The price of bitcoin is highly volatile and speculative. You should never invest more in bitcoin than you can afford to lose. Past performance is no guarantee of future results. Always do your research and never invest more than you can afford to lose.

*Trademark of Visa International Service Association and used under licence by Peoples Trust Company. Mogo Visa Platinum Prepaid Card is issued by Peoples Trust Company pursuant to licence by Visa Int. and is subject to Terms and Conditions, visit mogo.ca for full details. Your MogoCard balance is not insured by the Canada Deposit Insurance Corporation (CDIC). MogoCard means the Mogo Visa Platinum Prepaid Card.

1-The exchange rate we offer you on a buy or sell transaction of cryptocurrency is calculated from our Exchange Partner's price, which may include fees or mark-ups applied by our Exchange Partner and/or other factors such as market depth and volatility, and includes a 1% fee charged by us. You can check the exchange rates we offer for cryptocurrency purchases and sales at any time from within the MogoAccount.

2-Free credit score is provided by Equifax and is only available to MogoAccount holders that have passed identity verification. The Equifax credit score is based on Equifax's proprietary model and may not be the same score used by third parties to assess your creditworthiness. The provision of this score to you is intended for your own educational use. Third parties will take into consideration other information in addition to a credit score when evaluating your creditworthiness. Equifax® is a registered trademark of Equifax Canada Co., used here under license. No one can prevent all identity fraud and Mogo does not monitor all transactions at all businesses. Currently, Mogo only monitors hard inquiries into the Equifax® Canada Co. credit bureau and will provide push and/or email notifications within 24 hours of the inquiry being reported. Refer to the MogoAccount Terms & Conditions for more information https://www.mogo.ca/terms-and-conditions.