Shop to Earn: Your Guide to Cashback Shopping in Canada
Making money by… spending money? Now that I can get behind
You've probably heard of rewards programs, like Canadian Tire Money. Yeah. That kindling that accumulates, never to be used, in the glovebox of the car or the junk drawer in the kitchen. Love that stuff! (Honestly though, Canadian Tire is lit even if CT Money drives me nuts.)

Rewards programs have changed a lot in the last few years, with more companies offering cashback cards, cashback rewards programs, and even bitcoin cashback just for shopping.

How? We'll tell ya.

[cue theme music]

Shop to Earn: Your Guide to Cashback Shopping in Canada

Cashback shopping is where it's at—and it's actually useful.

What is a Cashback Program?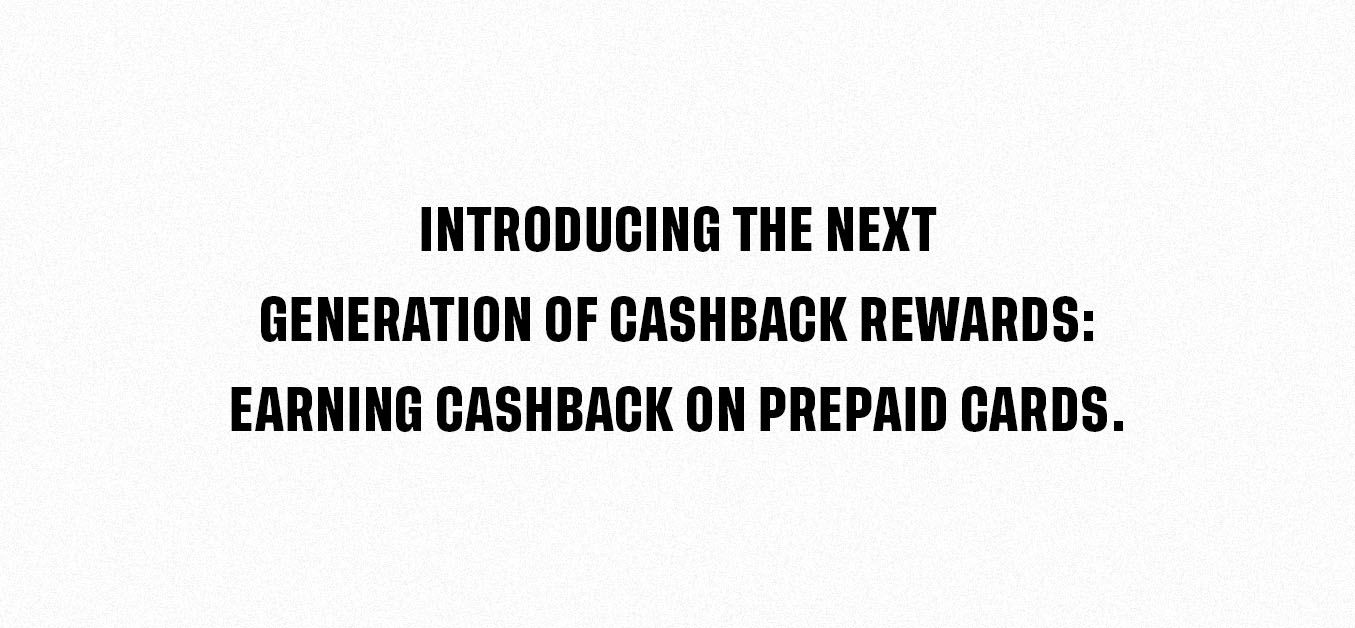 Cashback programs aren't like other rewards programs. They're special. Or, they can be.

Cashback rewards programs were first popularized by credit card companies. Every time you use the card, you're rewarded with a little gift of typically 1% or 2% of the value of certain purchases. So if you spend $100 on your credit card, the company might give you $2 in return.

Just for funsies.

The catch? Well… $2 isn't going to offset the $100 debt you just took on.

For tons of people that have strong financial habits, that ain't no thang. Using your credit card to make strategic purchases can earn you cash back or points or whatever. But for those of us that struggle with impulse control or don't have great relationships with debt, that little 2% cashback can work like an incentive to go deeper into debt.

And then, what's worse: most cashback programs offered by credit card companies don't actually earn you money. Any cashback you receive is simply applied to your debt. No extra cash in your pocket. Just debt.

So we'd like to introduce you to the next generation of cashback rewards: earning cashback on prepaid cards. No debt. Only money. Real money. For you.

What are Cashback Rewards?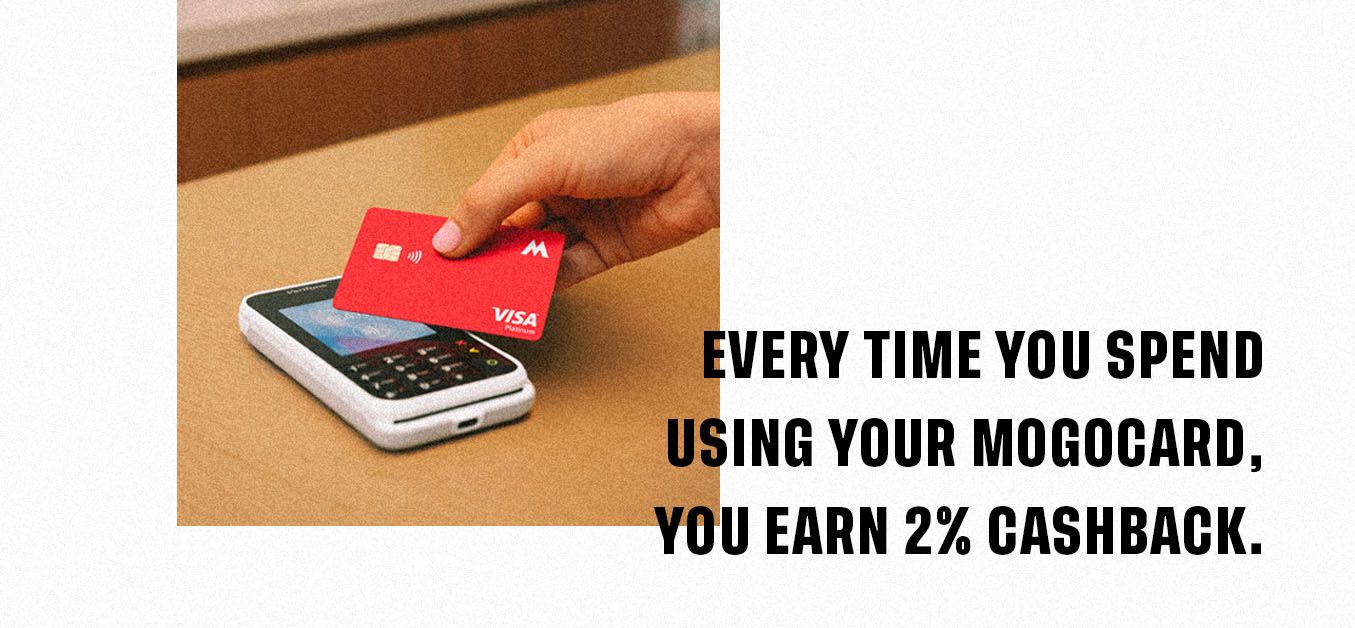 Cashback rewards are incentives to use a given card. We offer cashback, for example, with our Mogo Visa* Platinum Prepaid Card.

We want Canadians to get comfortable using prepaid cards to manage their finances (and a whole host of other things, but we'll get to that), and to incentivize people to spend responsibly, we've introduced a cashback rewards program.

Every time you spend using your MogoCard, you earn 2% bitcoin cashback.1 This applies to every single purchase, with no limits. In Canada, there's no other card like it.

How do Cashback Programs Work?

Cashback programs operate in a really simple way.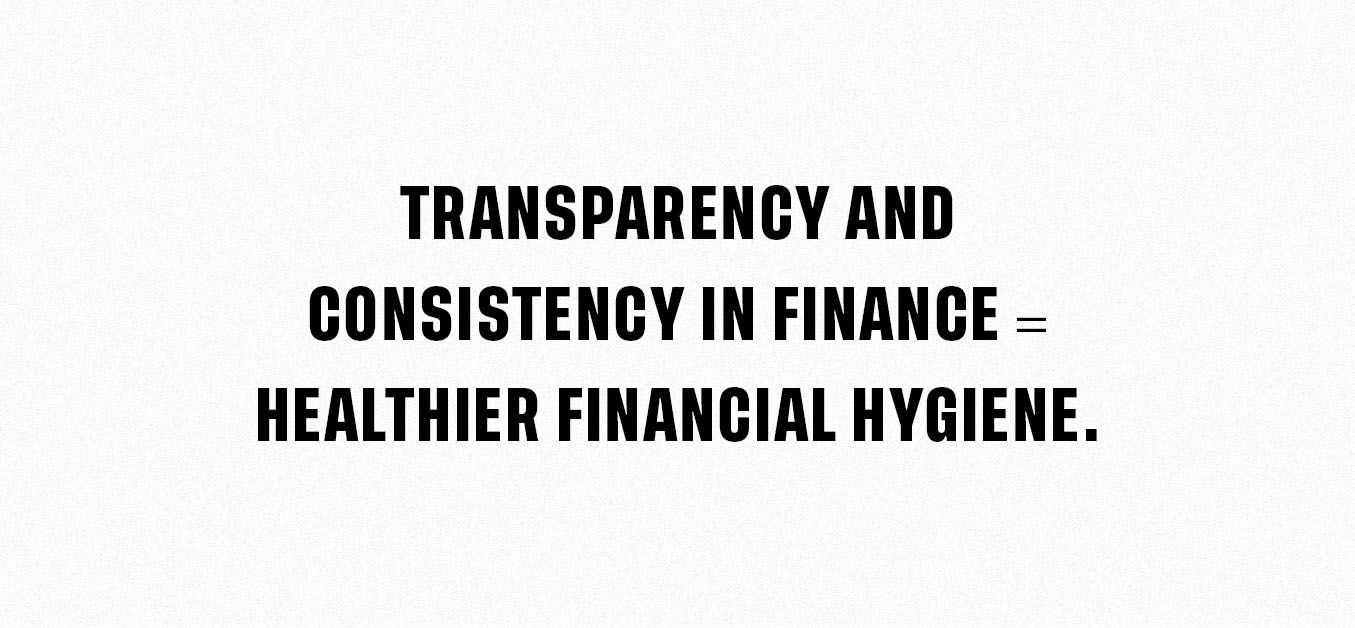 Basically, when you use your rewards card, the parties involved in the transaction receive an interchange fee. This interchange fee is a small portion of your total expenditure, and it's split between a bunch of stakeholders, including the card issuer, and the company that processes the payments.

Interchange fees are assessed every single time you use any card, ever, in any place. This is how they keep the lights on at places like Mastercard or Interac.

Cashback programs usually redirect a portion of this interchange fee back to you, the purchaser.

Why? Well, in our case, we want to incentivize MogoMembers to use their MogoCards so that we can stay in business, for one. We like what we do and we want to keep doin' it!

But we chose to incentivize using the MogoCard specifically because we think prepaid spending cards are an incredibly powerful tool for staying on budget, managing your finances, and keeping you in tune with how you spend money. Transparency and consistency in finance = healthier financial hygiene. And we want that for you.

Earn Bitcoin Cashback with Mogo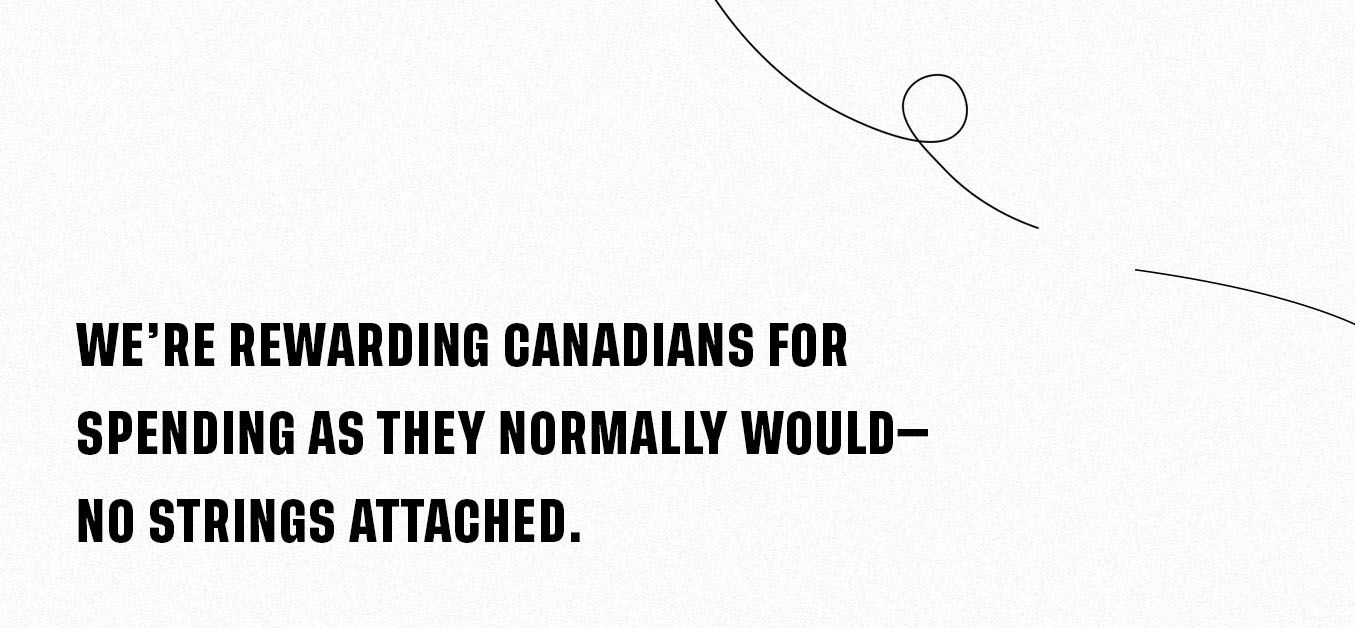 The MogoCard is different from other credit card cashback programs. First, because the card is prepaid, you never go into debt when using it. It's impossible. There's no overdraft. So we're not incentivizing Canadians to risk taking on more debt.

Rather, we're rewarding Canadians for spending as they normally would—no strings attached. Use the MogoCard for your grocery shopping, Christmas shopping, whatever, and earn 2% cashback on every single purchase.

What sets the MogoCard apart (even further!) is how flexible the cashback program is. When you spend using your MogoCard, you earn 2% cashback on your purchases. Once a month, this amount is deposited into your Bitcoin & Rewards Account, which is housed within the Mogo app. Your 2% rewards are deposited as satoshis, which are the smallest unit of bitcoin. So if you want, you can sit back and watch your bitcoin cashback rewards grow over time.

Don't wanna get involved in bitcoin? That's fine too! We get it. You can also withdraw your cashback rewards as cold hard cash.

It's a comparatively risk-free way to earn bitcoin and take part in crypto, or to earn a little pocket change. You're literally making money by spending money you would have spent regardless.

Before we offered cashback, we offered carbon offsets. And we still do! This compounds the cashback scheme: with every purchase you make, you earn a little cash back, and we purchase carbon offsets on your behalf (specifically, 1 lb. of carbon is offset for every dollar you spend).

Unlimited 2% bitcoin cashback on your MogoCard plus carbon offsets (plus monthly credit score monitoring and ID fraud protection, but who's counting?2). It's the flexibility and rewards of a credit card with the control of a debit card; it's literally good for everyone. It's the best rewards card in Canada.

Time to do money like you mean it, friends. Get your MogoCard today. Why wouldn't you?
This blog is provided for informational purposes only.

*Trademark of Visa International Service Association and used under licence by Peoples Trust Company. Mogo Visa Platinum Prepaid Card is issued by Peoples Trust Company pursuant to licence by Visa Int. and is subject to Terms and Conditions, visit mogo.ca for full details. Your MogoCard balance is not insured by the Canada Deposit Insurance Corporation (CDIC). MogoCard means the Mogo Visa Platinum Prepaid Card.

1-Bitcoin Cashback is a component of Mogo's Rewards program. To be eligible you must have: (i) a Bitcoin & Rewards or MogoCrypto account; and (ii) the Mogo Visa Platinum Prepaid Card ("MogoCard"). Eligible MogoMembers will earn 2% Bitcoin Cashback on Canadian currency purchases and on foreign currency purchases. Bitcoin Cashback is earned monthly and based on all eligible purchases made in the preceding month. Mogo will determine the eligible 2% in fiat and will convert that fiat to satoshis according to the Satoshi Conversion set out in detail in the MogoAccount. All decisions regarding the conversion to satoshis by Mogo are final and binding. Additional eligibility requirements, transaction exclusions, and other terms are set out in full in the MogoAccount Terms and Conditions, which may be changed or terminated at any time without notice, see: https://www.mogo.ca/terms-and-conditions. Mogo cannot guarantee that the value of your Bitcoin Cashback will increase. If the price of bitcoin decreases then you may lose some or all of the value of your Bitcoin Rewards.

2-Free credit score is provided by Equifax and is only available to MogoAccount holders that have passed identity verification. The Equifax credit score is based on Equifax's proprietary model and may not be the same score used by third parties to assess your creditworthiness. The provision of this score to you is intended for your own educational use. Third parties will take into consideration other information in addition to a credit score when evaluating your creditworthiness. Equifax® is a registered trademark of Equifax Canada Co., used here under license.No one can prevent all identity fraud and Mogo does not monitor all transactions at all businesses. Currently, Mogo only monitors hard inquiries into the Equifax® Canada Co. credit bureau and will provide push and/or email notifications within 24 hours of the inquiry being reported. Refer to the MogoAccount Terms & Conditions for more information https://www.mogo.ca/terms-and-conditions.