There's power in numbers—let's make Canada climate positive, together.

We're in Code Red Mode.

The Intergovernmental Panel on Climate Change recently confirmed that human activity is unequivocally to blame for climate change. UN Secretary-General António Guterres described the report as a "code red for humanity." Devastating wildfires, storms, and heat waves marr every continent.

While our mission is to help you reach a debt-free future, there is no future if we don't act today. What happens to the planet impacts all of us, including our finances.

So we're entering Code Red Mode to help Canada achieve net zero carbon emissions before the country's goal of 2050, and maybe even become a climate positive country. Every time you use the Mogo Visa* Platinum Prepaid Card, we'll plant a tree for you—for free. Together, we can make real, massive change.

Are you in?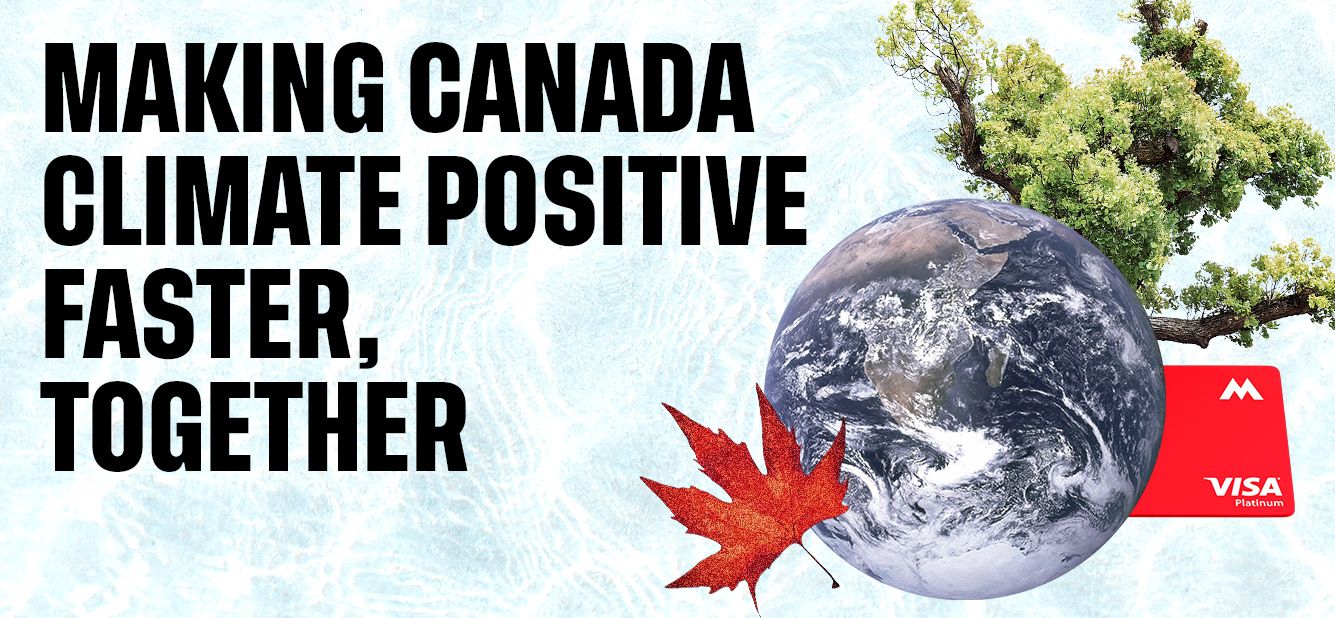 We've been purchasing carbon offsets to reduce our corporate carbon footprint since 2019.  We've also offered free carbon offsets to all MogoCard users. For every dollar spent using the MogoCard, we offset 1 lb. of CO2.


But this isn't enough. Canada's total emissions were most recently estimated at approximately 1.6 trillion pounds per year or approximately 42,000 pounds per person.1 To solve climate change, we must reduce emissions to net zero as quickly as possible. We need to act more aggressively if we're going to make a meaningful impact on the health of our planet.

So we're pivoting to a more powerful tool in the fight against climate change. Starting August 25, for every single transaction made using the MogoCard, we're planting a tree for you—for free.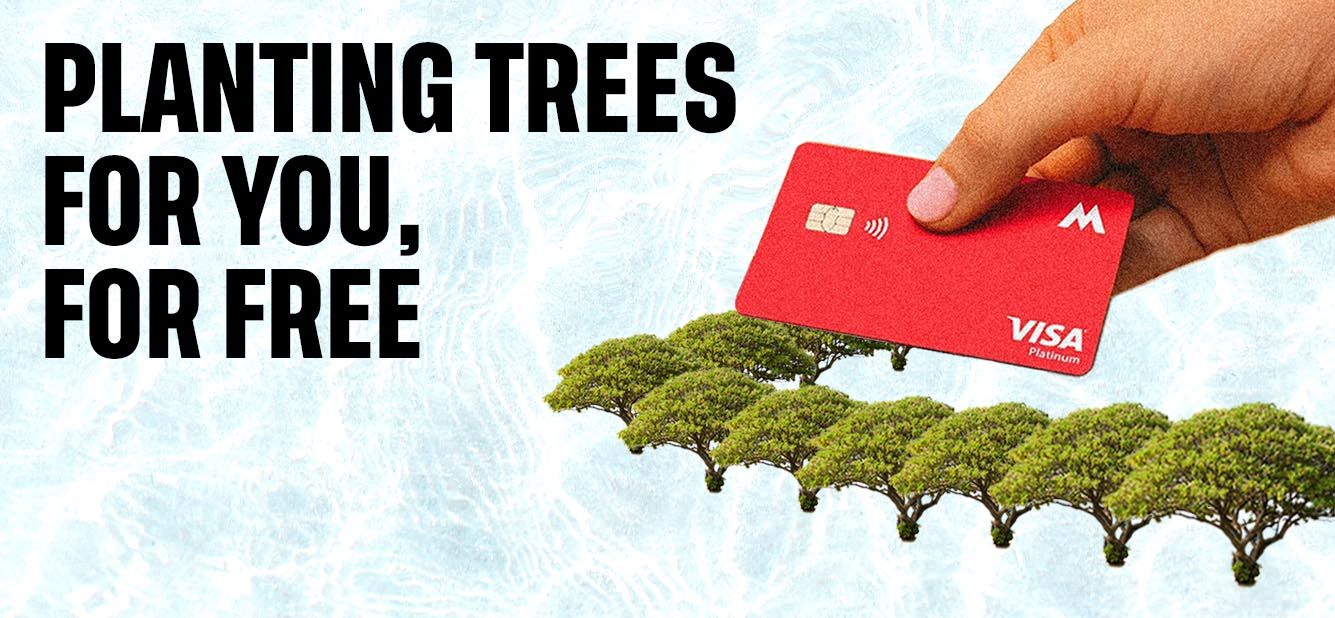 Our commitment to fighting climate change isn't new. We've already offset 35+ million pounds of CO2 by purchasing carbon offsets to reduce our corporate carbon footprint in addition to offsetting 1 lb of CO2 for every $1 spent on the MogoCard.

When we offset 1 lb of CO2 for every $1 for you, a fancy coffee may have offset 4.5 lbs of CO2; a bottle of wine may have offset 15 lbs of CO2—you get the picture.

But planting trees is way more efficient. One tree planted every time you tap your MogoCard absorbs about 500 lbs of CO2 over its lifetime.2 That fancy coffee might now offset over 10x more CO2 than with our old offset program.
So we're aiming high. We estimate that by shifting about 20% of annual Canadian transactions to the MogoCard, we could plant 3.5 billion trees. This would make Canada—yep, the whole country—climate positive.3


This plan is a good one, but it'll only work if Canadians join us on this mission.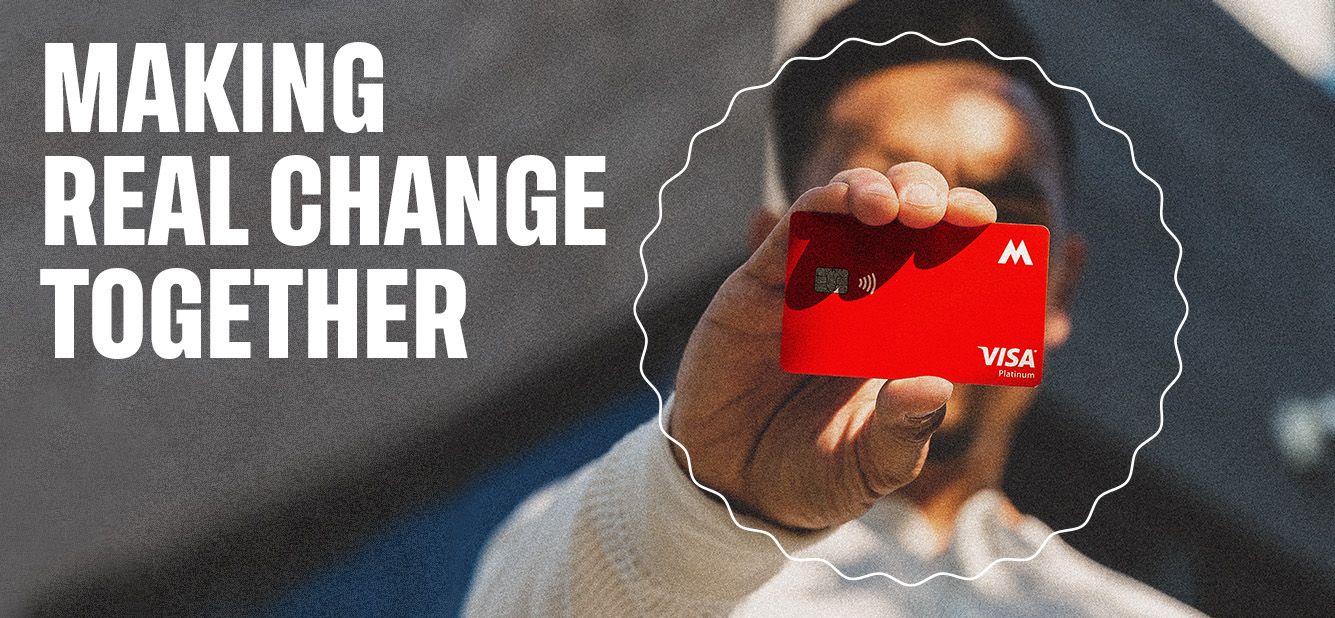 To kick off Code Red Mode, we'll immediately donate and plant 100,000 new trees.

Now, every single time you use the MogoCard, we'll plant a tree. By using the MogoCard for all your spending, you could eliminate your own carbon footprint and even become climate positive—for free. Using the MogoCard is the easiest way to plant a lot of trees, but the more you leverage Mogo, the more trees we'll plant for you.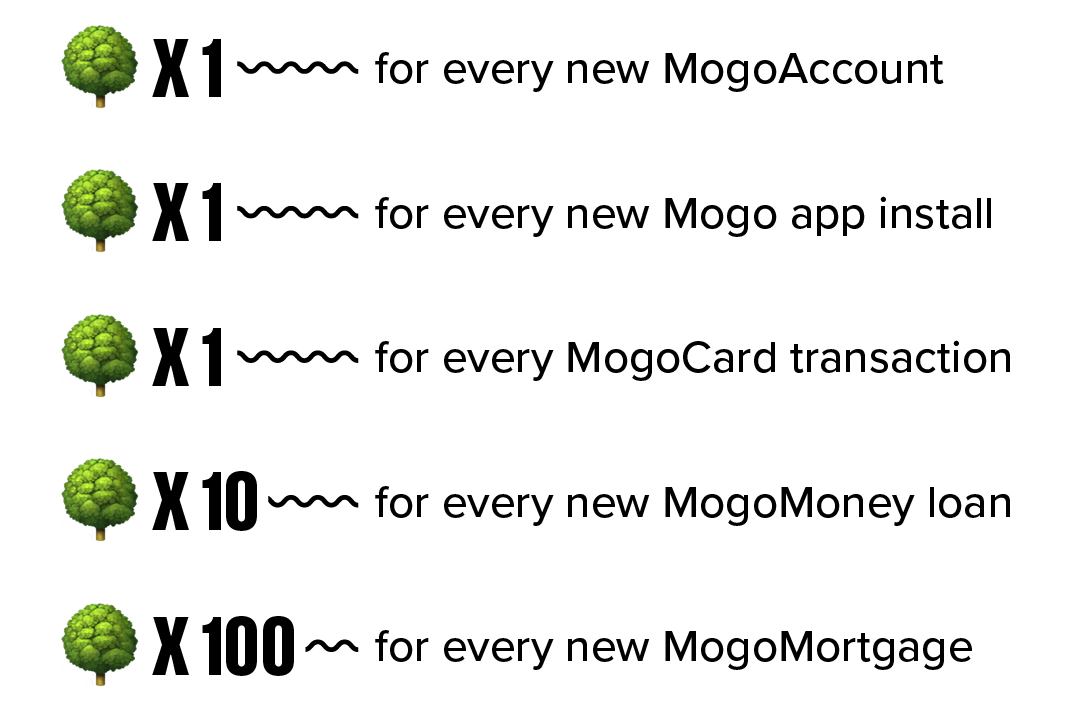 The MogoCard also makes it simple to spend less, save more and further reduce your carbon footprint.


The MogoCard is a reloadable prepaid card, not a credit card, so you won't rack up debt. In fact, you could save money. According to a recent survey, 66.5% of respondents reported an average savings of $201 per month just by using their MogoCard, and 91% of active users said the card can give them better spending control.4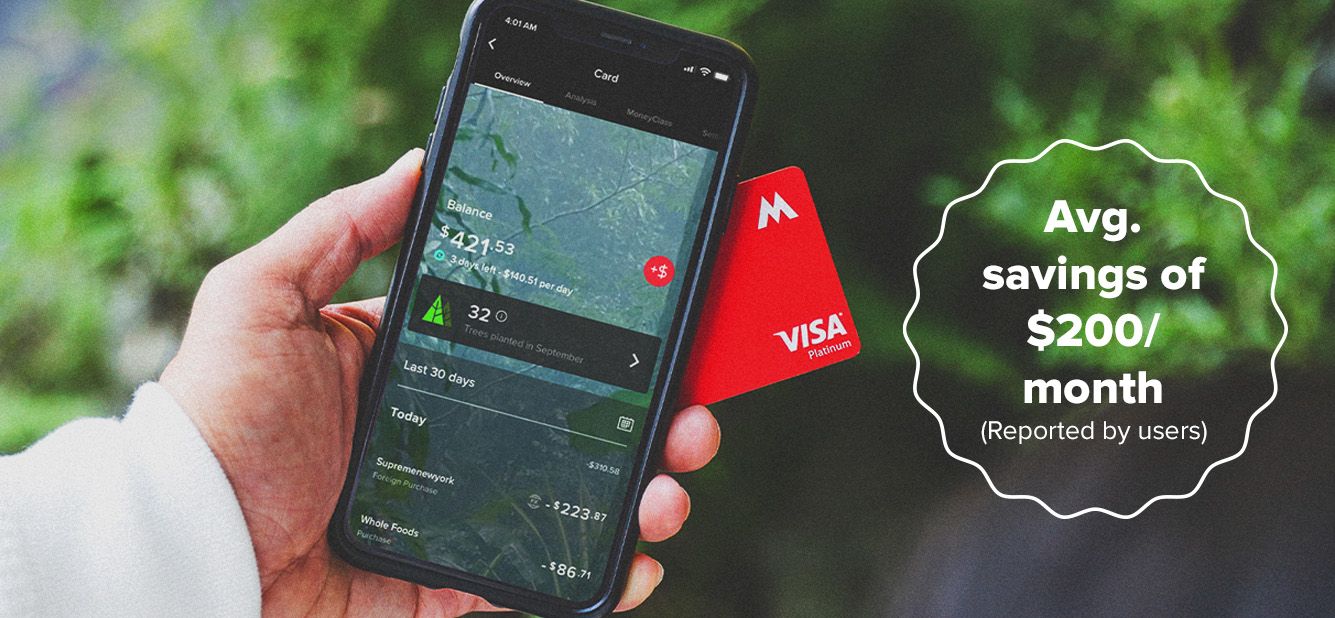 Spending less can also help the planet: 72% of carbon emissions come from household consumption. By planting trees and effortlessly controlling your spending, you'll help your wallet and the world.
And again, it's free.

It's a simple, high impact, zero cost initiative for all Canadians to match their money with their morals.
So are you ready to take action? There's literally no reason not to sign up for your own free MogoCard today and start planting trees for free.
Let's make a difference, together. We want to hear from you about this change so we can make Canada climate positive, together. Send us feedback at feedback@mogo.ca.
*Trademark of Visa International Service Association and used under licence by Peoples Trust Company. Mogo Visa Platinum Prepaid Card is issued by Peoples Trust Company pursuant to licence by Visa Int. and is subject to Terms and Conditions, visit mogo.ca for full details. Your MogoCard balance is not insured by the Canada Deposit Insurance Corporation (CDIC). MogoCard means the Mogo Visa Platinum Prepaid Card.

1 - 1.609 trillion lbs. (equivalent to 730 megatonnes) of CO2 divided by 38 million Canadians results in an average of 42,000 lbs of CO2 emitted per Canadian. This equation is based on the following statistics and assumptions: Canadians emitted 1.609 trillion lbs. of CO2 in 2019 (https://www.canada.ca/en/environment-climate-change/services/environmental-indicators/greenhouse-gas-emissions.html). The population of Canada in 2019 was approx. 38million (https://www.statista.com/statistics/444858/canada-resident-population-by-gender-and-age-group/).

2 - According to research conducted by Veritree Technology Inc. 500 lbs. is an approximate amount based on Above-Ground-Carbon (AGC) and Below Ground Carbon (BGC) sequestration estimates contained in several scientific research papers regarding the carbon sequestration of Mangrove trees (the "Research"). The Research contains various ranges for the rate of carbon sequestration per hectare of land. In order to arrive at the approximate amount of 500 lbs., Veritree triangulated data points from the Research regarding AGC and BGC sequestration estimates, and then converted those results into the approximate amount of lbs. per tree.

3 - Based on the most recently available data from 2019 and assuming future data follows a similar trajectory, there were approximately 17.79 billion transactions performed by Canadians on credit cards, debit cards, cash, prepaid cards and ATMs. 17.79 billion transactions divided by approx. 30.7 million Canadians aged 18 or older in 2019, results in an average of approximately 578 transactions per Canadian aged 18 or older in 2019. If 1 out of 5 Canadians aged 18 or older used the MogoCard, that would be 6.1 million Canadians aged 18 or older using the MogoCard (20% of 30.7 million). If each of those 6.1 million Canadians made 578 transactions, that would mean 578 trees would be planted for each of those 6.1 million Canadians, resulting in a total of approximately 3.5 billion trees being planted. 3.5 billion trees multiplied by 500 lbs. of CO2 equals 1.779 trillion lbs. of CO2 offset over the lifetime of the trees (approximately 25 years), which exceeds the approximately 1.609 trillion lbs. of carbon that Canada emitted in 2019, thereby making Canada climate positive. There were 17.79 billion credit, debit, ATM, prepaid card, and cash transactions performed in Canada in 2019 (https://www.payments.ca/sites/default/files/paymentscanada_canadianpaymentsmethodsandtrendsreport_2020.pdf).

4 - Based on an online survey of active MogoCard users conducted by Mogo Inc. between July 13, 2021 and July 16, 2021. The survey consisted of a combination of multiple choice and fillable text box questions. There were a total of 1,446 respondents to this survey. Respondents reported that they believed they were saving an average of $201 per month using the MogoCard (based on 902 respondents who specified an amount and excluding 60 respondents who did not specify any amount), and 91% of respondents (1,318 out of 1,446) agreed that using the MogoCard can help them better control their spending.