Finally Debt Free: Graham's Success Story
We got the best present ever on one regular afternoon in January this year.
Graham is a Mogo user (which automatically makes him our friend) and in January, he got in touch with a message of thanks. After we'd shared his note around, gassing ourselves up and feeling happy, we drilled down into his message.
Graham, using the 50/30/20 Rule, MoneyClass and the MogoCard that we absolutely will not shut up about, beat his debt. This was a massive success for Graham—and for us. That's how friendship works. When you win, we win too.
We asked Graham to speak with us about his story, and how the budget worked for him, and he generously obliged. That conversation is transcribed here for your enjoyment.


Graham: I tend to be a listener—I'm not one to speak up very often. It's rare that I ever write a letter. But I just wanted to say something because I wanted to tell you how much the app helped me—just, you know, get it together; get control of my spending and my credit card purchases, and helped me keep an eye on my credit score, which I'm trying to improve.
But I'm close [to improving it]. Although I must say, I was skeptical about your program in the beginning.
Mogo: What was your general background and knowledge before you started using MoneyClass? How much experience did you have with debt management and budgeting, credit cards, things like that?
Graham: Well, I was born and raised here in Chilliwack, and I started my working life as a business owner. In 1976, I started a business that wound up as a North American franchise for [a big ol' company].. The business was built around the federal government's military base operating out of Chilliwack.
I was good at what I did. I worked on the trucks myself, and I ran the business well and over the years we expanded. We got so big that I started buying out competitors. At the end of the run in that business, I wound up owning the [competition] in Chilliwack.
This was a great business because my biggest customer—by far—was the federal government. There was such consistency in that big pay cheque arriving every month, and I got complacent; the money was always there, I thought.
And I ran the business well for years, comfortably. But then the base closed.
And that big check that I had relied on every month for years was gone, and it was gone in an instant.
They closed with two weeks notice. The whole town felt the magnitude of that economic loss; it was a disaster.
After those years of expansion and the base's sudden closure, I had a gigantic line of credit and some serious problems—that were all of my own making.
I stayed in town. I faced it. But with that, I also decided to go find work that wasn't for myself.
So I found work at a steel mill, where I stayed for 18 years. But I just got stuck in that habit, where you've got one credit card, and then two credit cards, and then somehow you've got three credit cards… To cut a long story short, I had mastered a financial habit that was not at all a good thing. I racked up a lot of credit card debt.
Mogo: Was this over the course of years? How did that spending manifest for you?
Graham: It was just spending; lifestyle spending and then spending on what I needed to live. Working at the steel mill was a young man's job; I retired at 60 even though I couldn't really afford to retire, you know? But I realized that with the spending—it was me that was out of control.
But without the credit card, it was tough to make ends meet. I had a few pensions coming in every month, but they weren't enough to live on. So I kept working, but I also kept accumulating these little bits of debt. I kept running up my card balance. I would battle it down and it'd climb back up.
But then I got on the internet and I saw an ad for you guys. And I thought, I'm just going to have a look. But I wound up kind of enamoured, I liked it a lot. I could relate to it.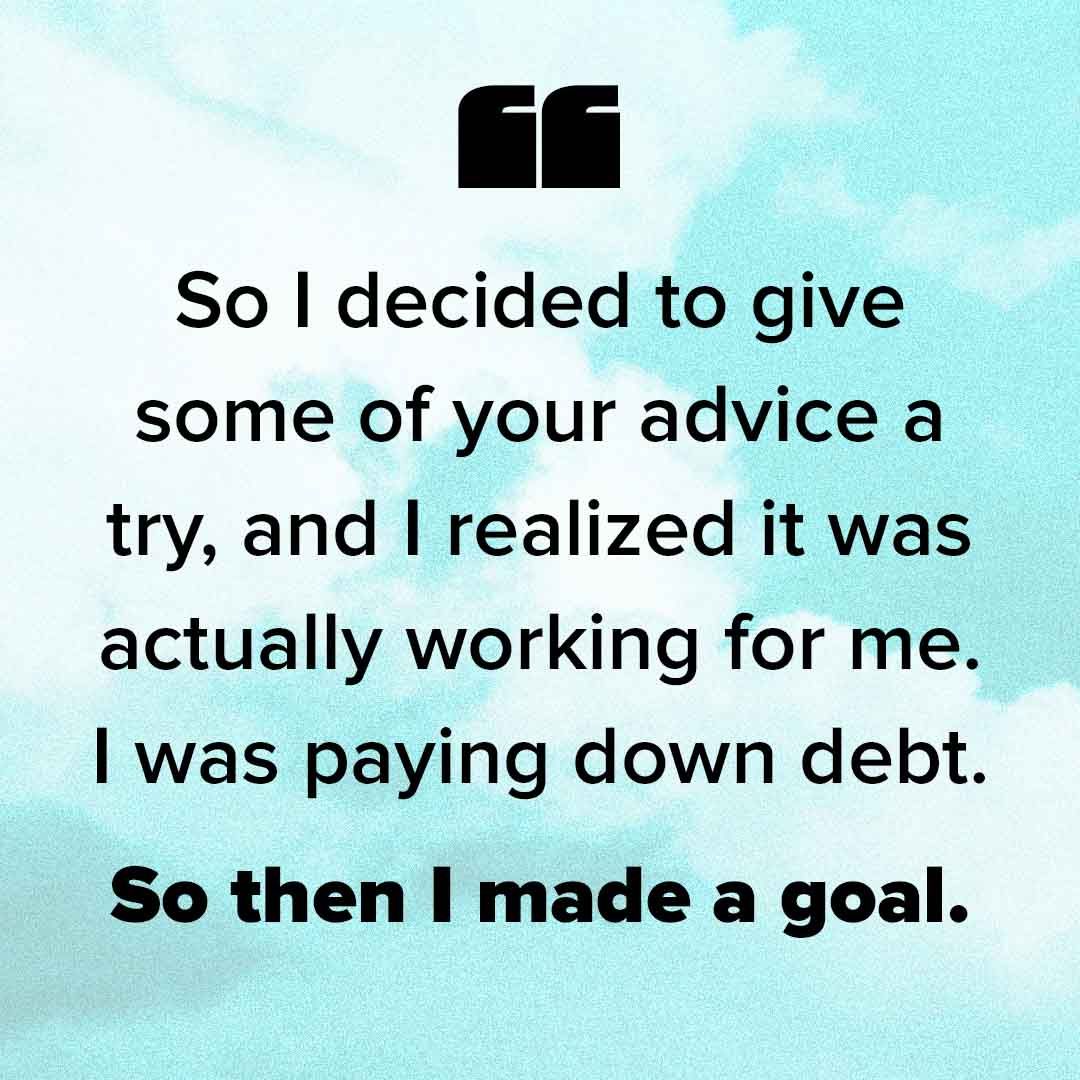 Mogo: What was that goal?
Graham: Well, my goal was to be debt free by the end of January 2021. But then COVID hit.
And the work I was doing—commercial cleaning for big transport trucks and trailers—basically disappeared. Everyone was so afraid of the virus, I went from 21 trucks per month down to five.
So I started putting a bit of money on my credit card—only what I needed to keep running my little business. And I saw that number start to climb again. So I thought, how can I cut my expenses? What can I do here?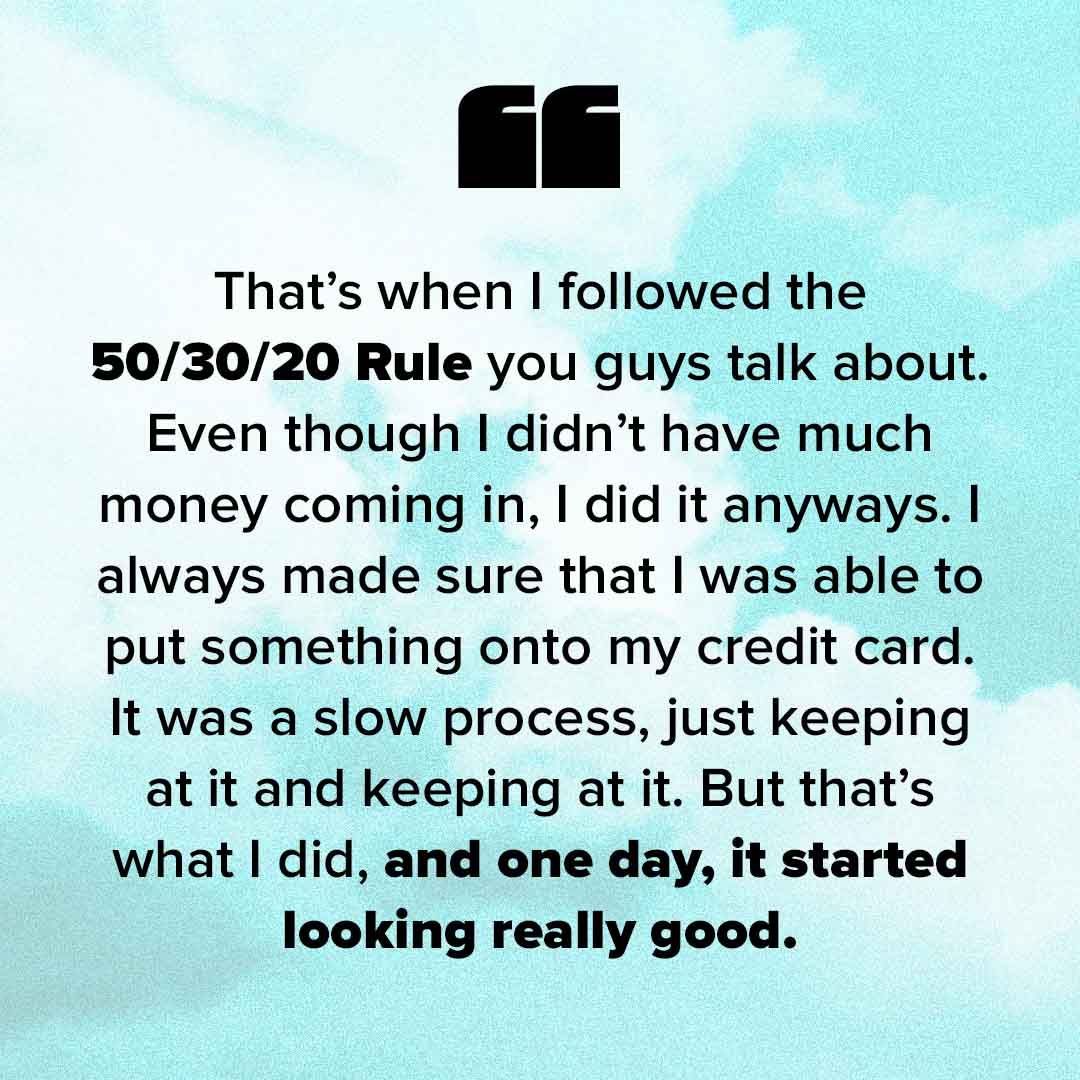 Mogo: You were in the home stretch.
Graham: I only had so much to pay and I was feeling grateful, for the app and for you guys, so I just wanted to do something and write a quick letter. Because by the end of January, I am going to be debt free.
Mogo: It sounds like COVID's impact on your business threw a serious wrench into your plans.
Graham: I was grateful for the federal assistance programs in place, and I've prepared for the higher tax I'll see next year because of those programs. I did make the decision to close the company down on December 1st.
Being self-employed again, I had to make the call—it was losing money and I needed to pay off that debt.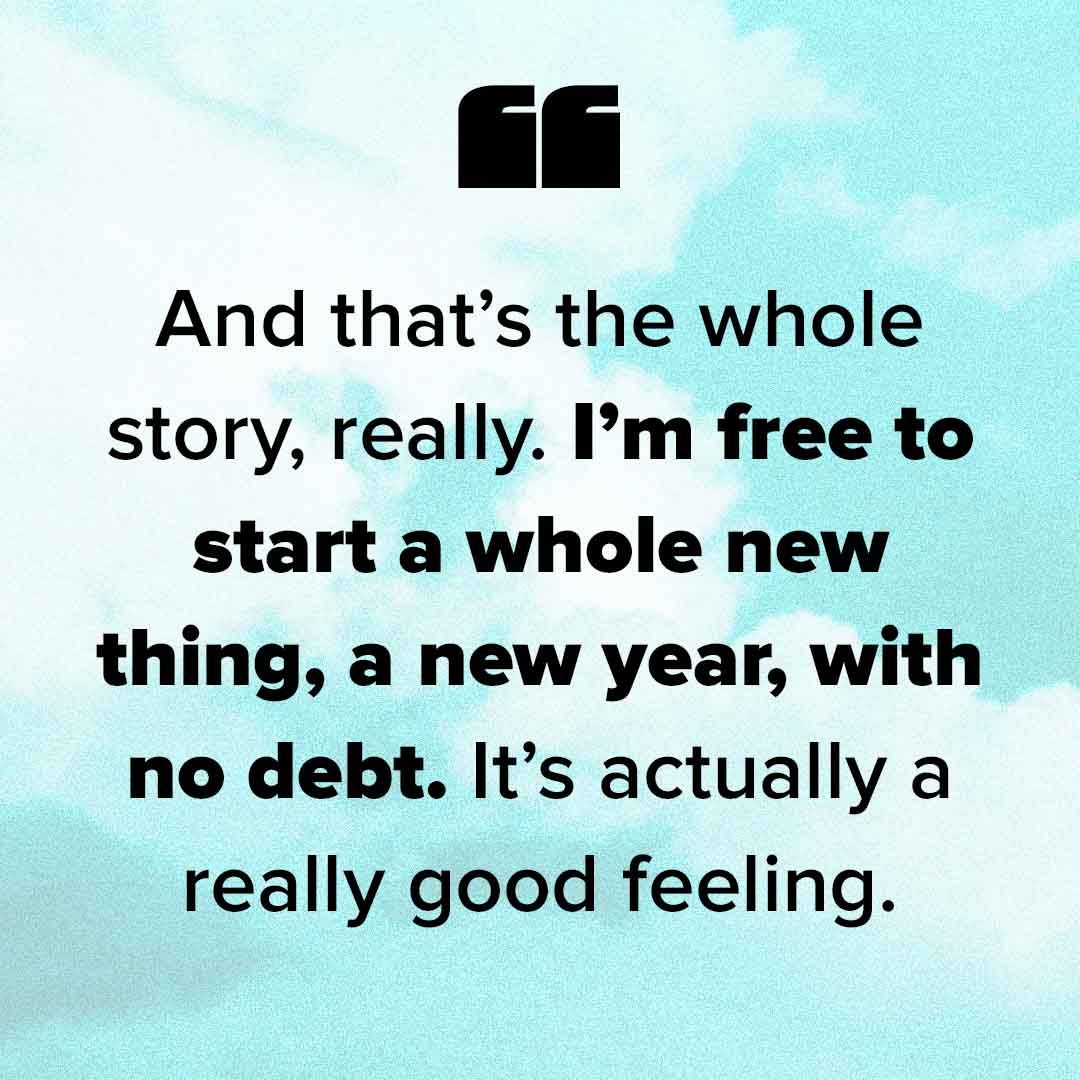 I can't say enough about your company and the MogoCard and the budgeting advice—it's a great tool, and I call it a tool because, you know, this is what you use in life to get the job done right.
Mogo: I can't tell you how glad I am to hear that.
Graham: I also like it, honestly, because the MogoCard is bright red. And that means stop. Even though it's a prepaid card, you stop and think twice—should I be buying this? Is this a good thing I'm doing right now?
And then when my balance dwindles, I have to wait for more income. Then I'll reload it, and off I go. It's a great system for me. It just keeps me on track.
Mogo: That's fantastic to hear. And again, I really can't congratulate you enough for getting to zero debt. That's something that many people really struggle with, so to be able to say you're debt free is a huge accomplishment.
Graham: That's the thing about credit cards, right? They make you feel like you have free money. It's the psychology of it. It makes me feel like I can, you know, put down 300 bucks on this new gadget, and you don't have to worry about it until the end of the month.
But then the end of the month comes and you've done that four times and you owe like $1,200. That's the thing. The credit card should be an emergency bailout if you really need it; not something you spend with regularly.
Mogo: I completely agree; the less often you use a credit card, the better.
Graham: It really helped me to feel like I had acknowledged my spending problem and I was using the tools you put out to solve that problem. And now, I'm going to have zero debt to the CRA and I'm going to have zero debt on the credit card. I'm just kinda sitting here on cruise a little bit.
If I have to go, I have to find a job. But I'm just going to work for somebody. Cause I'm, I'm out of the self-employment thing. I just get to work. I don't need a lot to live on, you know.
Now in my golden years, I know how much I need, but my second goal in January, which I've already made is I want to be able to put at least $10,000 away this year in a savings account. I've never had a savings account before.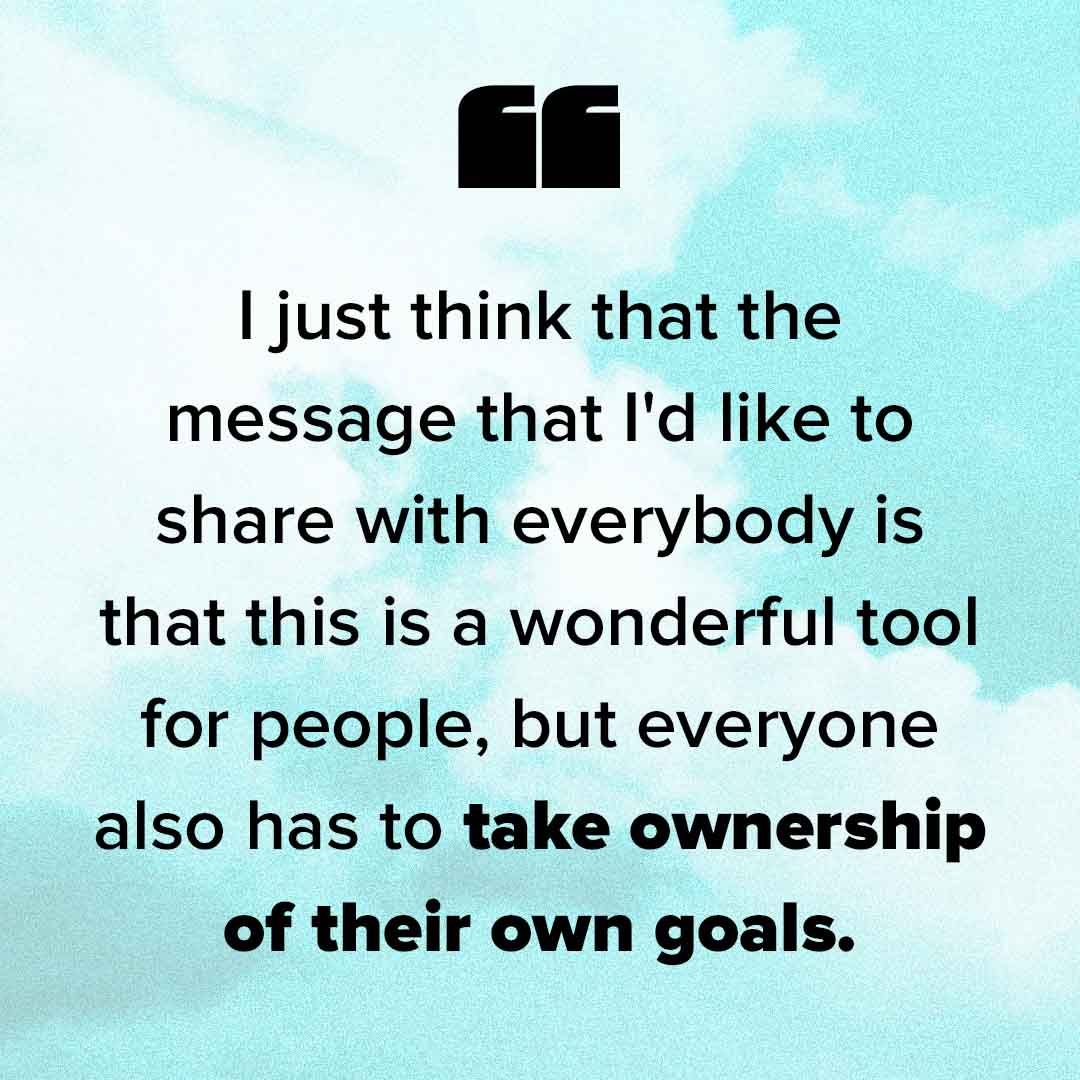 Mogo: What made you feel like these tools would help you take ownership like that?
Graham: I realized what it does to you when you spend money on credit for a lifetime. I've gone through hell, because I've always had to borrow money. My parents were just working people. And when I went into business, I always had to borrow money to get started—though I was always good for it. I just realized how costly it can be to spend other people's money, and these tools made me feel accountable and like I had control.
I got friends that have six, seven cards in their wallet and I just look at them and know they're all run up. What are you going to do if you get a demand to pay? In 1981, when everything went haywire and interest rates shot up, I had a line of credit for $250,000—and the bank gave me a 72 hour notice to pay that entire line of credit back.
I managed to take all my new Freightliner trucks and big Kentucky trailers to auction and with the proceeds I was able to pay the bank back and kind of start over. But it was an unbelievable time, and that stuck with me.
Mogo: This is an amazing and unique story. You've lived such an adventurous life, and the debt aspect here resonates with so many of us today. It's something of a common denominator with Canadians.
We really can't thank you enough for sharing your story with us. We shared your message with our team and we're all just so glad we were able to play some small part in your own financial goals.
[Here we all get pretty mushy and just talk about how Graham has lived such a cool life and how it makes us feel inspired. We're really big fans of Graham.]
Graham: I'm grateful. And I want to stay in touch with you guys. I want to show you that I took your app, I used it, and followed it, and it really helped me. I did have to change my ratio a bit a few times away from 50/30/20—I did choose to sacrifice my needs a bit to pay off my debt, but that's what I had to do.
Mogo: Please do stay in touch with us. Take care and have a great year, and congratulations.
[Then Graham disconnects, and there's several minutes of fiddling with the recording. We're going for transparency, here.]


If you read this whole post, you'll probably have two key takeaways and one big question.
Your question is probably "was Graham actually that complimentary of you, like really?"
And the answer is yes. We were in full blush and almost tears mode at several points. Seriously.
And then, first takeaway:  Graham is right. The first step is finding the right tools to meet your goals (that's what we can help with). The second and most important step is finding accountability and taking ownership of those goals, and just keeping at it, keeping at it.
The second takeaway:  Graham sounds like a damn badass and wouldn't we all like to take that guy out for a pint, hey??
You can read more about the 50/30/20 budget here, and find out how to get your own bright red MogoCard below.
Alright folks. Keep at it.


MogoCard means the Mogo Visa* Platinum Prepaid Card. * Trademark of Visa International Service Association and used under licence by Peoples Trust Company. Mogo Visa Platinum Prepaid Card is issued by Peoples Trust Company pursuant to licence by Visa Int. and is subject to Terms and Conditions, visit mogo.ca for full details. Your MogoCard balance is not insured by the Canada Deposit Insurance Corporation (CDIC). About MoneyClass: MoneyClass and related content is provided for informational purposes only, is not intended as investment advice, and is not meant to suggest that a particular investment or strategy is suitable for any particular investor. If you're unsure about an investment, you may wish to obtain advice from a qualified professional. Nothing herein should be considered an offer, solicitation of an offer, or advice to buy or sell securities. It's also important to remember that past performance is no guarantee of future results.