How Much Should I Save For A Down Payment?
And why is it always way more than I have in my savings account?
Ah, the question of the down payment; a tale as old as (capitalist) time. If you want to buy a house, you've probably already got started on amassing your very own down payment.

But how much do you really need to save? And why does it matter so much?

What's a Down Payment?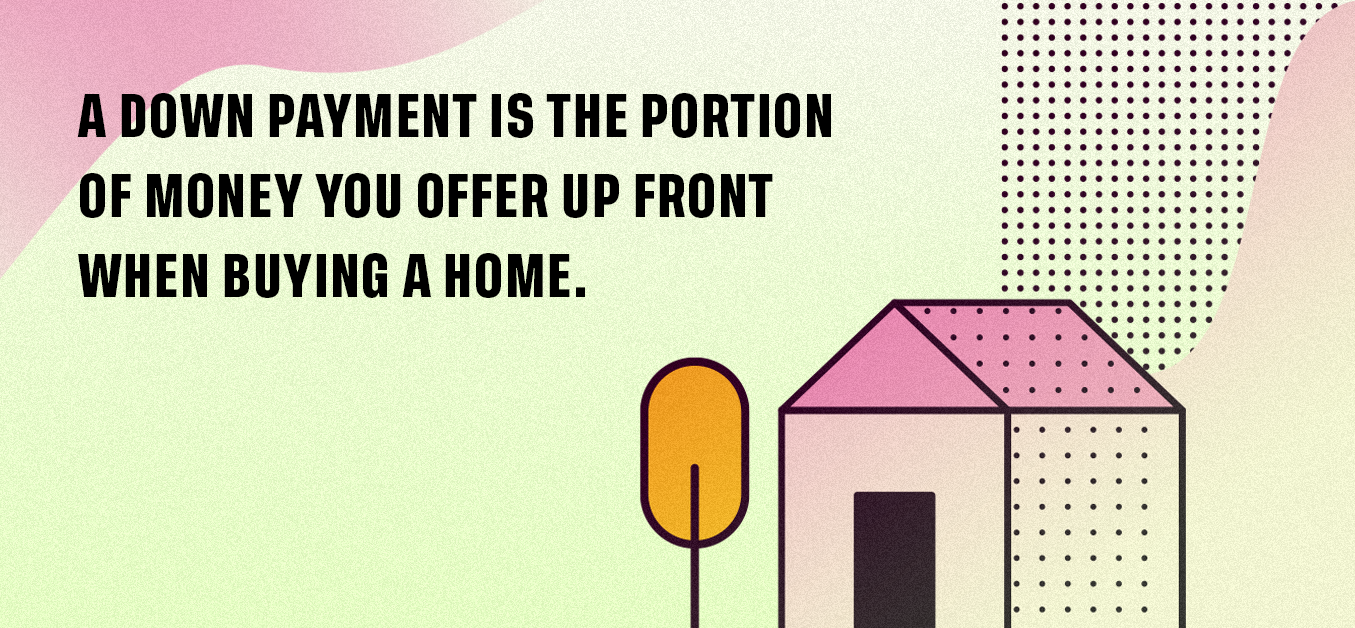 Quick, a tiny refresher: a down payment is the portion of money you have available to pay up front when buying a home. Your total purchasing power will include your down payment plus the mortgage amount that you've been approved for.

The basic idea is, for example, that if you want to purchase a home worth $500,000, you may procure a $475,000 mortgage and contribute your own $25,000 down payment. However, it's always important to remember there could be additional hidden costs you need to be aware of and plan to pay for depending on your province. You should also be aware of your total "accessible" mortgage amount, because the funds you receive from your mortgage lender to put towards your purchase could be less than the total mortgage amount you're approved for, but this is different for everyone and will be based on your individual circumstances and your mortgage lender.

Remember, you're charged interest on a mortgage, so it's generally best to go big with your down payment if you're able to. The bigger your down payment, the less you will pay in interest over time; this could save you thousands of dollars, as we'll show below.

What's the Minimum Down Payment?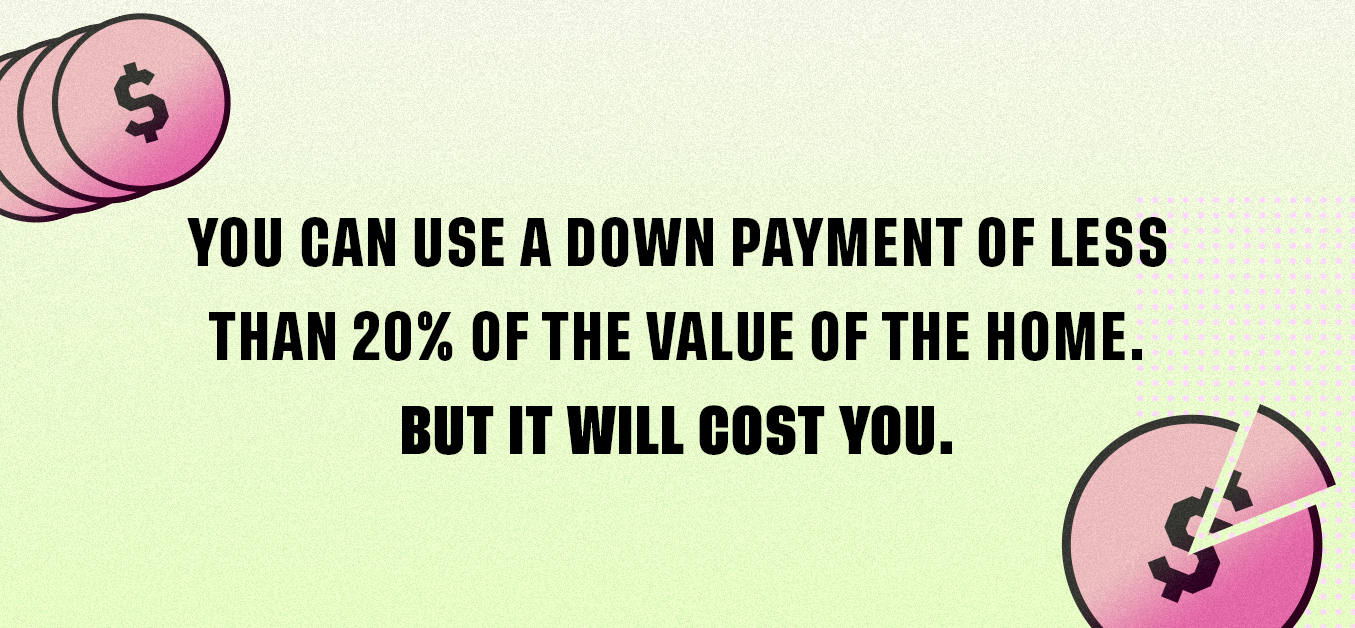 There are strict rules in Canada as to what constitutes a satisfactory down payment. This is because the Canadian government wants to make sure that would-be homeowners are able to pay the massive debt they are about to take on: the mortgage.

There are a series of minimums in place to protect you, your lenders, and the wider economy. Occasionally there may be opportunities to purchase homes with 0% down via government schemes, but we're just gonna talk basics here today.

For homes under $500,000, it is required that you have a down payment of at least 5%. For example, $450,000 x 5% = $22,500 down payment.

For homes over $500,000 but under $1 million, it is required that you have a down payment worth 5% of the first $500,000, and 10% for the portion of the purchase price over $500,000.

For example, on a home worth $750,000:
$500,000 x 5% = $25,000, plus

$250,000 x 10% = $25,000,

For a total required down payment of $50,000.


For homes valued over $1 million, you are required to have a 20% down payment, or at least $200,000.

What's Mortgage Loan Insurance?

If you have a downpayment worth less than 20% on a home valued below $1 million, you'll be required to get mortgage loan insurance. Mortgage loan insurance protects your lender in case you can't make your mortgage payments.

"It doesn't protect you," says the Canadian government.

Your mortgage loan insurance premiums can cost you between 0.6% to 4.5% of the amount of your mortgage. Your premium will be determined by the size of your down payment. The bigger your down payment, the less you'll pay in mortgage loan insurance premiums. You can pay this amount all at once or by tacking it onto your mortgage—but if you add it to your mortgage, you'll pay interest on your premiums, too.

You could also be required to get mortgage loan insurance by your lender if you have bad credit or are self employed.

Woof. So, moral of the story: you can use a down payment of less than 20% of the value of the home if it's under $1 million. But it will cost you.

What's a Good Down Payment?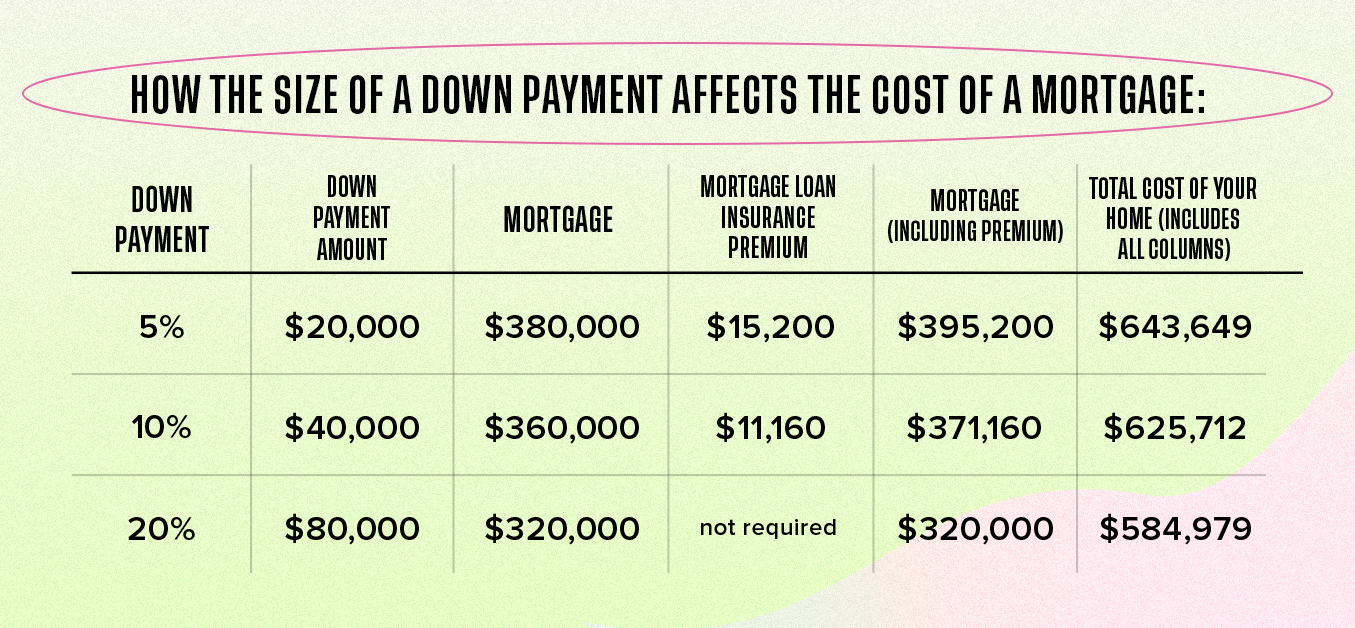 To avoid mortgage loan insurance, you've got to bring at least 20% of a home's purchase price to the table.

This is a huge pain in the ass. It's really hard to save a cool $100,000 just to buy a $500,000 single family home in the 'burbs (and even that might be next to impossible in certain parts of the country!), or a shoebox apartment in a downtown core.

But listen: no matter how frustrating it is to wait, to spend more time saving, to delay home ownership—it probably won't be as frustrating as spending an extra hundred thousand bucks in interest.

Heed us, while we lift a chart directly from the Canadian government website:

Example: How the size of a down payment affects the cost of a mortgage

Suppose you buy a home that costs $400,000 with a 4% interest rate, an amortization period of 25 years, a monthly payment frequency, and your insurance premiums are added onto your mortgage. Ready? Buckle up.

Look at that difference. Look!

The difference between a 5% down payment and a 20% down payment on a $400,000 home may only be $60,000.

But the total cost of your home will vary hugely. If you bring a 5% down payment, you will have paid an extra $58,670 to your lender than if you'd brought a 20% down payment.

I don't know about you, but that's not just pocket change. There's an argument to be made that home ownership should not be this difficult; it shouldn't be so out of reach for Gen Z and millennials (and way too many other Canadians) alike.

But this is the way it is right now; you owe it to yourself to take advantage of any government support benefits which might be available to you and you may want to save up for at least a 20% down payment. Yes it will take longer to save. But it may be much better for your finances in the long run.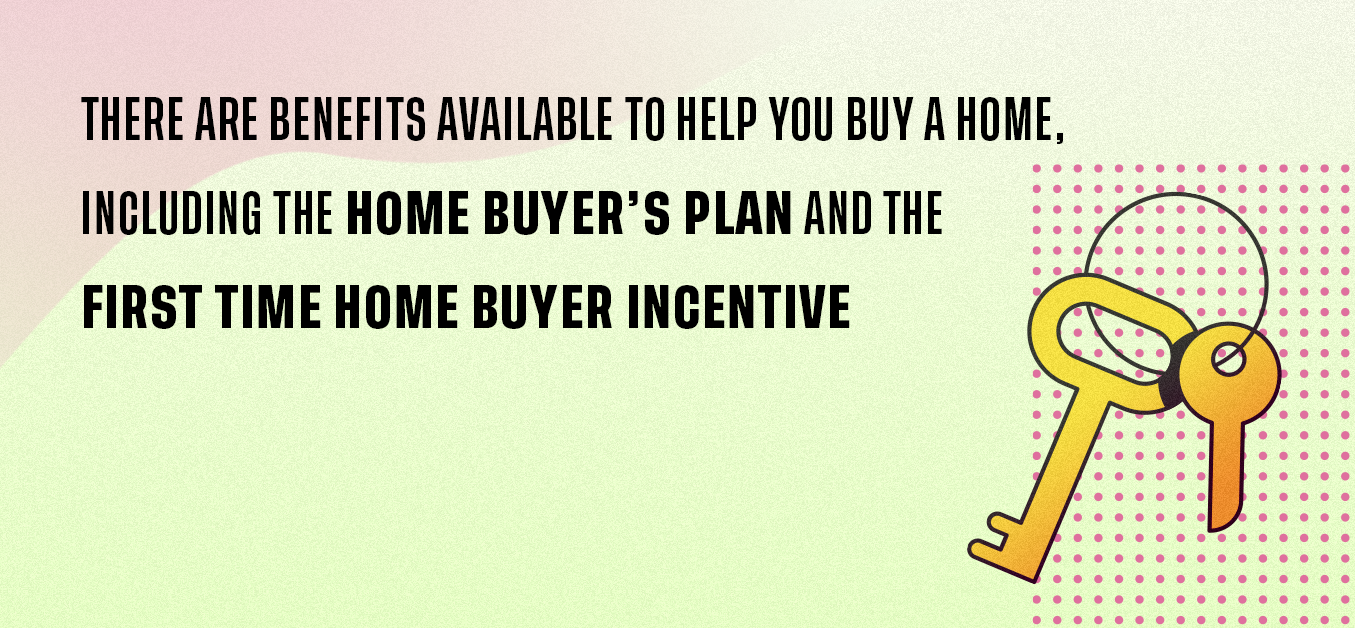 Spooked? That's alright, we all are. There are benefits available to help you buy a home, including the Home Buyer's Plan and the First Time Home Buyer Incentive, so check those out.


In the meantime, get your finances under control. Try the Mogo Visa* Platinum Prepaid Card to lock down your spending and keep an eye on your credit score (which we monitor for free as long as you keep using your MogoCard) to help ensure you'll be offered a competitive interest rate when you do apply for a mortgage.1






Don't be discouraged. Just get to work saving. You got this. 💪

This blog is provided for informational purposes only, isn't intended as real estate or mortgage advice, and isn't meant to suggest a particular real estate investment or mortgage product or strategy is suitable for any particular individual. If you're unsure about a real estate or mortgage decision, you may wish to obtain advice from a qualified professional.

*Trademark of Visa International Service Association and used under licence by Peoples Trust Company. Mogo Visa Platinum Prepaid Card is issued by Peoples Trust Company pursuant to licence by Visa Int. and is subject to Terms and Conditions, visit mogo.ca for full details. Your MogoCard balance is not insured by the Canada Deposit Insurance Corporation (CDIC). MogoCard means the Mogo Visa Platinum Prepaid Card.

1-Free credit score is provided by Equifax and is only available to MogoAccount holders that have passed identity verification. The Equifax credit score is based on Equifax's proprietary model and may not be the same score used by third parties to assess your creditworthiness. The provision of this score to you is intended for your own educational use. Third parties will take into consideration other information in addition to a credit score when evaluating your creditworthiness. Equifax® is a registered trademark of Equifax Canada Co., used here under license. MogoCard holders will be entitled to receive free credit score monitoring so long as they remain active MogoCard holders. If you do not fund your card within 60 days of ordering or make a transaction on your MogoCard for more than 90 days, then you will not be considered "active" and will be opted out of credit score.