Keep Paying Off Your Student Loan
Government relief may not mean that you should get complacent.
Since the onset of the COVID-19 pandemic, federal and provincial governments have created relief schemes to help lessen the financial burden on borrowers, which was nice of them.

As it stands, interest won't be assessed on Canada Student Loans (CSL) until 2023. This could be a welcome break for a lot of people.

But if you hold a CSL, you may have received an email recently with some interesting information.

Canada Student Loan Interest Suspension

Some CSL holders (but not all) were notified by the government that the terms of their loan had changed.

The email read:

"In June 2021, we advised you that the Government of Canada temporarily eliminated interest on Canada Student Loans and provided your updated repayment terms. As a result, more of your student loan payments goes towards your principal balance, helping you pay down your loan faster.

After further review, we have identified that your terms require further adjustment."

And what were those adjustments?

They might not necessarily be what they may seem.

Longer Repayment Periods on Canada Student Loans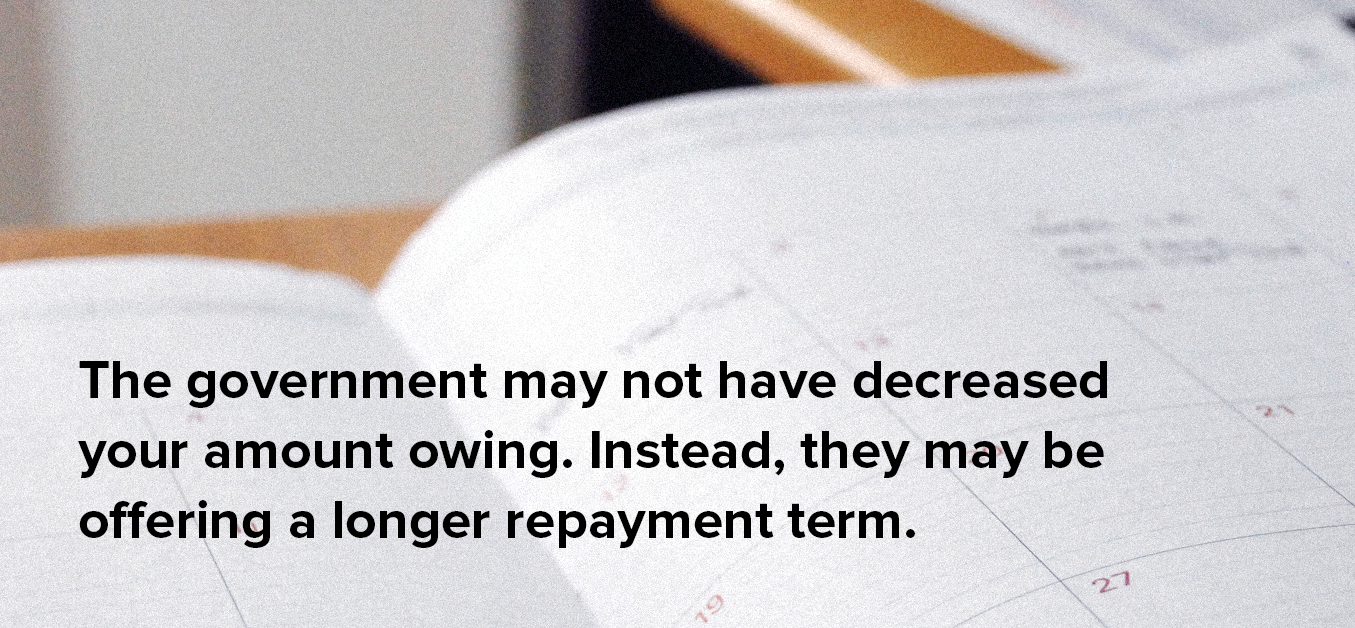 We've only heard of a few of these emails, so we can't know for sure that all CSL holders received the same info. But we wanted to flag this so you can look into it yourself.

At least some CSL holders were notified that their monthly payments had decreased. At face value, that sounds like cause for celebration. But it may not be.

The government may not have decreased your amount owing. Instead, they may be offering a longer repayment term. If we're being a bit cynical, this could be because they are currently losing out on your interest payments.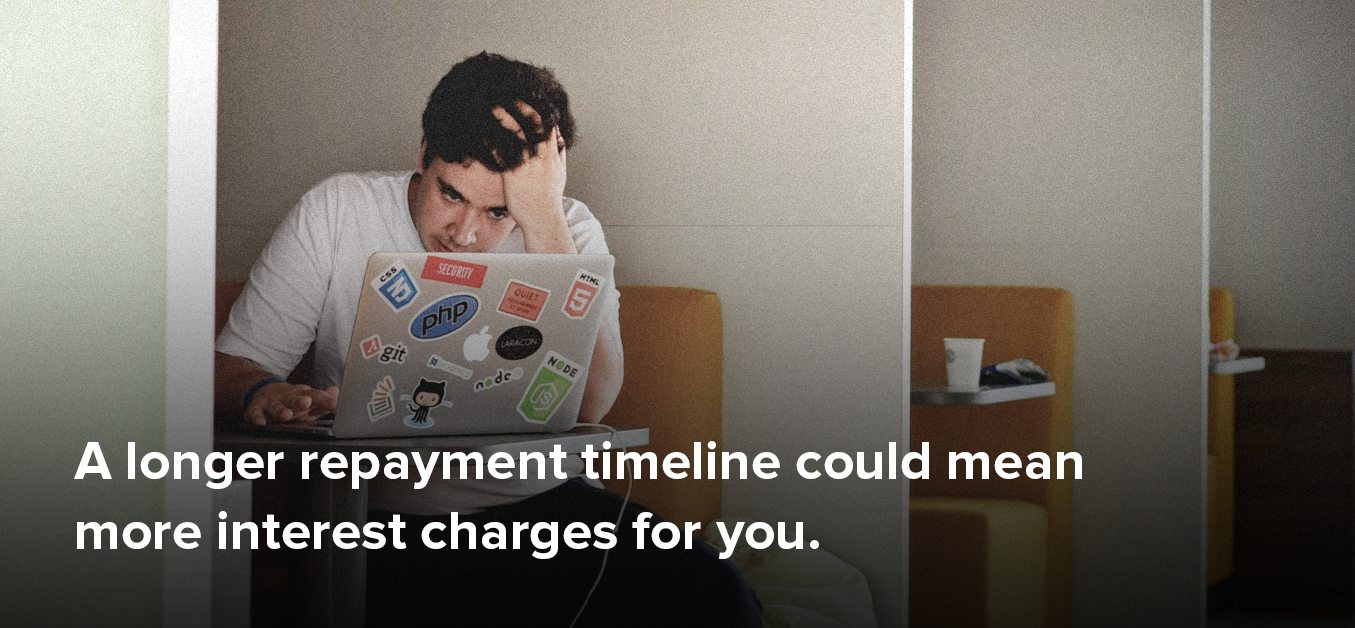 Think about it: interest payments are suspended for two years. If you're aggressively paying back your loan and capitalizing on interest relief (which, if possible, you perhaps should be!), you could save hundreds or even thousands from this interest suspension.

So by decreasing your payment amount every month, you could be extending your repayment timeline—and more of your repayment instalments could fall beyond 2023, when interest charges will likely have returned.

So, a longer repayment timeline could mean more interest charges for you.

So What Should You Do?

Is this a conspiracy theory? YES. Well, kind of, maybe?

NDP leader Jagmeet Singh made a claim typical of a Trudeau opponent in election times. "Since coming to power, Trudeau has profited off of student debt, to the tune of nearly $4 billion in interest payments," he tweeted. For the record, his phrasing is misleading.

The Toronto Star dug into this claim and reported that, indeed, the Trudeau government does generate revenue from interest payments. So it stands to reason that there remains a vested interest in extending repayment periods to generate more income via the interest you'll likely pay on your loans after 2023.

Before we go full-on raging like it's the literal Purge, it's important to consider what that revenue is used for. According to the Star, the revenue generated from CSL interest payments goes straight back into higher education.

"All that income goes toward covering the cost of no-interest loans while students are enrolled, the repayment assistance program that suspends interest payments and annual write offs that can top $200 million" Alex Usher, president of Higher Education Strategy Associates, told the Star.

So what does this mean? How do we feel about this? The government, by offering to decrease monthly CSL payments, may be trying to maximize the amount of interest you'll pay over the course of your repayment period.

But they may be  using that money to "cross-subsidize" other students. The CBC goes so far as to report that the government, far from making money on CSLs, actually loses money on the program.

So what should you do? That's entirely up to you.

One stance? Capitalize on this interest free period and pay off your student loan as quickly as you can.

It's important to keep perspective on this issue. Folks graduating from school in the pandemic-era may be facing a depressed job market; the cost of living is higher than it has ever been; the cost of buying a home is higher than ever, too.

By paying off your student loan as fast as you can, you're freeing up earned income that will pay for your life and your other financial goals during what could be a difficult economic period.

Monitor Your Credit Score

What you do in the course of paying off your student loan is entirely up to you. Do your own research, make a plan, and choose wisely.

If you're concerned about your student loan debt-to-income ratio hurting your credit score, we can help. When you sign up for the free MogoCard, you'll get access to free credit score monitoring.1 That visibility could help you keep on track to pay down your debts and help build up a great score while you're at it. Two for one!

Find out more right here. And find out how you can round up your expenses to save on interest and build wealth with our pals Moka right here.

Mogo out!
This blog is provided for informational purposes only.

Mogo Finance Technology Inc. is an affiliate of Moka Financial Technologies Inc. *Trademark of Visa International Service Association and used under licence by Peoples Trust Company. Mogo Visa Platinum Prepaid Card is issued by Peoples Trust Company pursuant to licence by Visa Int. and is subject to Terms and Conditions, visit mogo.ca for full details. Your MogoCard balance is not insured by the Canada Deposit Insurance Corporation (CDIC). MogoCard means the Mogo Visa Platinum Prepaid Card.

1-Free credit score is provided by Equifax and is only available to MogoAccount holders that have passed identity verification. The Equifax credit score is based on Equifax's proprietary model and may not be the same score used by third parties to assess your creditworthiness. The provision of this score to you is intended for your own educational use. Third parties will take into consideration other information in addition to a credit score when evaluating your creditworthiness. Equifax® is a registered trademark of Equifax Canada Co., used here under license. MogoCard holders will be entitled to receive free MogoProtect identity fraud protection and credit score monitoring so long as they remain active MogoCard holders. If you do not fund your card within 60 days of ordering or make a transaction on your MogoCard for more than 90 days, then you will not be considered "active" and will be opted out of MogoProtect and credit score.