Mogo Acquires Moka - Announcement
Our mission is to help everyone get on track to build wealth and democratize financial health by gamifying how you manage your money. We believe we can build an experience that not only helps Canadians get on track to building real wealth but also turns this into one of the most compelling games you'll ever play. The basis of our solution comes down to the fact that almost anyone can become a millionaire if they get on the right track with the right solutions and habits early on.

The math is clear, a 20 year old making $40,000 a year can retire at 65 with $5.5M simply by investing 20% of their after tax income! How? By investing in low cost and diversified funds – the S&P 500 has averaged a 10% annual return over the last 95 years.1

You're probably thinking 'I'm in, now help me make this goal a reality'. Okay well here you go.
Today we're taking a huge step forward in helping our members achieve this goal by announcing our plan to acquire Moka.ai. Since its launch in 2017, Moka has evolved into one of Canada's leading saving and investing apps. Moka's mission is to help people achieve their financial goals through their innovative roundup feature, which automatically rounds up daily purchases and invests the spare change in personalized, diversified portfolios of low-cost Exchange-Traded Funds.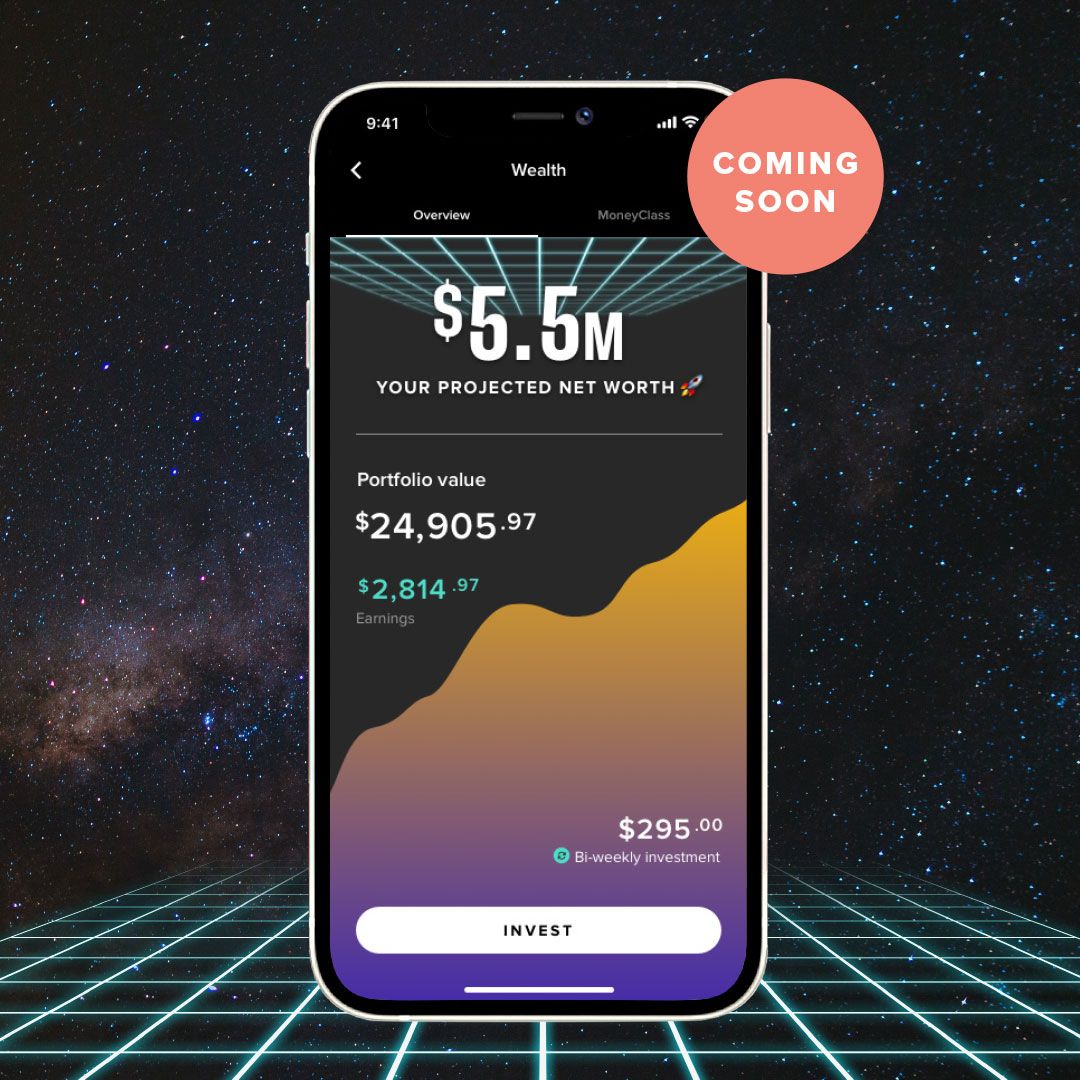 So what does this mean to you? Not only does Mogo help you better control your spending with the Mogo Visa* Platinum Prepaid Card, you'll also be able to save and invest soon using Mogo so you can stack those millions. Here's how you're going to do that:
The key to building wealth comes down to how well you control your spending, so you stay out of debt, and have money for saving and investing. We recommend that you follow the 50/30/20 budgeting plan.

a) 50% of your after tax income into needs.
b) 30% into wants.
c) 20% into paying down debt or investing.
Spend less, so you can have more money to save and invest. The MogoCard is designed to help you better manage your spending. Simply transfer your spending budget to your MogoCard to stay in control.

The 20% you're saving needs to be invested. This is why we've been working to bring new capabilities to MogoWealth for you. This is where Moka comes in. Moka has built a world-class saving and investing app. You'll be able to start saving and investing as much or as little as you'd like, while tracking your progress in the app. Set it and forget it, you don't need to be a master stock picker or have any stock market knowledge. Follow the plan you'll hit your millionaire goal. Very exciting, we know! We will keep you posted once we have a launch date set.3


For those who want to take their money game to the next level, this acquisition will also help accelerate our plans to launch free stock and crypto trading. Everyone will be able to add individual stock investing, a variety of cryptocurrencies, and low-cost ETFs to their portfolios. Again we will keep you up to date on our plans.4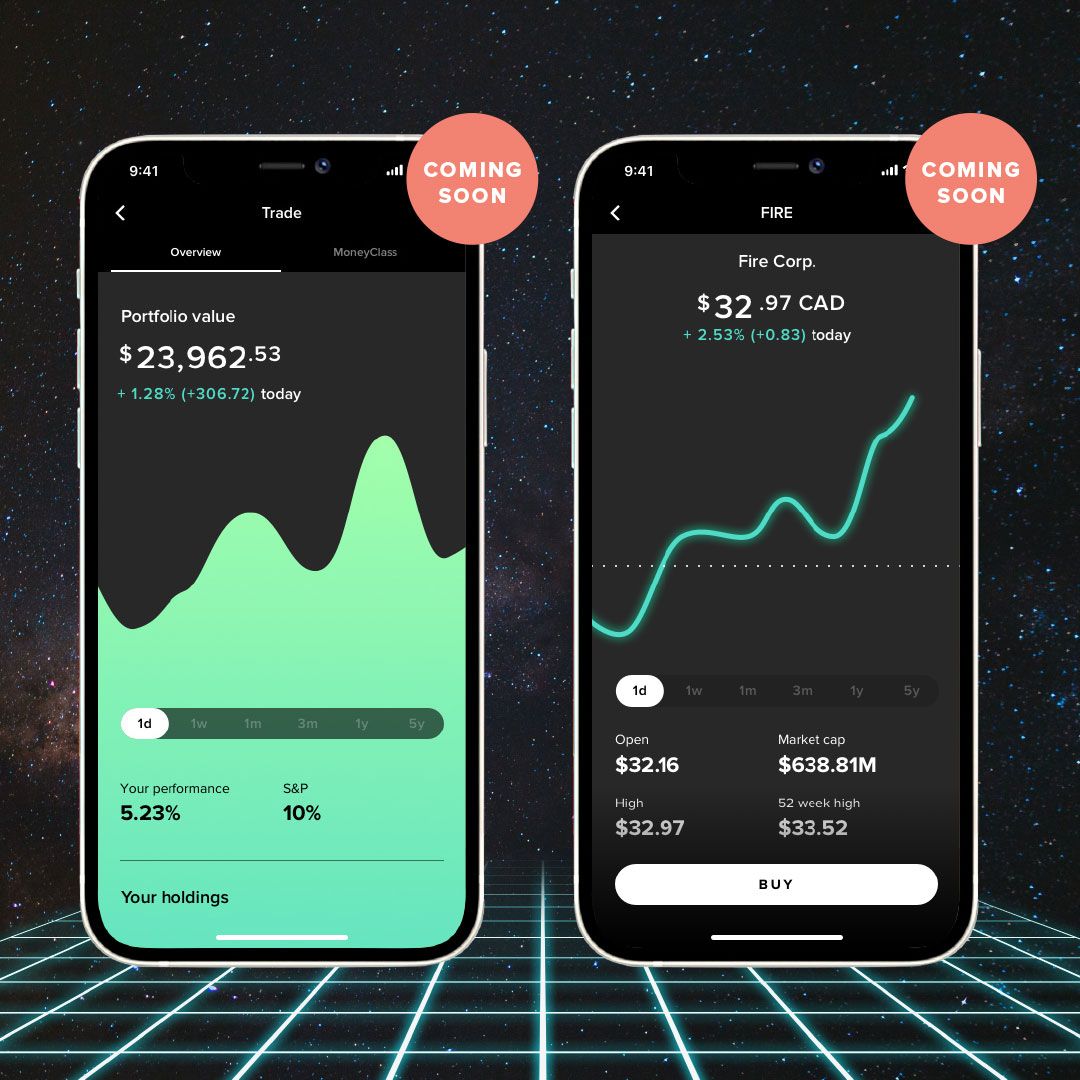 We are super excited to bring this and many other great features to our Members. Stay tuned for more news and announcements to come.

- Team Mogo
This blog is provided for informational purposes only, is not intended as investment advice, and is not meant to suggest that a particular investment or strategy is suitable for any particular investor. If you're unsure about an investment, you may wish to obtain advice from a qualified professional. Nothing herein should be considered an offer, solicitation of an offer, or advice to buy or sell securities. Past performance is not a guarantee of future results. Any historical returns, expected returns or probability projections are hypothetical in nature and may not reflect actual future performance. This blog contains descriptions and images of products that are currently in development. All account holdings and other details contained in the content and images of this blog are for illustrative purposes only and are not investment recommendations. Buying and selling bitcoin is risky and you may suffer losses. The price of bitcoin is highly volatile and speculative. You should never invest more in bitcoin than you can afford to lose.

* Trademark of Visa International Service Association and used under licence by Peoples Trust Company. Mogo Visa Platinum Prepaid Card is issued by Peoples Trust Company pursuant to licence by Visa Int. and is subject to Terms and Conditions, visit mogo.ca for full details. Your MogoCard balance is not insured by the Canada Deposit Insurance Corporation (CDIC). MogoCard means the Mogo Visa Platinum Prepaid Card

1 – This representative example is provided for illustrative purposes only and assumes an investment of $6,400 per year for 45 years in the S&P 500 with a 10% rate of return per year (compounded annually) via an RRSP with an approximate annual income tax refund of $1280 that is reinvested into the same RRSP with the same rate of return for a total annual contribution of $7,680. Past performance is not indicative of future results. For more information on historic average annual returns for the S&P 500, see: https://www.investopedia.com/ask/answers/042415/what-average-annual-return-sp-500.asp.

3 – The MogoWealth (Moka) product is currently in development and not yet available to existing or new MogoMembers. The final product may differ from the description and images contained herein.

4 – Mogo does not currently offer the ability to buy individual stocks or access to any cryptocurrencies aside from bitcoin. This functionality is currently in development and not yet available to new or existing MogoMembers. The final product may differ from the description contained herein.