More money and a healthier planet

Spend less and save more than you think. Overspending is the number one reason why Canadians are struggling financially and overconsumption is directly linked to climate change. In other words, financial health and the health of the planet are closely linked.



With Canada now in a state of climate emergency, we want to make it easier for Canadians to make a positive impact while improving their financial health by offering a carbon offset program that is the first of its kind.


How will we reduce your carbon footprint?
A carbon offset is a reduction in emissions of carbon dioxide or other greenhouse gases made in order to compensate for emissions made elsewhere. Mogo will purchase credits for emission reductions achieved by projects such as wind farms, solar installations, or energy efficiency to reduce your net climate impact.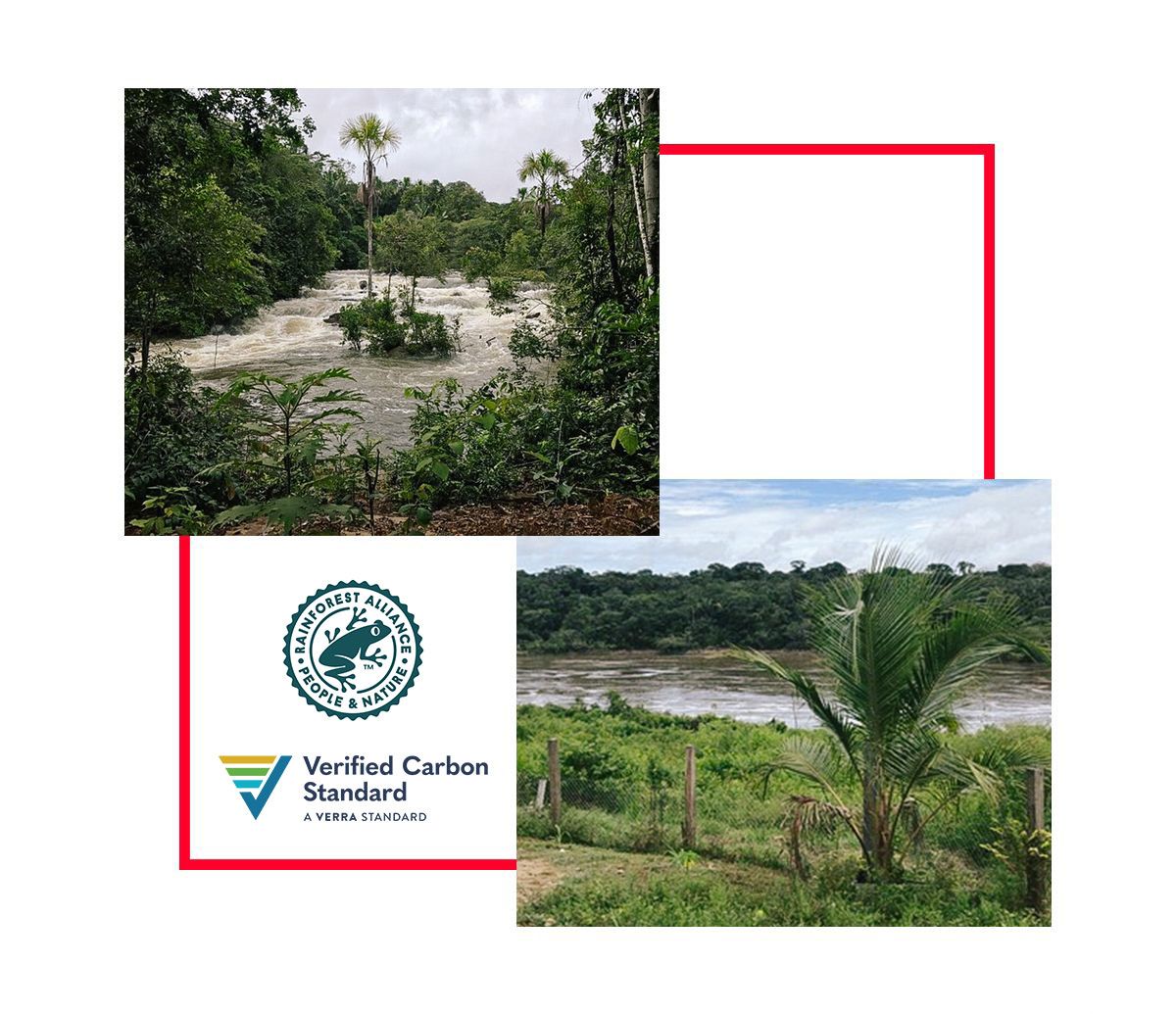 We've partnered with Offsetters, one of Canada's leading providers of sustainability and carbon-management solutions, to offset carbon emissions. Our current carbon offset project is the REDD+ Amazon Forestry Project. The Amazon Rainforest is the world's largest natural carbon sink on land and home to 30% of the planet's known biodiversity. This project protects 130,000 hectares of land in a region with one of the highest deforestation rates in the Amazon. The sustainable management of this project is approved and supervised by the Brazilian government and the project will generate 634,000 tonnes of carbon credits in its lifetime. You can learn more details about this project here.

Offset one pound of CO2 for every dollar you spend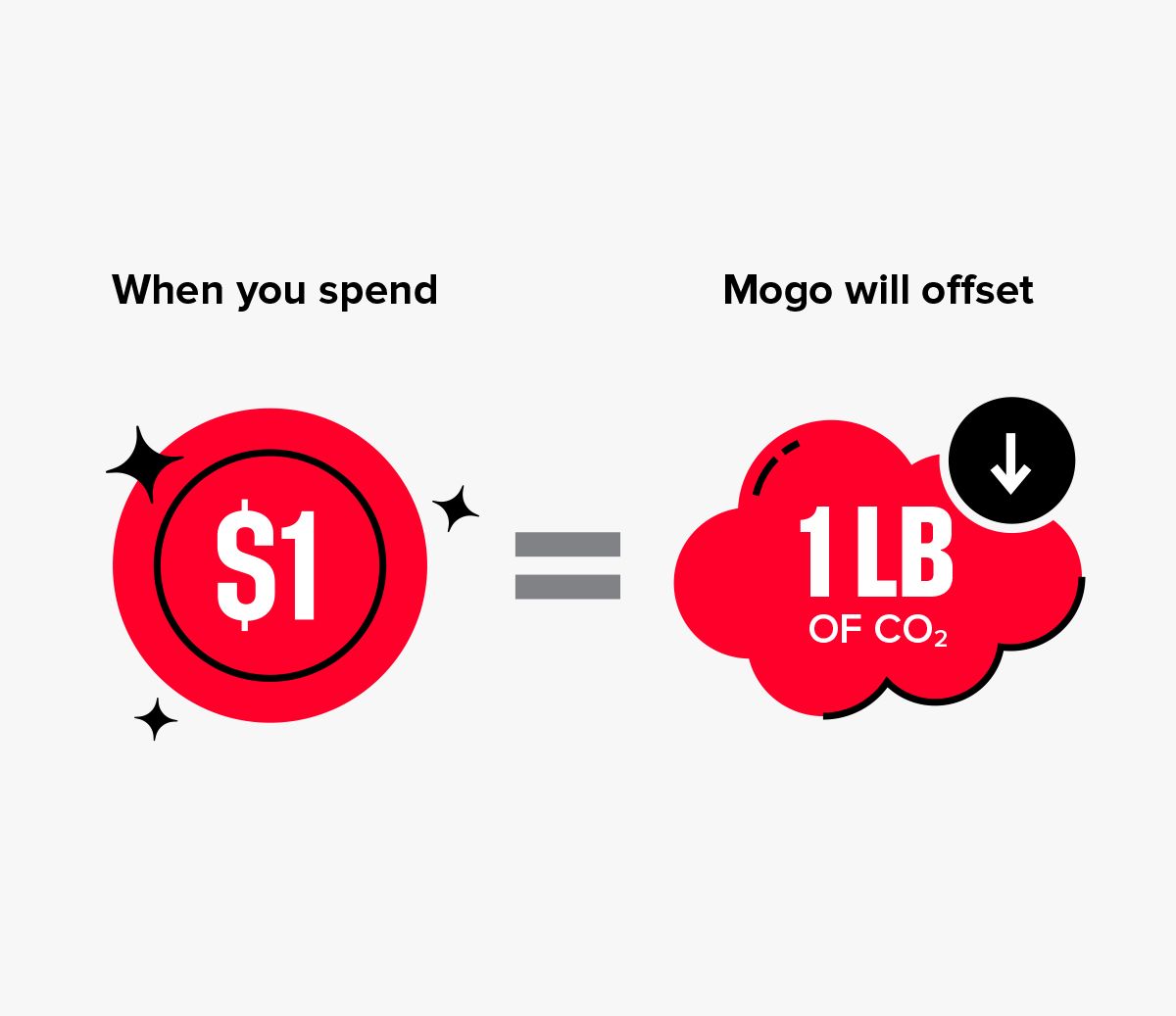 It is important to remember that reducing your spending and purchasing items that are more sustainable has the most impact, but carbon offsetting will help you take that further.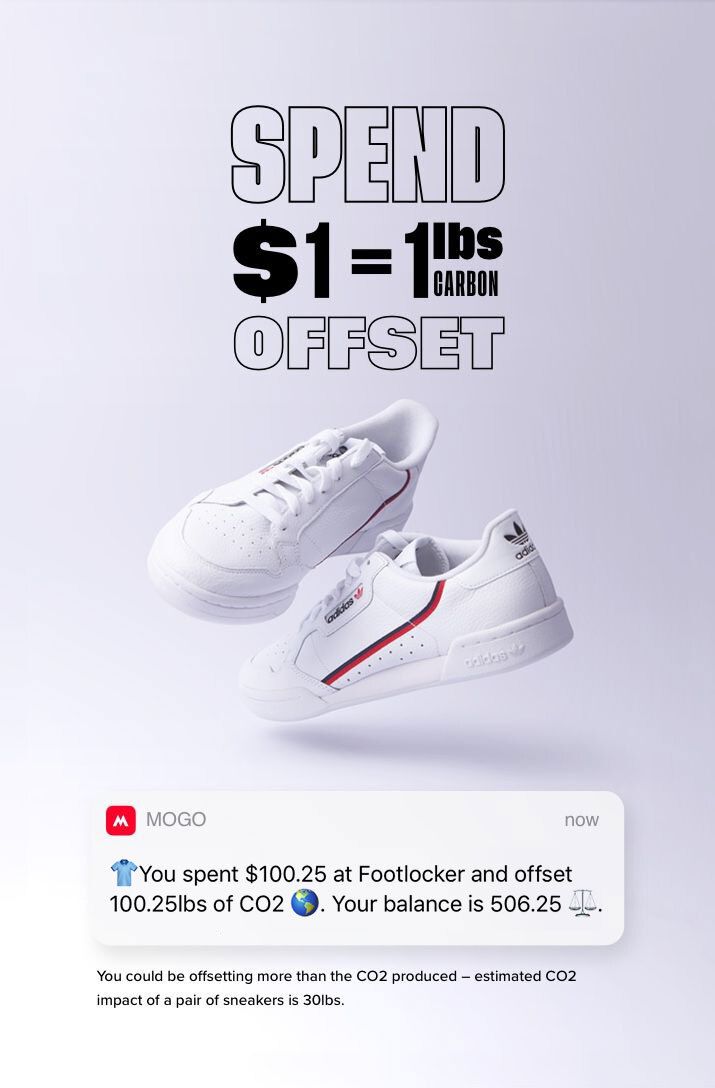 For example, consider a pair of sneakers. The process of making them accounts for approximately 30 lbs of CO2 emissions, and you're going to buy them with MogoSpend for $100. That means you'll offset 100 lbs of CO2 and compensate for 3X the amount of CO2 the shoes generated.If all of Canadian household spending is spent using MogoSpend, Canada could be climate positive and help contribute to offset global carbon emissions.1


Our goal to become carbon neutral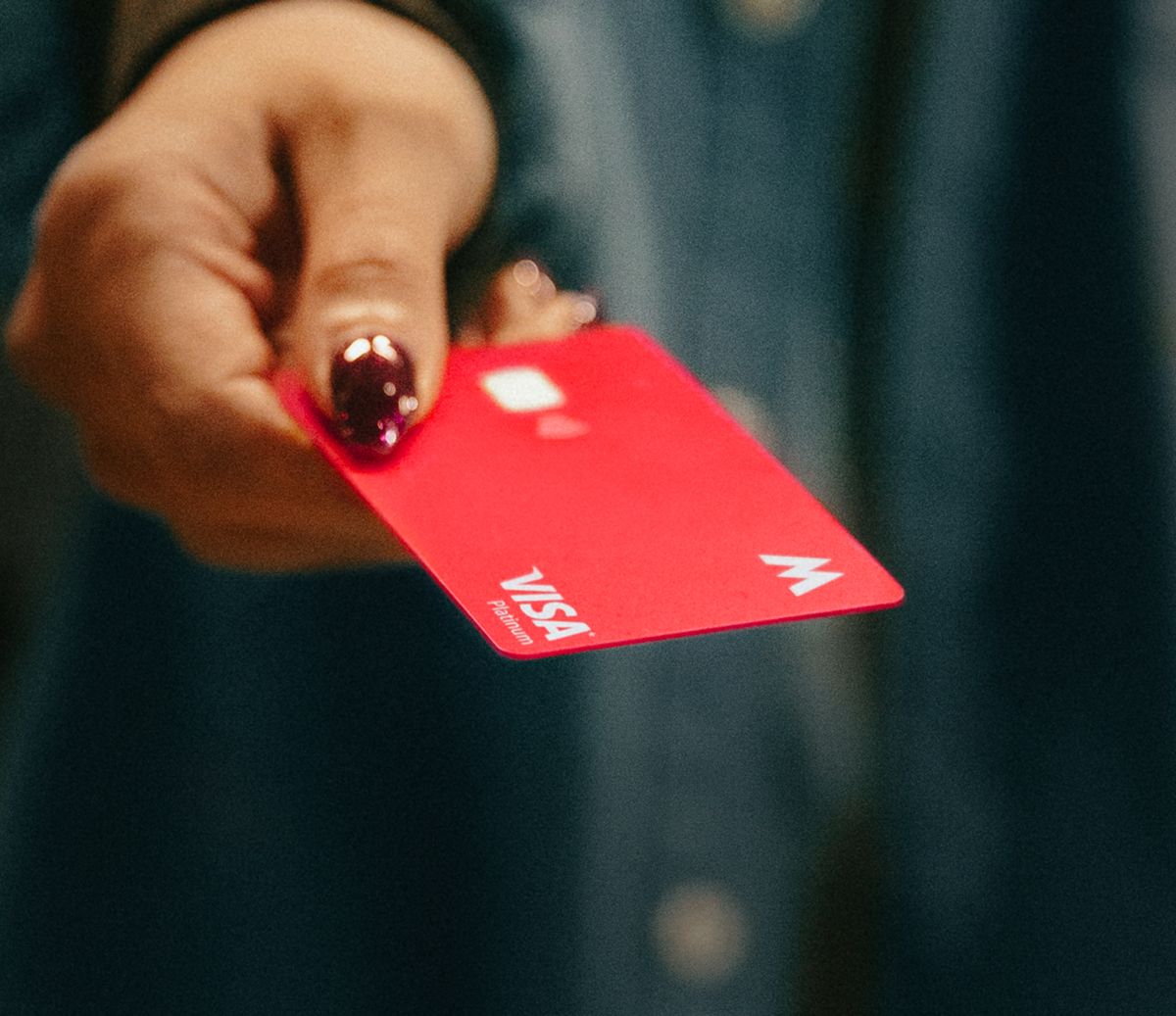 Like all physical goods, the Mogo Visa* PlatinumPrepaid Card generates carbon emissions during its manufacturing process. Mogo has made our initial batch of MogoCards carbon neutral by purchasing carbon offset credits to neutralize the impact from the making of the MogoCard. Plus, Mogo is actively searching for more environmentally-friendly ways to produce the MogoCard. One of our aspirations as a company is to become carbon neutral by continuing to find innovative ways to help reduce and offset our overall environmental impact, while still providing you with the best products to help you achieve your financial goals.


Master your spending for good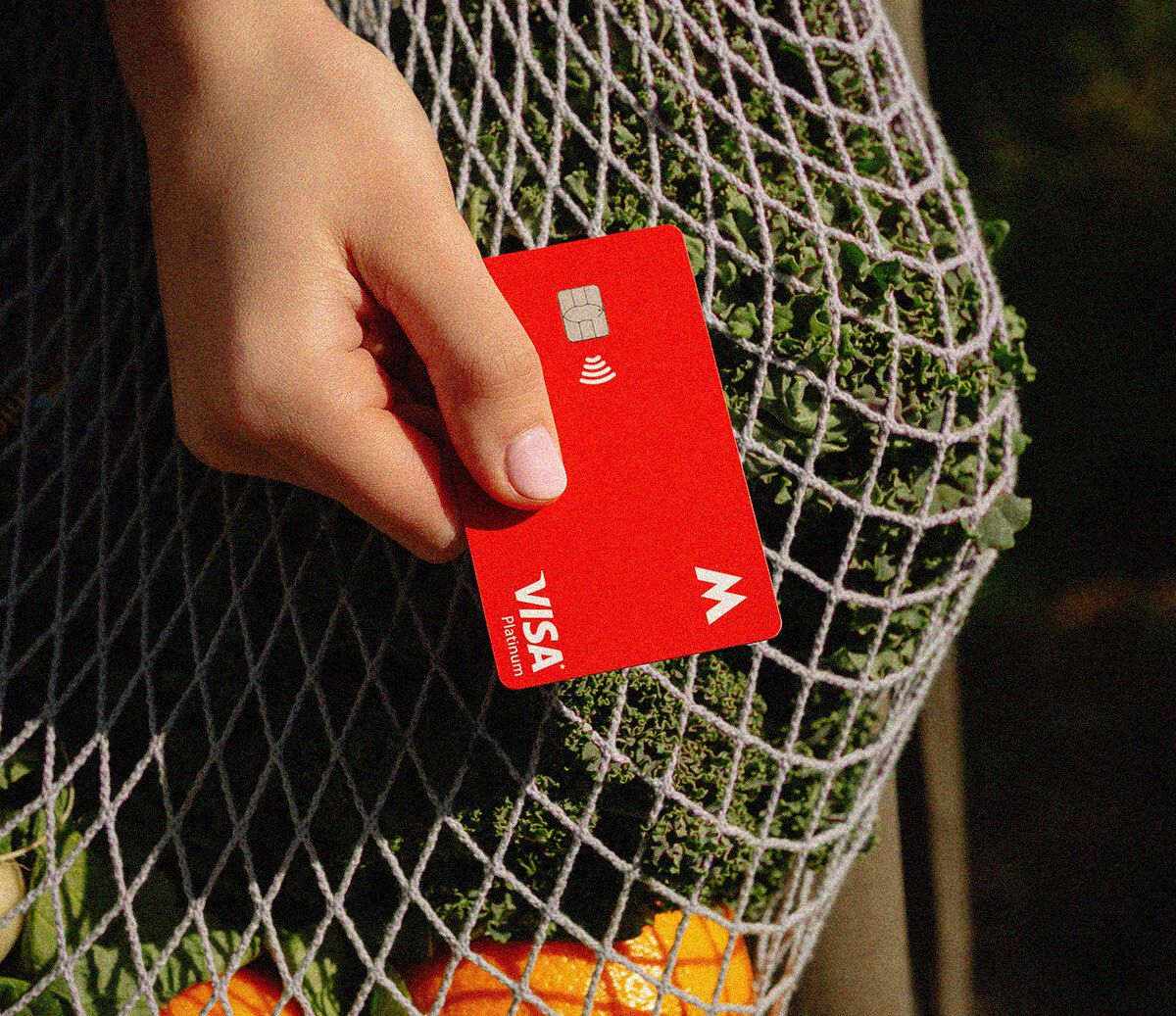 With MogoSpend, Canadians can better control and reduce their spending while also helping to offset their carbon footprint.2 Learn more about other great benefits and features MogoSpend offers to help you reach your financial best while helping the planet.



1 - In order to approximate the amount of CO2 correlated to each Canadian dollar in household spending, Mogo utilized the following formula: (Total 2017 GHG emissions x 72%) divided by total household spending= 0.25lb CO2 per Canadian dollar (approx.). This formula is based on the following statistics:
Total Canadian 2017 GHG emissions: 716 megatonnes, converted to lbs (x 2200) = approximately 1.579 trillion lbs CO2, source: https://www.canada.ca/en/environment-climate-change/services/environmental-indicators/greenhouse-gas-emissions.html.
72% of global emissions are caused by household consumption, source: https://link.springer.com/chapter/10.1007/978-3-319-20571-7_9
Total Canadian 2017 household spending on goods and services: $4.546 trillion CAD, source: https://www150.statcan.gc.ca/t1/tbl1/en/cv.action?pid=3610010701#timeframe
2 - MogoSpend is only available to MogoMembers with an activated MogoCard. MogoCard means the Mogo Visa Platinum Prepaid Card.
* Trademark of Visa International Service Association and used under licence by Peoples Trust Company. Mogo Visa Platinum Prepaid Card is issued by Peoples Trust Company pursuant to licence by Visa Int. and is subject to Terms and Conditions, visit mogo.ca for full details. Your MogoCard balance is not insured by the Canada Deposit Insurance Corporation (CDIC).