More money and a healthier planet

Overspending is the number one reason Canadians struggle financially, and overconsumption is directly linked to climate change. In other words, financial health and the health of the planet are closely related.

With Canada now in a state of climate emergency, we want to make it effortless for Canadians to make a positive impact while improving their financial health. So, we're entering Code Red Mode and planting a tree every time you take an action with Mogo.


Plant a Tree Every Time You Make a Purchase

Every time you make a purchase, no matter the amount, we'll plant a tree for you for free! By using the Mogo Visa* Platinum Prepaid Card, you can help fight climate change effortlessly while saving money and building wealth. According to a recent Mogo survey, two thirds of MogoCard users report spending less when using the MogoCard, with some saving an average of $201 per month, and 90% said the card helped them control their spending.1

Reducing your spending and purchasing more sustainable items has an environmental impact, but planting trees can help you take that further.

And when you continue to leverage Mogo, you'll plant even more trees.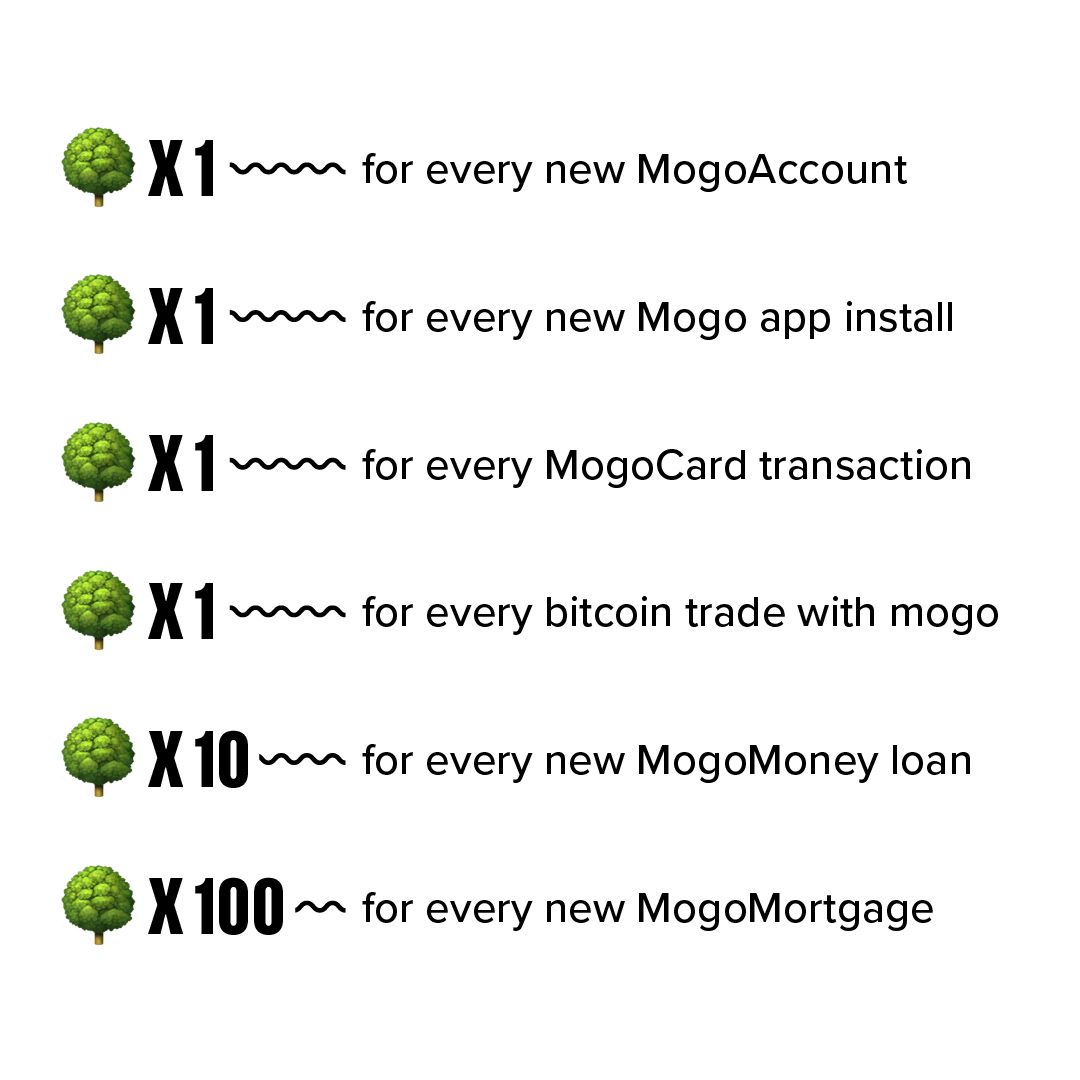 For example, one tree could absorb an estimated 500lbs of CO2.2 When you get a mortgage with Mogo, we'll plant 100 trees, that's 50,000lbs of carbon you could help to eliminate from the atmosphere by getting a MogoMortgage.3


To put it in perspective, we crunched the numbers and discovered that if only 20% of all transactions in Canada were made with the MogoCard, we'd make Canada climate positive.4



What is Code Red Mode?

A recent report on climate change by the UN Intergovernmental Panel on Climate Change (IPCC) called a "code red for humanity," so we're taking massive action to help Canada reach net-zero emissions well before the country's goal of 2050.

We've partnered with Vancouver, BC-based veritree to plant trees in deforested areas in Kenya and Madagascar with plans to grow beyond this in the years to come. Recently launched start-up veritree, from the founders of the popular eco-clothing brand tentree, has built the world's best on-the-ground monitoring and management tool for nature-based solutions projects.

And you can help the country become carbon neutral sooner by using the MogoCard!


Our goal to become climate positive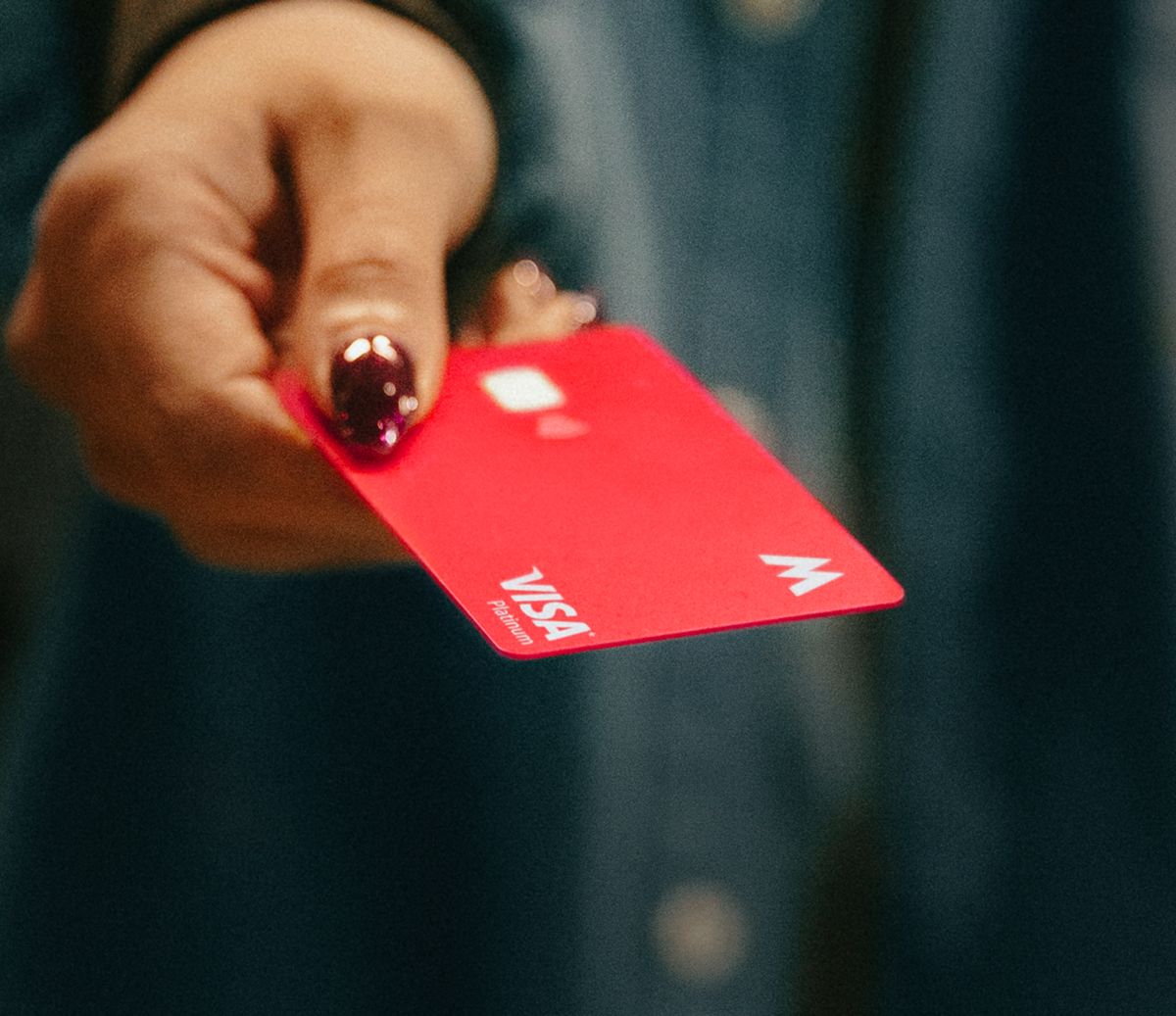 Our commitment to fighting climate change isn't new—we've already offset 35+ million lbs of CO2 by purchasing carbon offsets to reduce our corporate carbon footprint, in addition to offering climate change fighting features through the MogoCard. Previously, $1 spent with the MogoCard would result in 1 lb of CO2 offset.


But we realized we needed to do more. By focusing on reforestation, we could fast-track our positive environmental impact and help get Canada to net-zero emissions faster.


Like all physical goods, the MogoCard generates carbon emissions during its manufacturing process. Mogo has made our initial batch of MogoCards carbon neutral by purchasing carbon offset credits to neutralize the impact from the making of the MogoCard. Plus, Mogo is actively searching for more environmentally-friendly ways to produce the MogoCard. One of our aspirations as a company is to become carbon neutral by continuing to find innovative ways to help reduce and offset our overall environmental impact while still providing you with the best products to help you achieve your financial goals.


Master your spending for good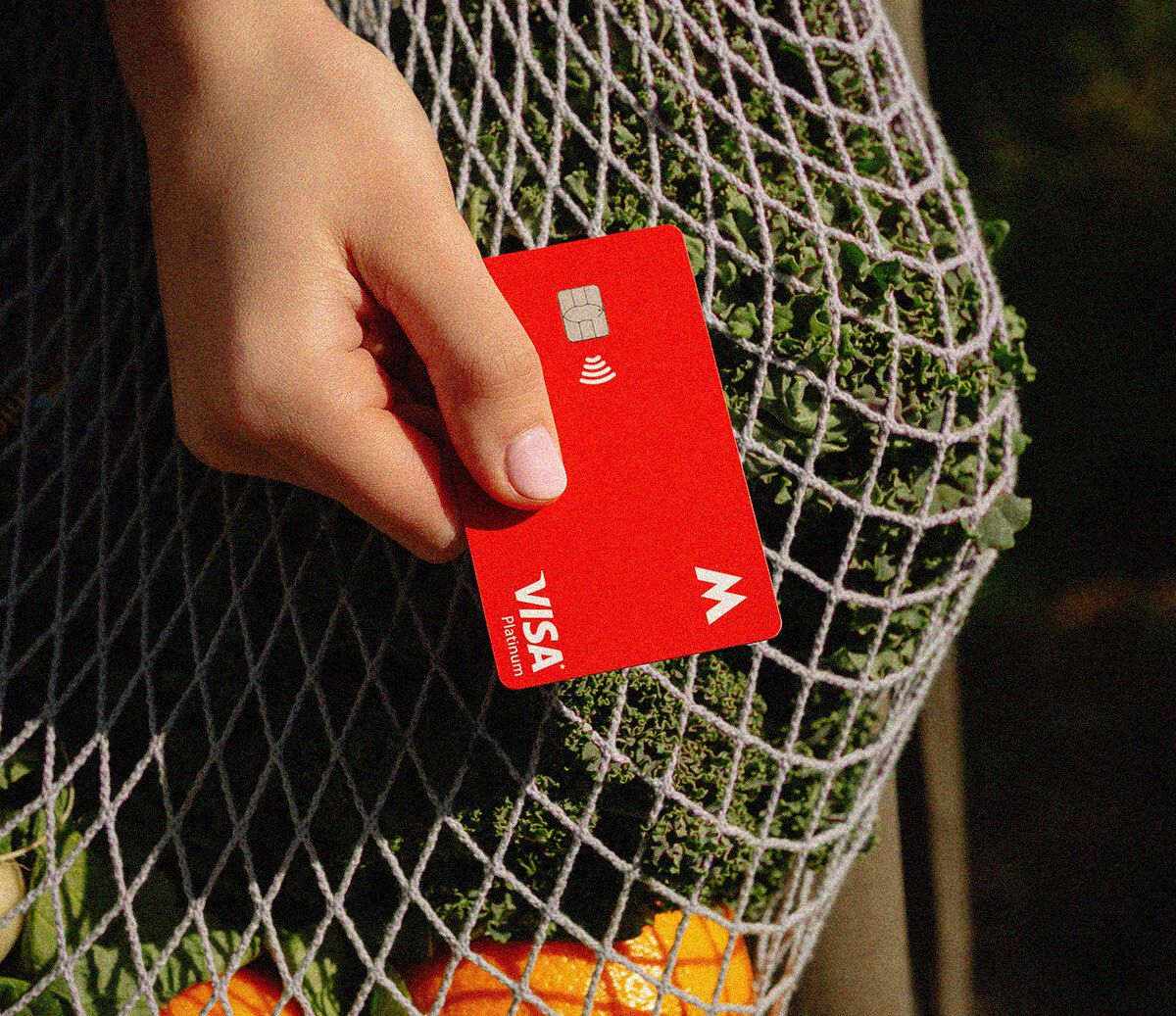 With the MogoCard, Canadians can spend smarter while erasing their carbon footprint for free.


Are you ready to join the fight against climate change?
*Trademark of Visa International Service Association and used under licence by Peoples Trust Company. Mogo Visa Platinum Prepaid Card is issued by Peoples Trust Company pursuant to licence by Visa Int. and is subject to Terms and Conditions, visit mogo.ca for full details. Your MogoCard balance is not insured by the Canada Deposit Insurance Corporation (CDIC). MogoCard means the Mogo Visa Platinum Prepaid Card.


1- Based on an online survey of active MogoCard users by Mogo Inc. conducted between July 13, 2021 and July 16, 2021, with 1,446 respondents to a combination of multiple choice and fillable text box questions. 91% of respondents agreed that the MogoCard can help them better control their spending. 66.5% of respondents reported that they were spending less on discretionary spending now that they were using the MogoCard, with respondents reporting that they believed to have an average savings of $201 per month (based on 902 respondents who specified an amount and excluding 60 respondents who did not specify any amount).


2-According to research conducted by Veritree Technology Inc. 550 lbs. is an approximate amount based on Above-Ground-Carbon (AGC) and Below Ground Carbon (BGC) sequestration estimates contained in several scientific research papers regarding the carbon sequestration of Mangrove trees (the "Research"). The Research contains various ranges for the rate of carbon sequestration per hectare of land. In order to arrive at the approximate amount of 550 lbs., Veritree triangulated data points from the Research regarding AGC and BGC sequestration estimates, and then converted those results into the approximate amount of lbs. per tree.


3-To apply for any Mogo product, you must open a MogoAccount and pass identity verification. The MogoAccount is currently only available to individuals in BC, AB, SK, MB, ON, NB, NS, PE, NL, YT, NT and NU. who have reached the age of majority in their province of residence. The MogoMortgage application is currently only available to MogoMembers in BC, AB, MB, ON, NB, NS, PE and NL that have met our underwriting requirements.


4-Based on the most recently available data from 2019 and assuming future data follows a similar trajectory. If 16.5% of the approximately 17.79 billion transactions done in Canada in 2019, including by cash, credit card, debit card, prepaid card and via ATM, were instead done on the MogoCard that would result in 2.936 billion trees being planted. 2.936 billion trees multiplied by 550 lbs of CO2 equals 1.614 trillion pounds of CO2 offset over the lifetime of the trees (approximately 25 years) which covers the approximately 1.609 trillion pounds of carbon that Canada emitted in 2019, thereby making Canada's 2019 carbon footprint carbon neutral. Learn more: /were-in-code-red-mode/#.YSaFPtNKhjQ.