#MogoMonday contest – we're giving away $2200 each month!

Since financial health is more important now than ever, and getting out of debt continues to be a top financial goal for Canadians, we've decided to kick off the #MogoMonday 2020 Contest. Each month we'll be giving away up to $2,200 with multiple winners announced every week!1



Each week of the Contest, we'll randomly select #MogoMonday winners from all eligible MogoMembers who enter before 4:59 PM Pacific time on the Saturday before the draw date. The first winner will be picked the week of Monday, May 18. How do you enter? It's very, very easy:
Have the Mogo app downloaded on your iOS or Android device.
Have push notifications turned on. Apple users: make sure push notifications are turned on in the Mogo app. Android users: go to your phone settings (not your Mogo app settings) to check that push notifications from Mogo are active.
Log in to the main dashboard of the Mogo app within 30 days before the applicable Saturday draw deadline.
Watch for a "winning" notification letting you know you've won!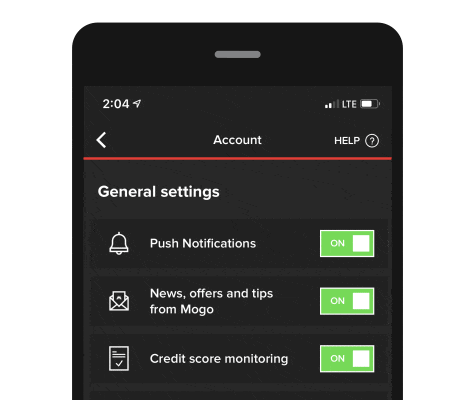 Seriously, that's all it takes to participate in each #MogoMonday draw!


So, what happens if you win?

If you are selected as a potential winner, you'll need to take a few steps within a 3-day time window in order to receive your prize. Don't worry, they're also very, very easy and we'll email you all the details if you've won.



Winners to Date

$250 prize - Ryan B.
$250 prize - Dawn F.
$250 prize - Jeneil J.
$50 prize - Danilo B.
$50 prize - Shahriar A.
$50 prize - Rachel A.
$50 prize - Pamela C.
$50 prize - Garett H.
$25 prize - Robert D.
$25 prize - Milad Y.
$25 prize - Danielle N.
$25 prize - Abu Jubait B.
$25 prize - Anthon M.



1 - No purchase necessary. The MogoMonday 2020 Contest starts May 11, 2020 and runs until Mogo, in its sole and absolute discretion, decides to terminate it. Draws will occur each Monday that is a business day on a weekly basis starting the week of May 18, 2020. Each draw will have an entry deadline of 4:59PM Pacific Time on the Saturday prior to the applicable draw date (the "Draw Deadline'). This contest is open to new and existing MogoMembers who meet the contest Eligibility Criteria outlined in the Official Rules (including passing Mogo's know your client verification process), download the free Mogo app (only available on iOS or Android), log in to their Mogo app within 30 days before the applicable Draw Deadline and have push notifications turned on. Mogo will send each potential winner a push notification to their mobile device through the Mogo app. To be declared a winner, potential winners must take a screenshot of this push notification and email it back to Mogo, complete a waiver, and correctly answer a skill-testing question within 3 days of being notified. There will be ten prizes with a total value of $550 (1 prize of $250, 3 prizes of $50, and 6 prizes of $25) available each week of the Contest. Winners will receive their prize via Interac e-Transfer. See Official Rules & Regulations for full contest details.