Here's How To Transfer Your BTC To CoinSquare
You have until December 12 to transfer or sell and withdraw your remaining bitcoin holdings1. After the deadline, your bitcoin will be liquidated and you will no longer be able to transfer it to Coinsquare. Your only option will be to withdraw your holdings as CAD.
Before we begin, make sure you are using the most recent version of the Mogo app.
1. Open the Mogo app and click on the Bitcoin dashboard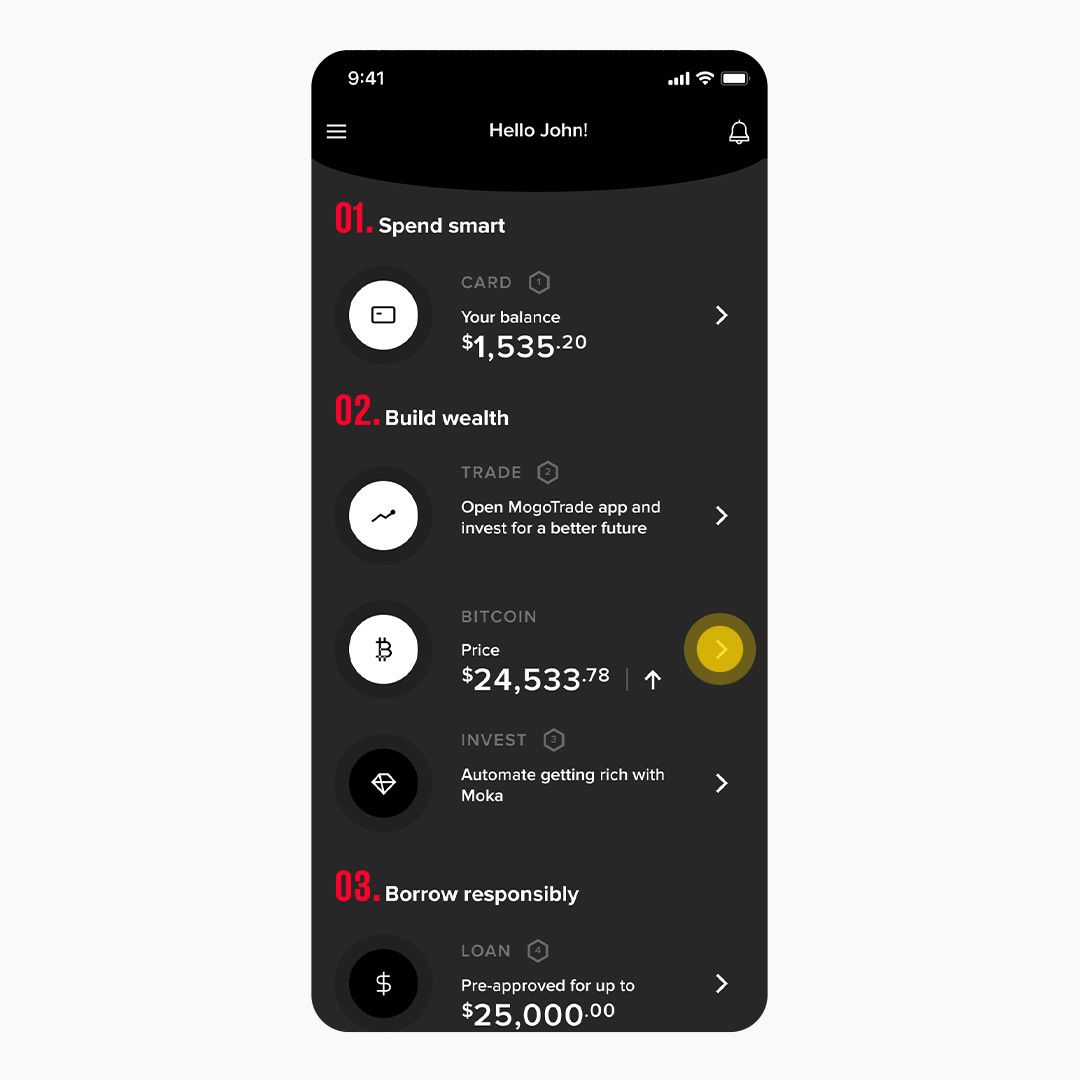 2. Click on the 'Transfer' button.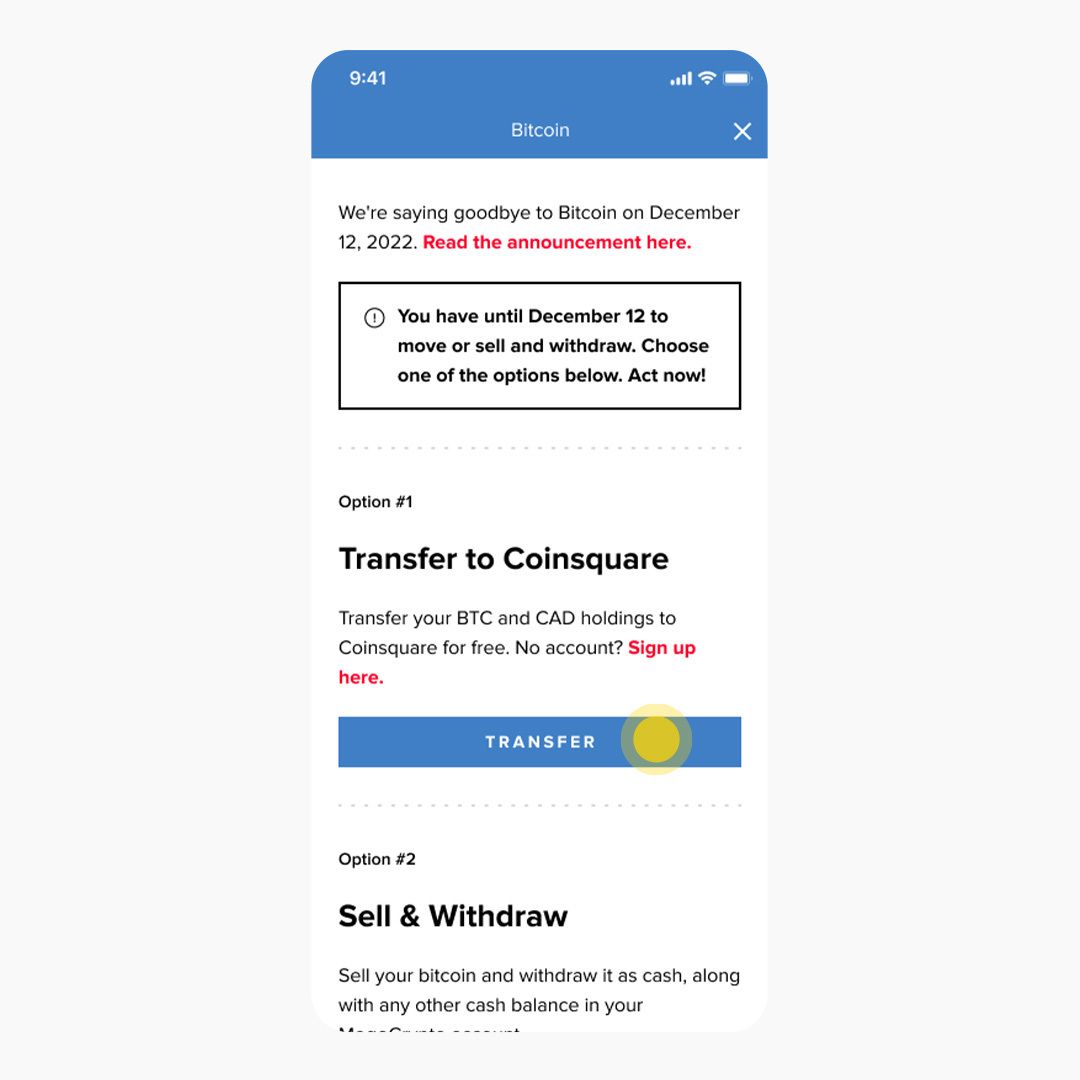 3. Select 'Sign up for a Coinsquare account here' or add your Coinsquare Account ID if you already have an account. You can find this ID under your Account Profile in the Coinsquare app.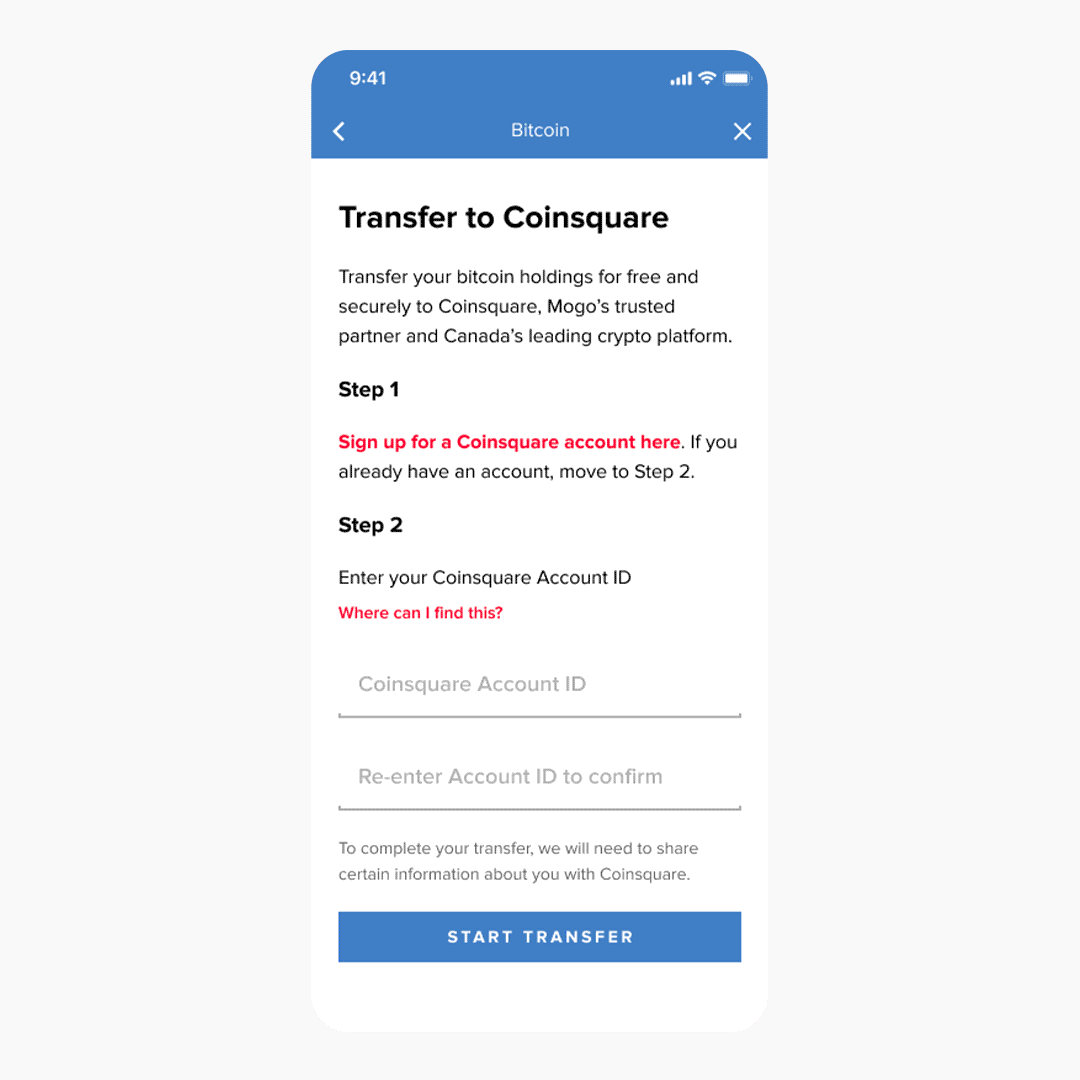 4. Now, you just need to select 'Start Transfer' and confirm that you want to submit a transfer request (note: you cannot undo the transfer after you start the request!).
After completing these steps, you'll see a submission confirmation screen and you'll receive an email confirming your transfer request.
Option 1
Transfer your bitcoin holdings to Coinsquare2
Option 2
Sell and withdraw your BTC and any available funds you have
We're working with Coinsquare to ensure this process and transition is as smooth as possible. Coinsquare will send you an email once the transfer is completed, but Mogo will not send you any further confirmation.

While we wish you could continue your bitcoin journey with us, we hope to bring it back, even better, in the future as part of MogoTrade.3

Please be advised that Mogo will receive a fixed referral fee from Coinsquare for every MogoMember that transfers their bitcoin and/or fiat holdings to Coinsquare Capital Markets Ltd. For more information, you may review the disclosure here

1 - Mogo explicitly disclaims any and all liability for any losses that you may suffer as a result of the discontinuance of the MogoCrypto (bitcoin) product and/or its Rewards Program. For more information, refer to the MogoAccount Terms and Conditions and the MogoCrypto Terms and Conditions.

2 - Your account will be opened with Coinsquare Capital Markets Ltd., a new IIROC dealer member.

3 - The MogoTrade app is owned by Mogo Finance Technology Inc., a wholly owned subsidiary of Mogo Inc. Your investment account is opened with MogoTrade Inc., an order execution only broker registered with IIROC. Accounts with MogoTrade Inc. are currently only available by invitation to MogoMembers in Canada (excluding Quebec) that have passed identity verification.