How Are Mogo's Trees Planted?
Going the extra mile.
Let's talk trees!

When you tap your MogoCard, we plant a tree on your behalf. Yep—every single time. It's part of our push to help fight climate change; to help make Canada climate positive; and to help Canadians save money while making the world a better place.  

Pretty cool right?

When we announced this initiative, we got tons of questions from Mogo users. Emails, comments, DMs, you name it—our community wants to make sure we're being held accountable. We think this is fantastic, and we're super happy to provide more information.

In our first blog post on Code Red Mode, we explained where our trees are being planted. You can read that blog post here.

Today, we're talking about *how* our trees are being planted.

What Kind of Trees Are Being Planted?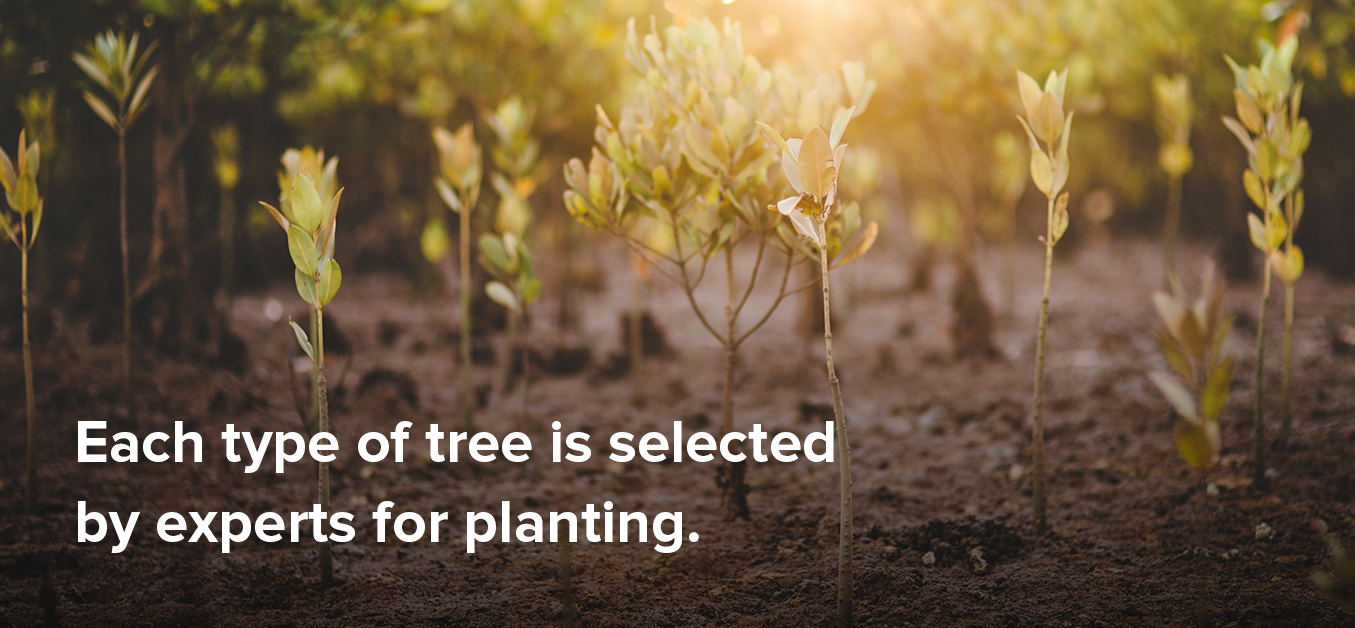 So what's the deal? You tap your card, and a tree gets planted. But what kind of tree?

Great question. Because this really matters! The kind of tree must match the region it's being planted in. So the short answer is that we're planting a bunch of different kinds of trees.

Our trees are planted through our partner veritree, a company which helps fund and monitor restoration projects including reforestation efforts all over the world. When you tap, we fund veritree, veritree funds one of their partners, and a tree gets planted.

Each type of tree is selected by experts for planting. They use scientific research to determine what kind of tree will best suit a given region. They make this choice based on a number of factors, including the likelihood of the tree's survival, it's nativity to the region, how the tree will support recovering biodiversity, and how the trees can fight climate problems like soil erosion.

We're partnered with the Eden Reforestation Project through veritree, and they plant in a ton of different places.

In Madagascar, for example, they're working hard to restore mangrove forests, including the introduction of a variety of dry deciduous species. "Mangrove forests are essential ecosystems," the Eden Reforestation Project writes, "whose dense roots serve as an anchor for the soil and coastline, preventing erosion and creating a barrier against harsh weather."

The goal isn't just to plant a bunch of trees willy-nilly and not care what happens five or ten years down the line. Planting trees in this strategic manner is meant to help restore those environments to their natural, beautiful state.

How Are Mogo's Trees Planted?

Followers also asked two really insightful questions: do you plant the trees in rows? And, are you planting monocultural stands?

In short, no and no.

These questions are important. Planting trees in neat, gridded rows may be easy, but it's not how trees generally grow in nature. If the trees are planted too far apart, the soil can erode; if they're too close together, they can crowd one another.

A "monoculture" refers to planting only one type of tree. In nature, you can imagine, it's rare to find a forest with only one kind of tree! This kind of planting isn't as productive as it could be, and it can actually be harmful to the land and the other species that live there.

The Eden Reforestation Project knows that. They use a variety of planting methods (suited to the species they're planting and the region they're in) to build out biodiverse forests as they would have naturally occurred. This includes mixing species, relocating crowded saplings, and ensuring that planting methods encourage natural growth.

You can click here to learn more about these planting methods. It's pretty amazing stuff.

Who is Planting Mogo's Trees?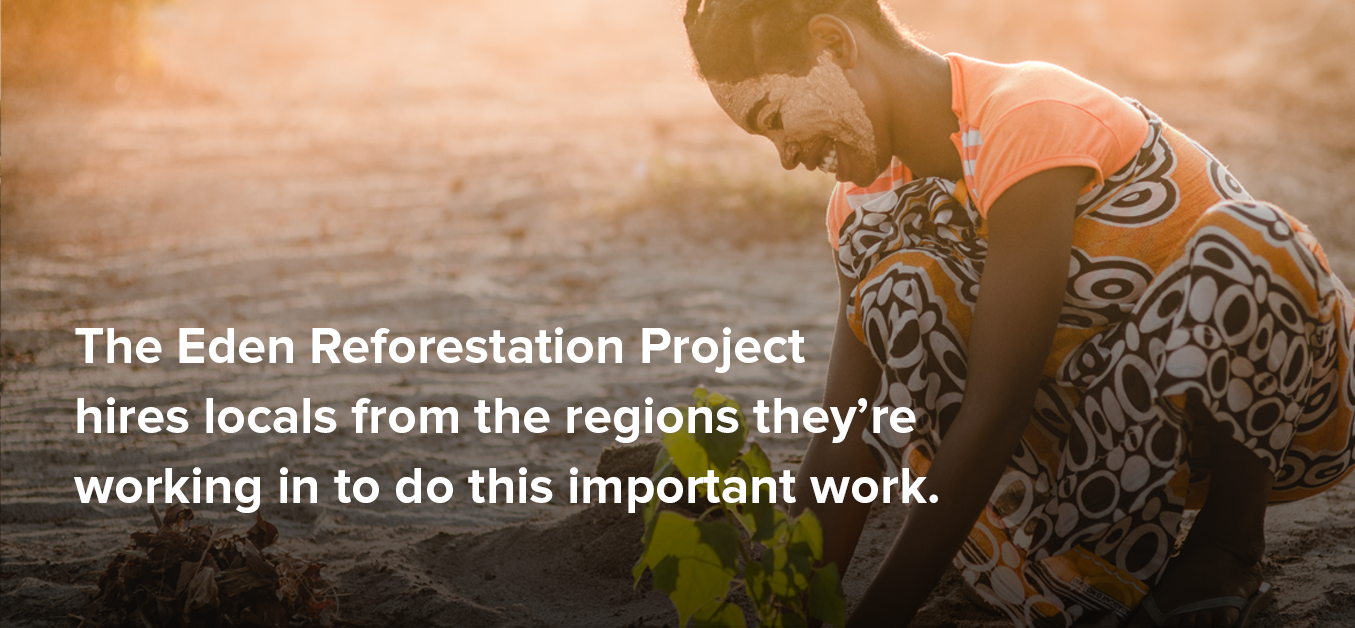 So who are the people cultivating those seed balls, relocating those mangrove propagules, and delicately harvesting those baby trees on the way to their new home?

The Eden Reforestation Project hires locals from the regions they're working in to do this important work. These are folks that know the region, know the species, and that benefit from regular employment. Many of the countries that Eden works in have large Indigenous populations, including many communities that materially lived off the land before deforestation really set in.

By hiring locals, Eden is able to support members of those communities while helping them heal the lands.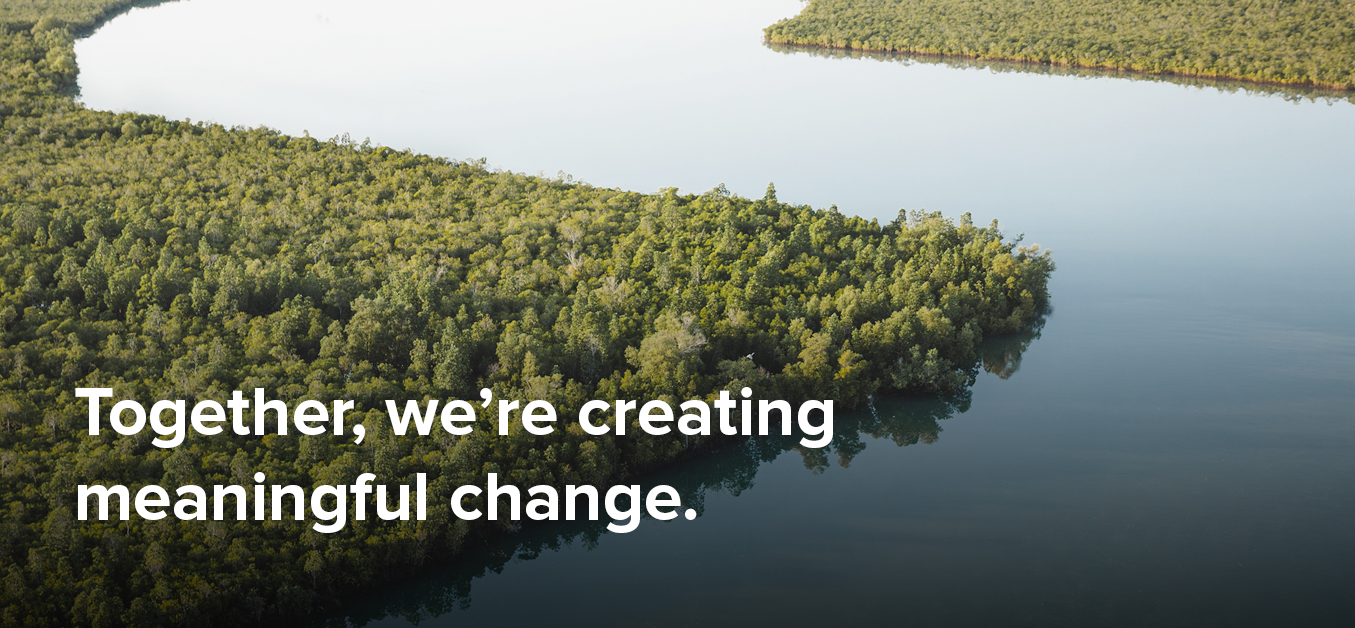 So that's the gist! We're not interested in cutting corners, or using this initiative as a publicity stunt. Together, we're creating meaningful change. In 100 years, those forests will probably still be standing. That's pretty cool!!

Care to join us? Sign up for your free MogoCard today and start planting trees! Let's go!

This blog is provided for informational purposes only.

*Trademark of Visa International Service Association and used under licence by Peoples Trust Company. Mogo Visa Platinum Prepaid Card is issued by Peoples Trust Company pursuant to licence by Visa Int. and is subject to Terms and Conditions, visit mogo.ca for full details. Your MogoCard balance is not insured by the Canada Deposit Insurance Corporation (CDIC). MogoCard means the Mogo Visa Platinum Prepaid Card