How to Find the Best Mortgage Broker for Your Needs
We've got some suggestions.

Are you ready to buy a home? Congratulations! Becoming a homeowner is a huge milestone. If you've started looking into getting a mortgage, you might already know that becoming a homeowner can also be a huge pain in the ass.


Mortgages can be complicated, and it's important to get it right. Between your interest rate and type, your amortization period and initial mortgage term, and possible hidden expenses, there's a lot to consider.


But don't stress—you're not in this alone. MogoMortgage can help you get your mortgage funded and your dream home bought.1



Although we obviously love our MogoMortgage team, you should do your own research into what makes a broker right for you. Learn some aspects Canadians should look for in a great broker here!

How to Find the Best Mortgage Broker for Your Needs
Not all brokers are made equal, and brokers are only allowed to provide services in the provinces they're registered to work in. So what are the differences in brokers, and what makes the best mortgage brokers in Canada?

What's a Mortgage Broker?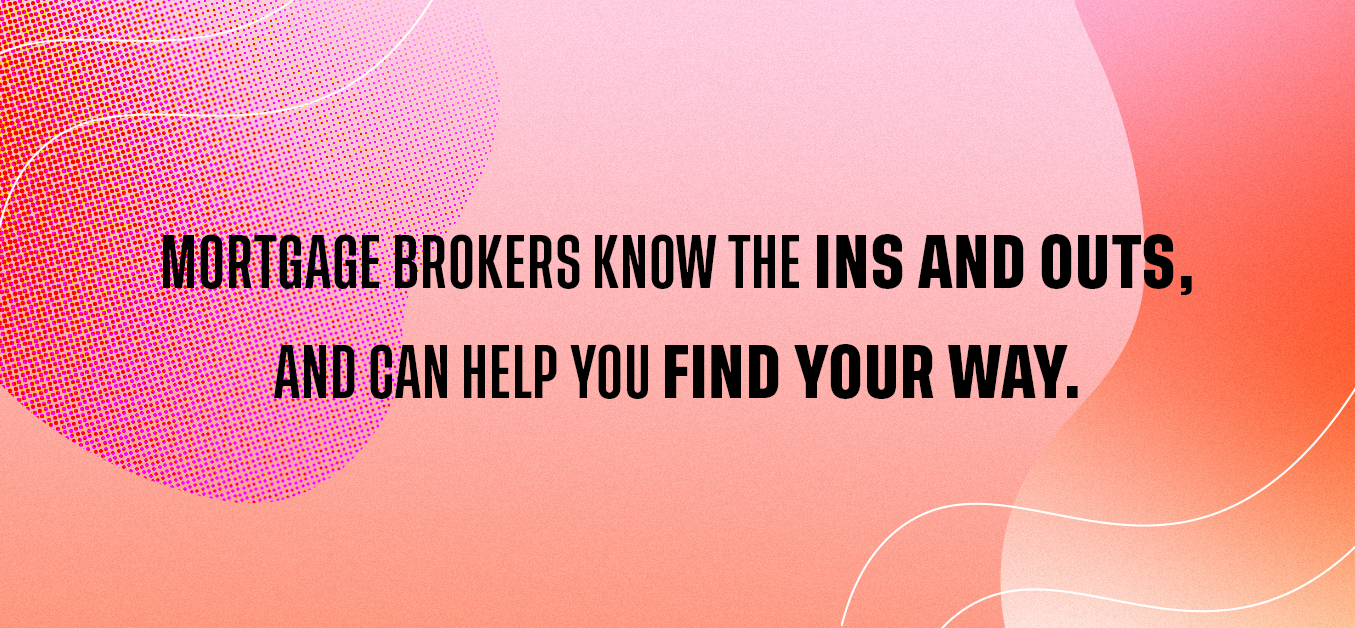 A mortgage broker is a licensed professional that works as a "middleman" to connect you (the borrower) with potential lenders. Because brokers aren't tied to one specific lender, they can generally give you advice on the best mortgage deals and rates.

They gather all of your information (like your income, credit score and down payment amount to name a few) and can help you select a lender. Then, they can help you apply for your mortgage and support you through the funding process.

You can think of brokers like mortgage-whisperers. They typically know the ins and outs, and can help you find your way.

Make a List of Potential Brokers

The first thing to know about mortgage brokers is that generally they're heavily regulated by the provinces they work in. So you'll have to find a broker licensed in your province.  If you need help finding a mortgage broker, you can turn to Google or to your Better Business Bureau for recommendations, or even ask friends who've recently had a good experience with a broker.

Then create a long list of potential brokers. Read up on reviews from previous customers, testimonials, and scope out the brokers' websites.

Questions to Ask Your Mortgage Broker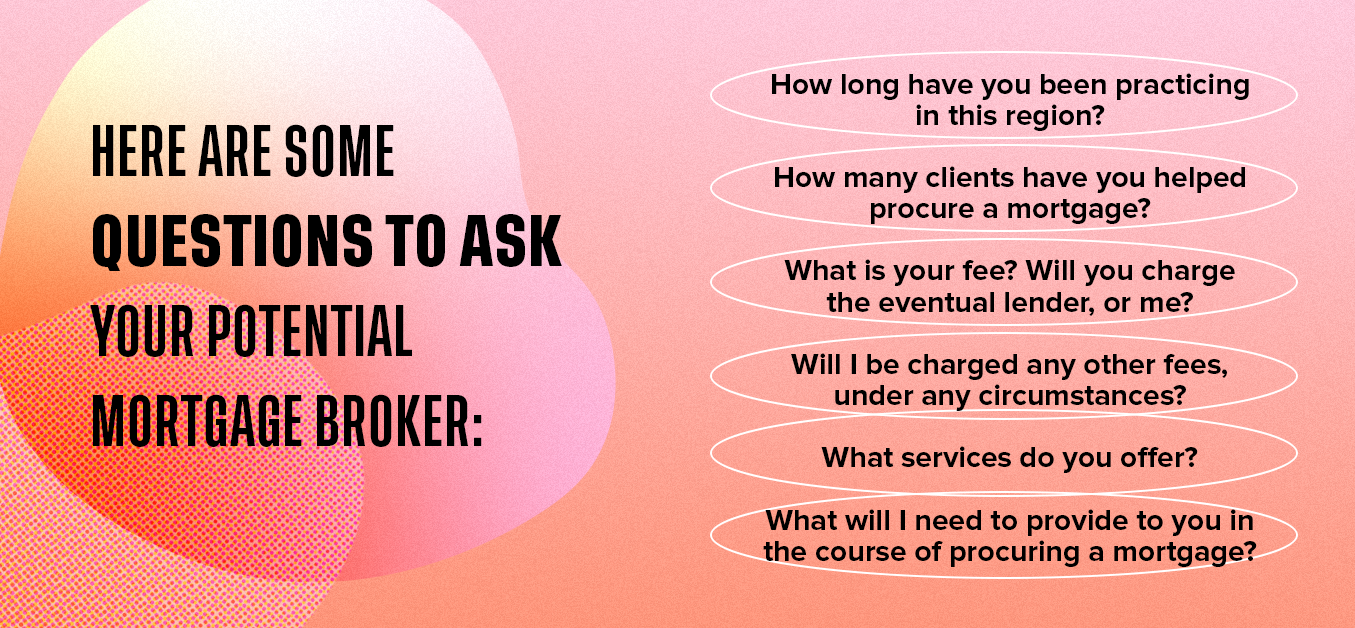 From your long list, narrow it down! Select three to five brokers you'd like to get to know a bit better. You can always reach out to these brokers for consultations to get a feel for the broker and the services they offer.

It's a good idea to take a list of questions to ask each broker. Having a prepared list can help you compare the services of each broker against the others on your short list, and can help get you the info you need to make a good decision.

Here are some questions to consider asking your potential mortgage broker:
How long have you been practicing in this region?

How many clients have you helped in procuring a mortgage?
What is your fee? Will your fee be paid by the lender, or by me?
Will I be charged any other fees, under any circumstances?
What services do you offer?
What information will I need to provide to you in the course of procuring a mortgage?



Decide on Your Mortgage Priorities

Now, consider what matters most to you during the mortgage experience.


The services and experience that brokers offer will vary. For example, MogoMortgage comes with a super sleek app interface that helps you track your repayment progress.



Our MogoMortgage team is also always here to answer your mortgage questions and provide support whether you're a first time buyer or if you're renewing or refinancing.


We also don't hold out on finding you the lowest rates, and we're chock full of top shelf tips and tricks to help you make the most of your money. That's the MogoMortgage experience.

Consider Broker Reputation

Always read the reviews. Whether you're buying a couch online or picking a mortgage broker, it's important to do your research into what others are saying.

Are there any negative reviews? Is there a theme or pattern that emerges in those reviews, or do they seem like one-off complaints? A pattern of negative reviews can reveal a real shortcoming of a given broker, and you might want to steer clear.

Are the positive reviews authentic? Yeah, we're in the age of fake reviews. Of course we are. Look through the reviews and verify that they make sense, and that they were written by real people.

If in doubt, ask around. There are other pros in your area, like real estate agents or folks like the Better Business Bureau that can give you the down low on specific brokers.

Choose a Broker You Trust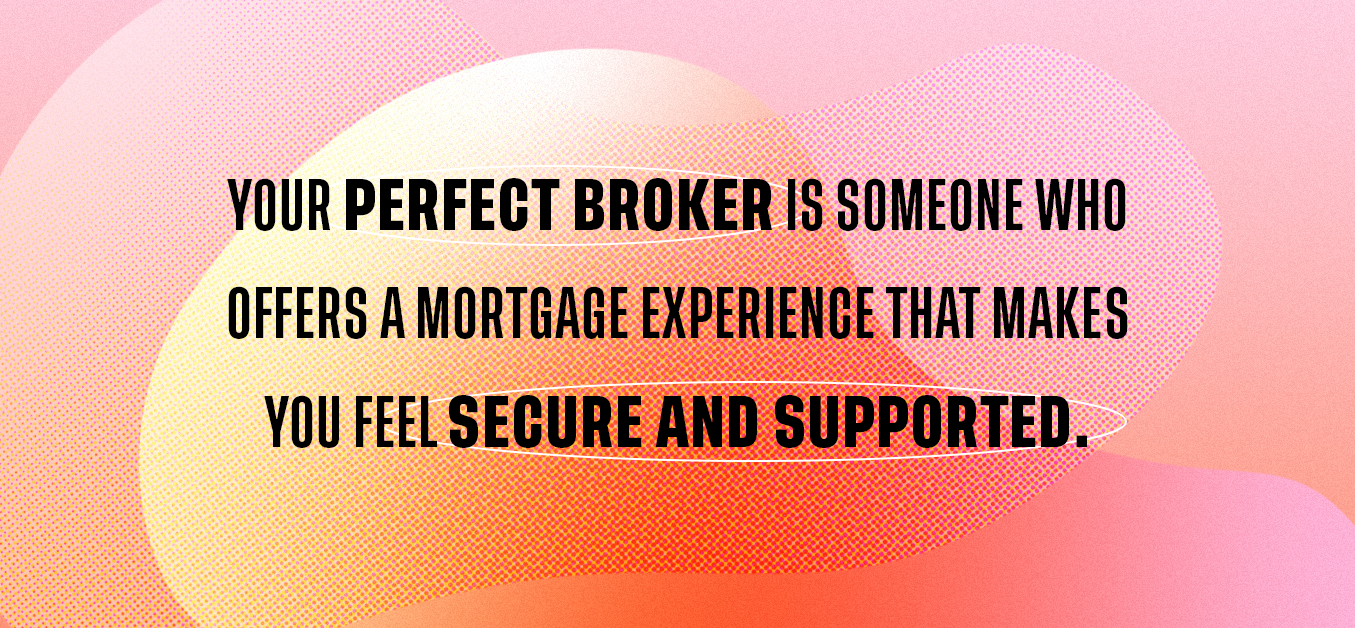 Ultimately, the broker you choose should be the broker you trust the most to help you achieve your goals. If a broker claims to offer the best rates in all of Canada but they give you the heebie-jeebies, think twice about moving forward with them.

You want your broker to have access to great rates, but you also want them to be well informed and to help you plan for the future as you enter into a new mortgage contract.

Your perfect broker is generally someone you feel you can trust; who can offer you super competitive rates; who offers a mortgage experience that makes you feel secure and supported; and who can answer any and all of your questions.

(Bonus points if you can get started in a matter of minutes online, like with our MogoMortgage team!)

Choose Mogo for Your Mortgage

MogoMortgage is redefining the way Canadians experience homeownership and shopping for mortgages.

It's a complicated landscape, and you want to be certain you've got the best mortgage product for you. At Mogo, our team is totally dedicated to helping you achieve your homeownership dreams.

Apply online today for your MogoMortgage. Let's get you funded!
This blog is provided for informational purposes only.

1-To apply for any Mogo product, you must open a MogoAccount and pass identity verification. The MogoAccount is currently only available to individuals in BC, AB, SK, MB, ON, NB, NS, PE, NL, YT, NT and NU. who have reached the age of majority in their province of residence. The MogoMortgage application is currently only available to MogoMembers in BC, AB, MB, ON, NB, NS, PE and NL that have met our underwriting requirements. MogoMortgage is offered by Mogo Mortgage Technology Inc. o/a MogoMortgage, a mortgage brokerage (Ontario: FSCO License No. 12836).