Vegas Highroller Getaway Winner
What happens in Vegas, stays in Vegas!
Wow this is it, the moment we've all been waiting for! We want to start by thanking everybody who participated by entering on Facebook or in one of our Mogo stores across Canada. We hope you had as much fun as we did sharing it with our friends and family and we look forward to bringing you more exciting contests this summer!

We are flying you and a friend to Las Vegas with $500 spending money! You'll travel in style with a limo airport transfer to the Planet Hollywood Hotel where you'll spend 3 nights on Mogo!
---
Weekly Bonus Prizes
All four of our weekly bonus prizes have been announced but in case you missed them here they are: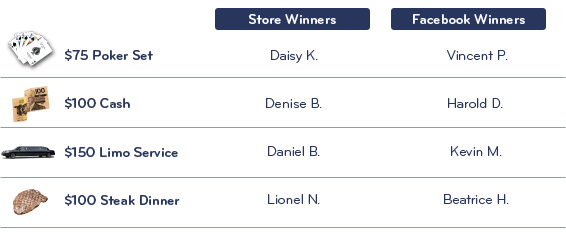 You helped raise $300 for the Make A Wish Foundation

We told you that for every Facebook wall share you made we'd donate $1 to the Make A Wish Foundation who grant wishes to children with life threatening medical conditions (up to $300).
Thanks to you spreading the word with your friends we maxed out the donation!
Again, we want to thank you for joining in the fun and also invite you to contribute ideas for future contest or give us feedback at http://support.mogomoney.com/mogomoney.
Finally, if you've never used Mogo before check out our website for more information on how you can get up to $1700 in your bank account in 1 hour, guaranteed!