Canada's Top 5 (free) Cinemas Under the Stars!
With temperatures finally in the 20s across the country, it looks like we have the makings of another great Canadian summer on our hands. And what better way to enjoy it than with some cinema al fresco? We've rounded up five of the best outdoor cinematic experiences for your viewing pleasure…and best of all, each of these events are free!
Calgary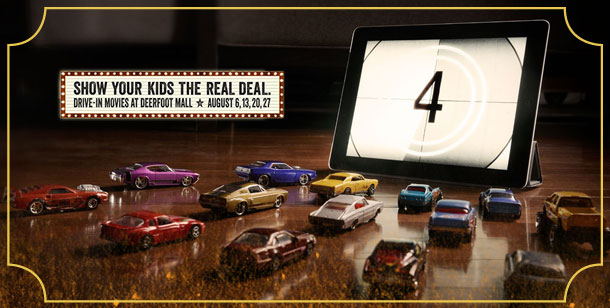 In the mood for a retro movie night? Get a dose of nostalgia without breaking the bank at the Deerfoot Drive-In every Wednesday in August. Hosted in Deerfoot Mall's west parking lot, the selection includes classic flicks beloved by 80s babies, like Back to the Future, Ghostbusters and Jaws. The movies start rolling at 9:30 p.m., but the gates open at 5 p.m. so you have time to grab a primo spot before the show.
Toronto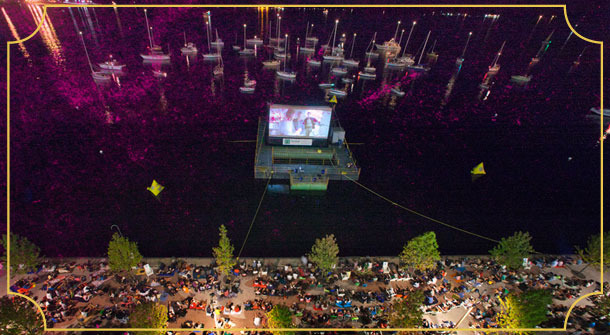 If a drive-in isn't your thing, how about a sail-in? This August, Toronto's Sail-In Cinema will host the world's first double-sided floating movie theatre. Sail-In is a three day event that happens August 14-16, with a lineup of movies to be chosen by votes (check out the contenders). Those who prefer dry land can take in a screening from Sugar Beach, while sailors are welcome to boat on over to the city harbour for a prime viewing spot. Anchors away!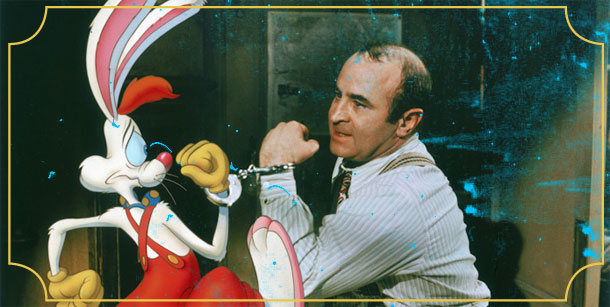 This summer, the Toronto International Film Festival breaks off a piece of cinematic goodness with its free TIFF in the Park series every Wednesday. Featuring a selection of documentaries, mockumentaries and cult classics, this year's theme is all about the world of entertainment: fame monsters, stardom and the dark side of showbiz. Word on the street is TIFF will also be hosting pop-up movie nights around T-Dot…stay tuned to TIFF.net for the deets!
Vancouver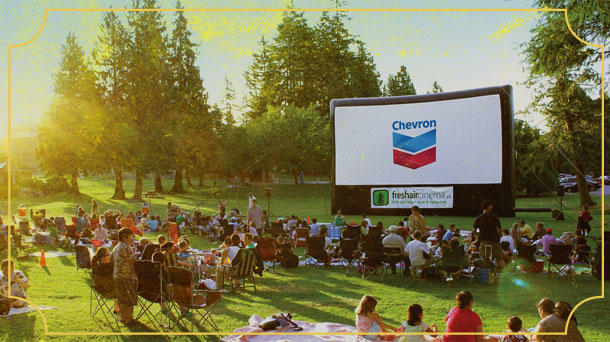 For an outdoor cinema in the best park in the world (so say the knowledgeable folks at TripAdvisor), swing by Stanley Park's Summer Cinema Series on a Tuesday evening. Held in the Ceperley Meadows, this year's lineup includes oldies but goodies like Footloose and Pretty in Pink. Next Tuesday, pack up a homemade picnic, roll out your blanket and voila – you've got dinner and a movie without spending a cent. You can thank us later!

Of course, we had to save the best for last…all summer long, Lords of Gastown will host the Lords Drive In & Social Club on Friday nights at 9 p.m. Held in the back of the Lords Compound, the crew will be setting up shop with a projector screen, a bar and even a pop-up barber shop and tattoo booth…just in case you feel like a close shave or some body art. Don't forget: it's BYOC (bring your own chair)!