The ESG Strategy For Ethical Investors
No investments are guaranteed, but ESG investments have something others don't.

If you don't feel good about investing in oil and gas conglomerates, there's another strategy out there you could consider. It's called ESG investing, and it's designed to funnel your investments into companies, technology, and people trying to make the world a healthier and happier place to live.


If you want to help make a positive impact on the planet, check out our brand new green bitcoin. It's the world's first ever climate positive way to invest bitcoin, and it's only on the Mogo platform.1 We'll explain more later, but you can click here to get the goods right away.


What Does ESG Mean?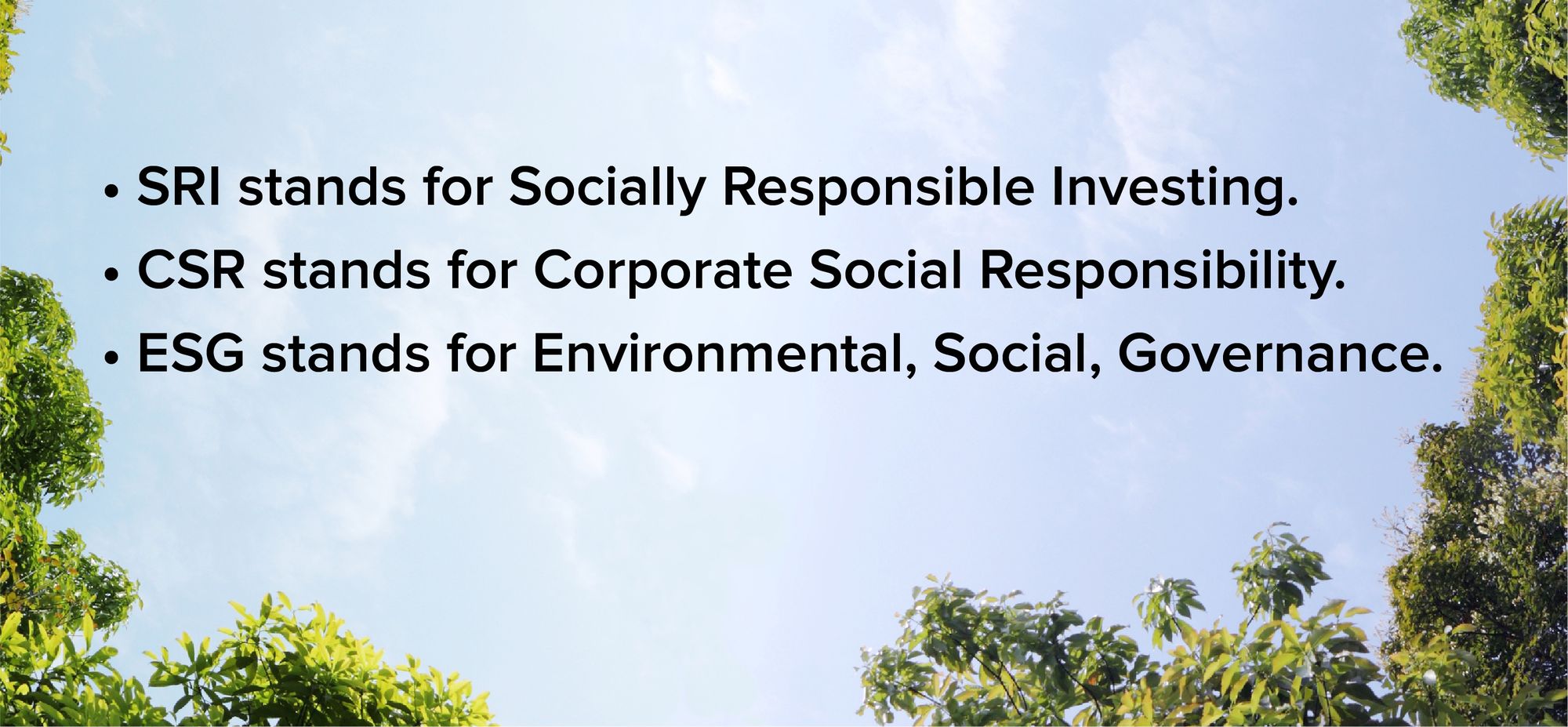 So what the heck is ESG? And how is it different from SRI and CSR? And what are those anyways?

First up, definitions:
SRI stands for Socially Responsible Investing

CSR stands for Corporate Social Responsibility
ESG stands for Environmental, Social, Governance



Each of these acronyms stands for a slightly different part of a sustainable, responsible investing ecosystem.

So if you're interested in Socially Responsible Investing, you might look to organizations with track records of Corporate Social Responsibility to ensure strong Environmental, Social, and Governance performance.

Should I Consider ESG Investments?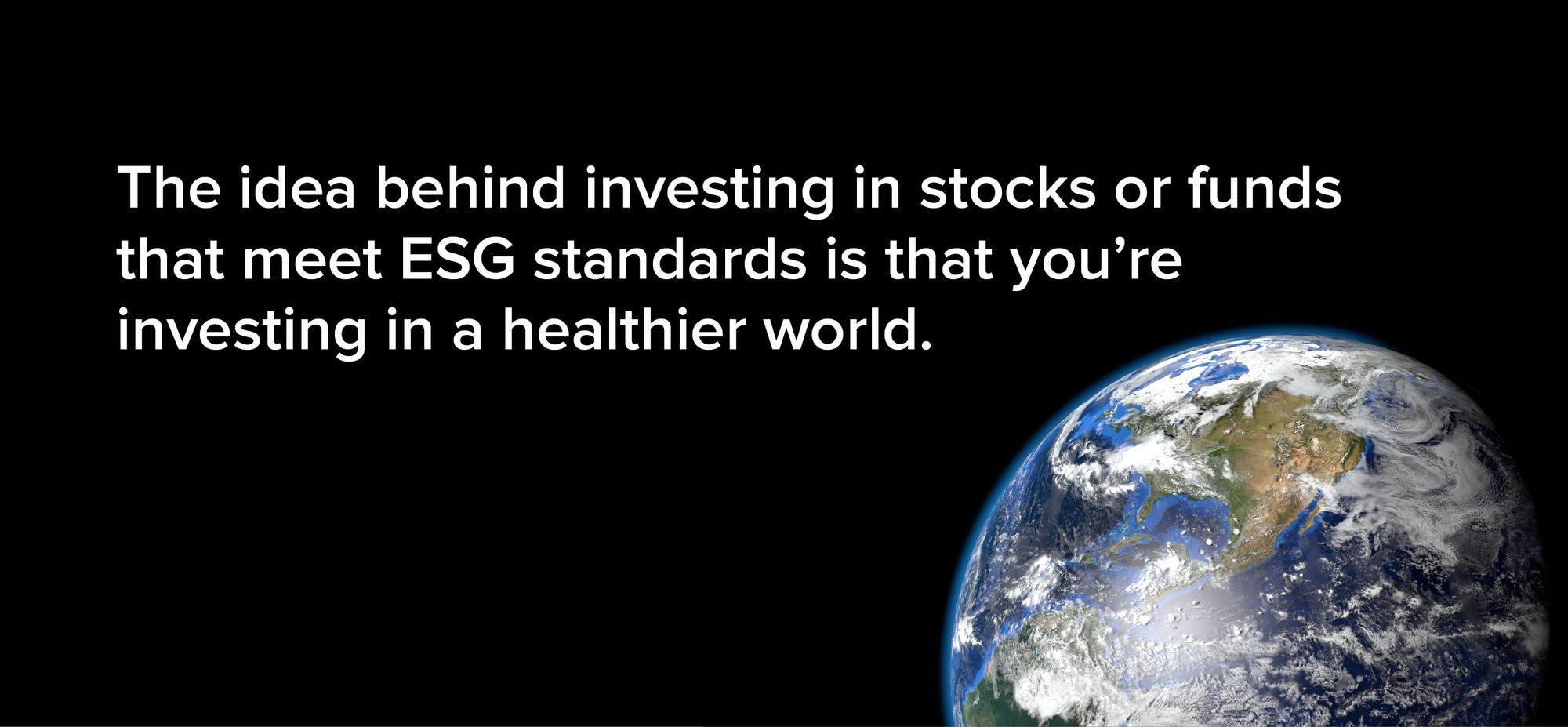 The idea behind investing in stocks or funds that meet ESG standards is that you're investing in a healthier world. These investment instruments are defining a new path for socially and environmentally conscious investors.

But there are other reasons that ESG-oriented investments are interesting and popular with some investors.

Responsibly Run Companies Might Tend to Perform Well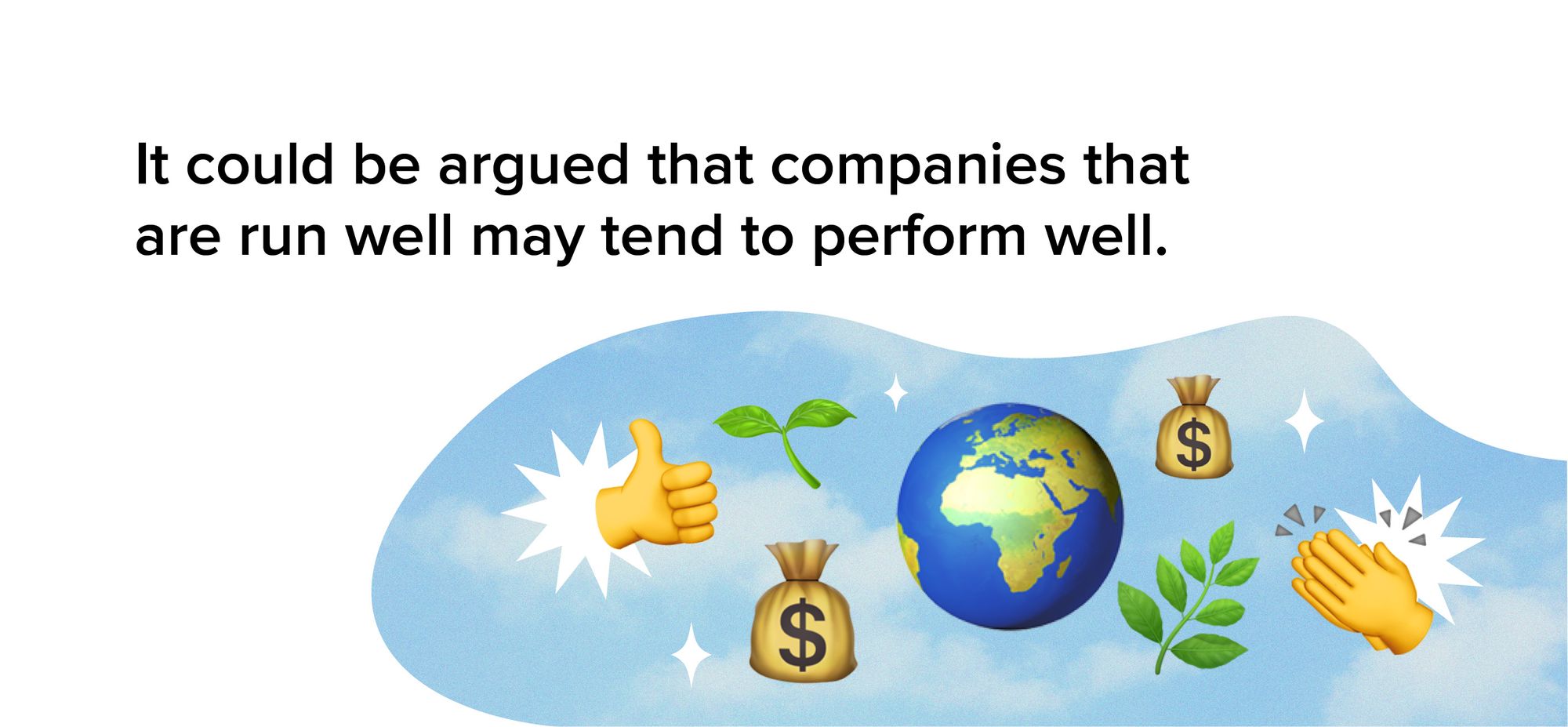 Then there's the commercial viability perspective.  It could be argued that companies that are run well may tend to perform well.

Meanwhile, companies that are unsustainable and get terrible press for inflicting damage on the environment? That could possibly worry investors, and share prices could fall.

Or, take companies with terrible track records for treating employees poorly and creating a sustained toxic work environment. High employee turnover can be a contributor to serious organizational instability, which again could potentially spook some investors.

Meanwhile, companies with diverse leadership, a commitment to environmental sustainability, and who treat their employees well? Those companies could be considered  some of the most stable and well run organizations which, in turn, could make some investors see them as a good investment.

Good people doing good business while having a good impact on the planet? It could pay!

Climate Change is Changing Investments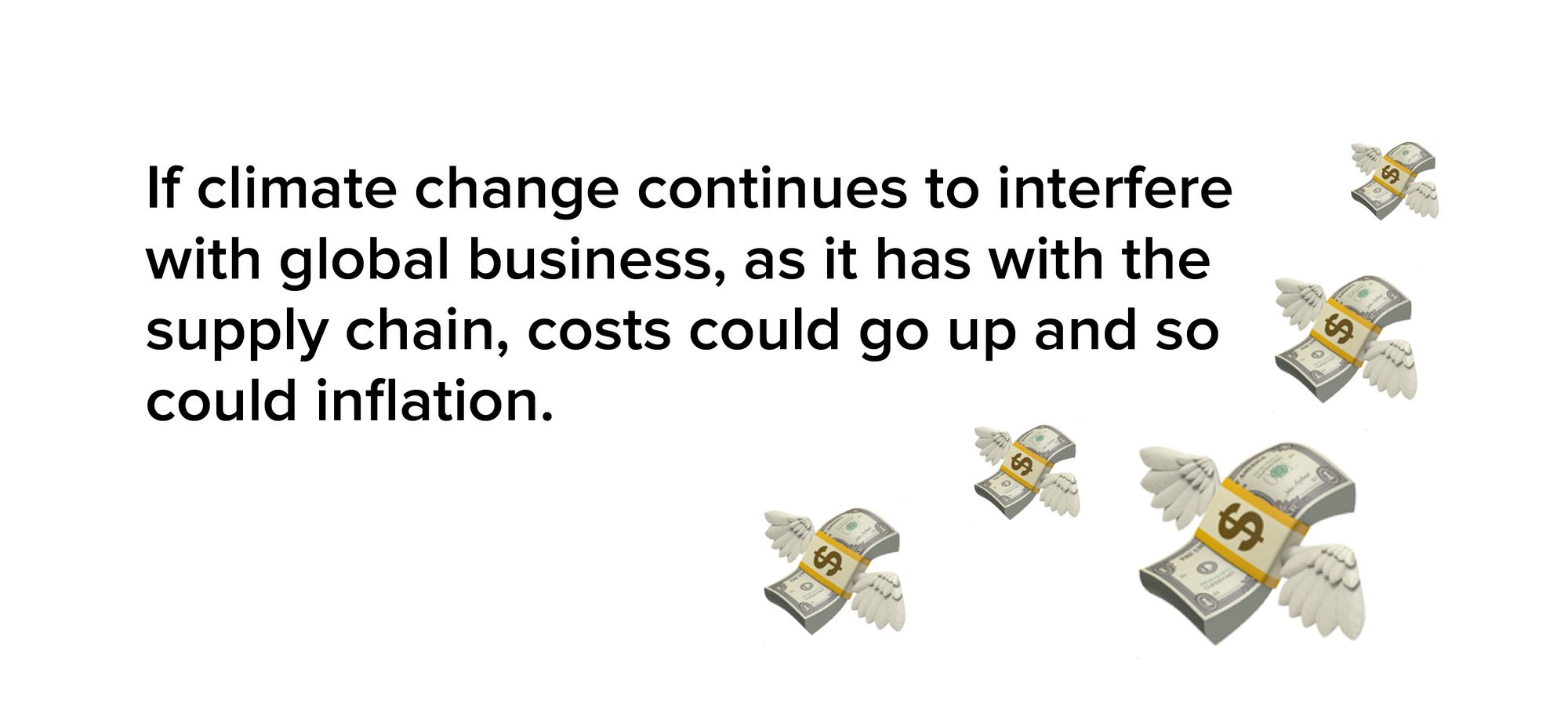 Climate change is altering our world—and how we carry on business.

Not only is extreme weather (and more!) interfering with the profitability of many publicly traded companies (think of the current supply chain crisis), climate change threatens the idea that our investments will really be worth anything.

This isn't just doomsday thinking. Yes, it's true that if the planet is on fire, your hard earned fiat currency will be way less important than stuff like, dunno, food.

But if climate change continues to interfere with global business, as it has with the supply chain, costs could go up and so could inflation. And we all know what inflation can do to your cash: devalue it!

ESG tries to solve this problem by changing the systems that got us into this climate change pickle in the first place.

If we had to reduce this point to a platitude, we'd say: don't be part of the problem, be part of the solution.

Ethical Investing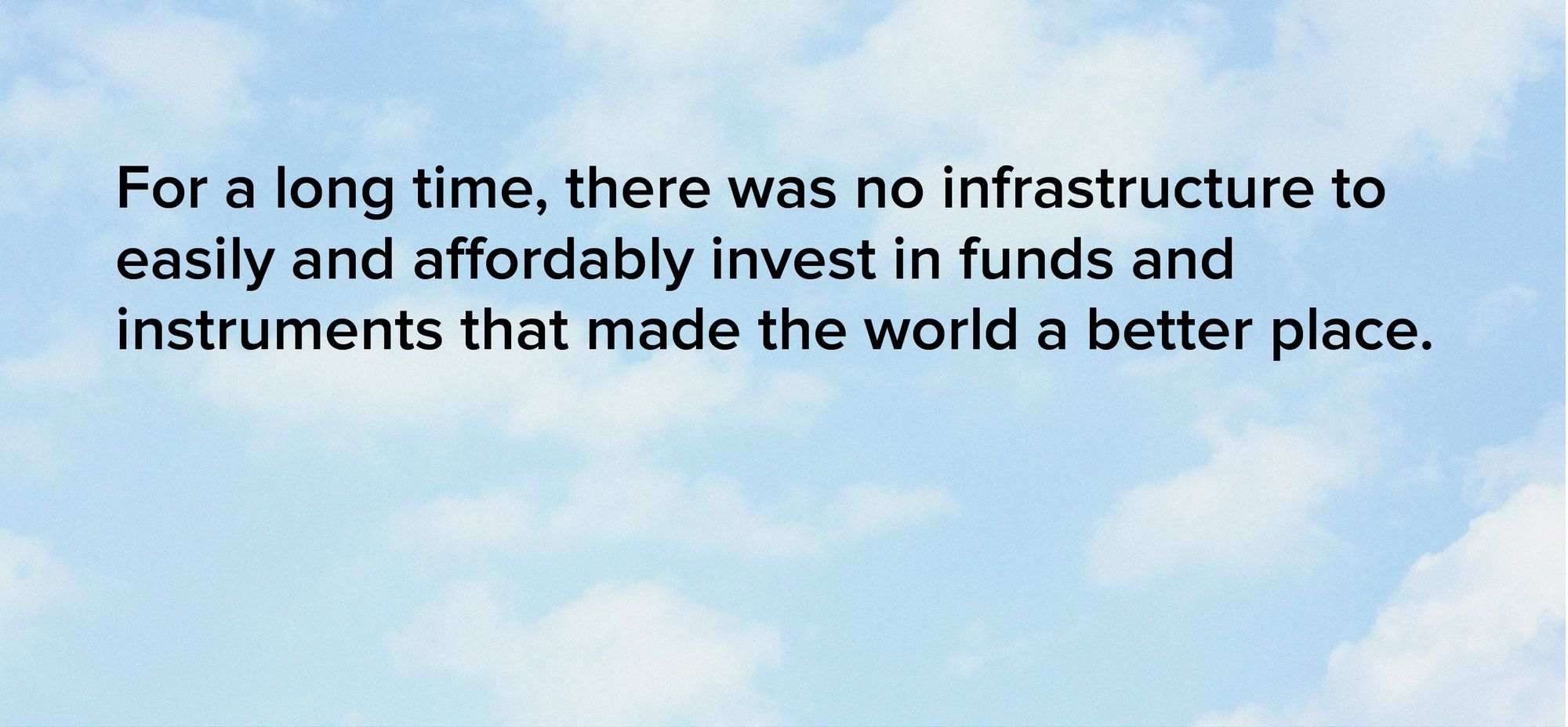 Perhaps the most important aspect of ESG investing is this: you can feel good about it.

For a long time, there was no infrastructure to easily and affordably invest in funds and instruments that made the world a better place. It's really only the last decade that any of these funny little acronyms have gained any traction in the investment world.

But we're glad that this important issue is finally getting noticed.

Everyone's circumstances are different, so you should talk to your advisor and do your own research before you set off to ESG-ify your investments or make any investment decisions for that matter.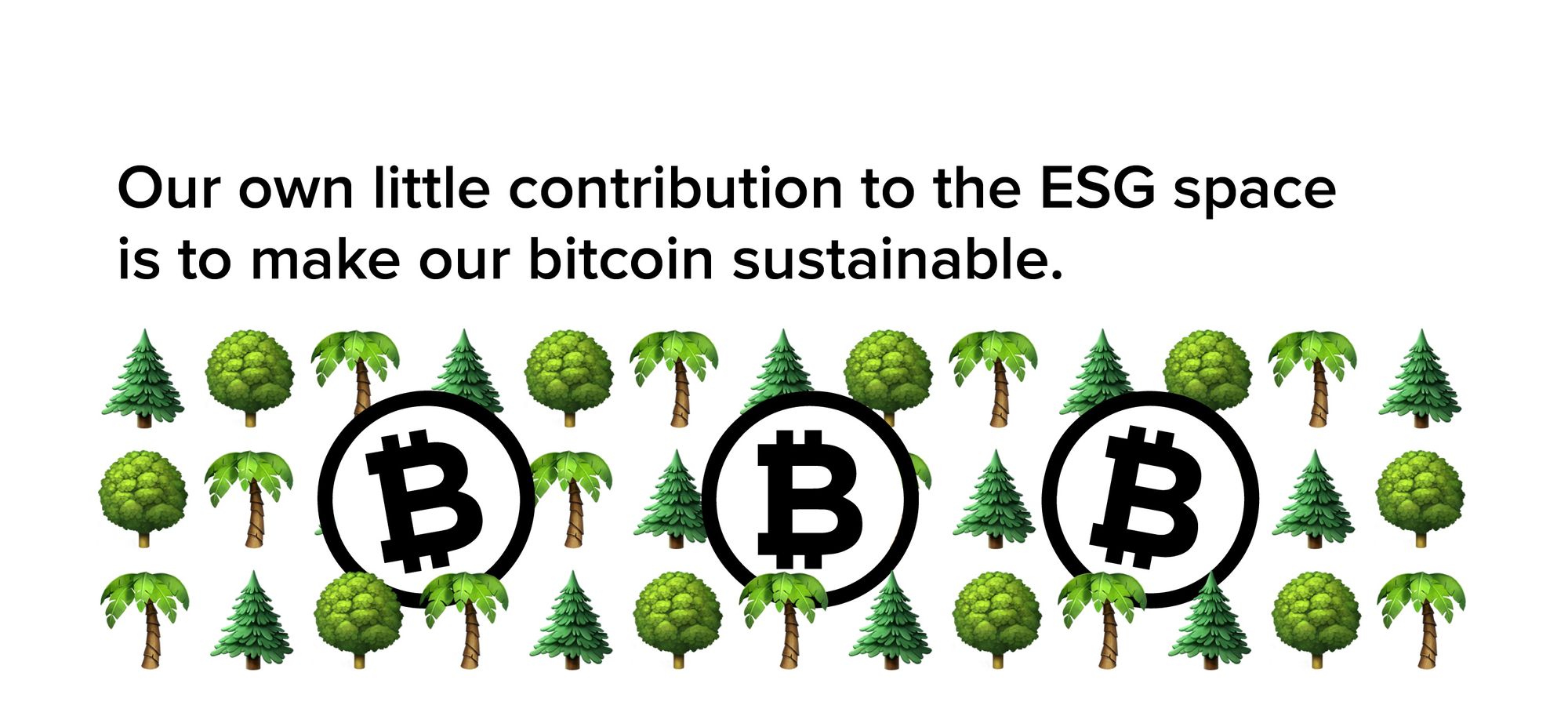 We mentioned our green bitcoin earlier, right? Bitcoin mining produces about 421,000 lbs of CO2 per bitcoin—yeah *per* bitcoin!—which, annually, means that cryptocurrency has the same carbon footprint as a small country. Not cool.

Our own little contribution to the ESG space is to make bitcoin sustainable. Mogo will offset the carbon generated from mining the bitcoin held on its platform, by planting enough trees to completely offset the impact of its mining and then some. So, if you buy a whole bitcoin, we'll offset 500,000 lbs of CO2—making your purchase of bitcoin climate positive.

And our MogoCard is still doing its tree planting thing, too. Every time you tap, you plant a tree!

We're the first in the world to launch an initiative like this, and we'd love to have you on board. Let's make Canada—and the nation's bitcoin—climate positive, together.

This blog is provided for informational purposes only, is not intended as investment advice, and is not meant to suggest that a particular investment or strategy is suitable for any particular investor. If you're unsure about an investment, you may wish to obtain advice from a qualified professional.

*Trademark of Visa International Service Association and used under licence by Peoples Trust Company. Mogo Visa Platinum Prepaid Card is issued by Peoples Trust Company pursuant to licence by Visa Int. and is subject to Terms and Conditions, visit mogo.ca for full details. Your MogoCard balance is not insured by the Canada Deposit Insurance Corporation (CDIC). MogoCard means the Mogo Visa Platinum Prepaid Card.

1-Nothing herein should be considered an offer, solicitation of an offer, or advice to buy or sell securities. Buying and selling bitcoin is risky and you may suffer losses. The price of bitcoin is highly volatile and speculative and so you should never invest more in bitcoin than you can afford to lose. It's also important to remember that past performance is no guarantee of future results. Mogo will offset the approximate carbon footprint generated from mining the maximum aggregate number of bitcoins held on its platform at any given time (as determined from time to time).