Mogo x Underground Chef Co. Speaker Series
▶ Calling all foodies 🍺 🌮 🍷
---
We're bringing you an exclusive behind-the-scenes encounter with some of the hottest chefs, food bloggers, and restaurant industry influencers in the country.
From August 8th to 12th, our Mogo x Underground Chef Co. Speaker Series will be coming at ya live from the MogoLounge. In partnership with Openly Talks, we'll be streaming interviews with the best-of-the-best in Toronto's culinary scene. Get ready for a raw, uncut experience with the baddest in the biz.
![](/content/images/2016/08/mogo_underground-chef-co_openly_toronto-2.jpg)
Openly Talks and The Underground Chef Co. are both huge connectors in the industry. From hosting chef battles with to-be-discovered chefs in Toronto, Montreal and Ottawa, to creating fresh, real content - they both bring together and showcase influential leaders and entrepreneurs. We love that their platforms are fueling the community in a meaningful and connected way.
![](/content/images/2016/08/mogo_underground-chef-co_openly_live-stream.gif)
Curl up in your office chair over your lunch break, and watch as renowned Chefs like Joe Friday whip up signature creations while answering questions from Gastroposters, YouTubers, and other influencers. Financial Fitness Coach, Chantel Chapman, will be grilling (pun intended) them on their best Adulting tips in her always-entertaining style.
▶  Hosts 🍳 📚 💰 
---
Chef Mike Ward
Financial Fitness Coach, Chantel Chapman
▶  Speakers 🎙 🍻 🍝
---
Monday–Chef Paul Boehmer, Boehmer Restaurant
Tuesday–Chef Craig Wong, Patois
Wednesday–Chef Michael Hunter, Antler Kitchen Bar
Thursday–Chef Devan Rajkumar, Culinary and Food Expert
Friday–Chef Amreen Omar, Bombay Street Food
---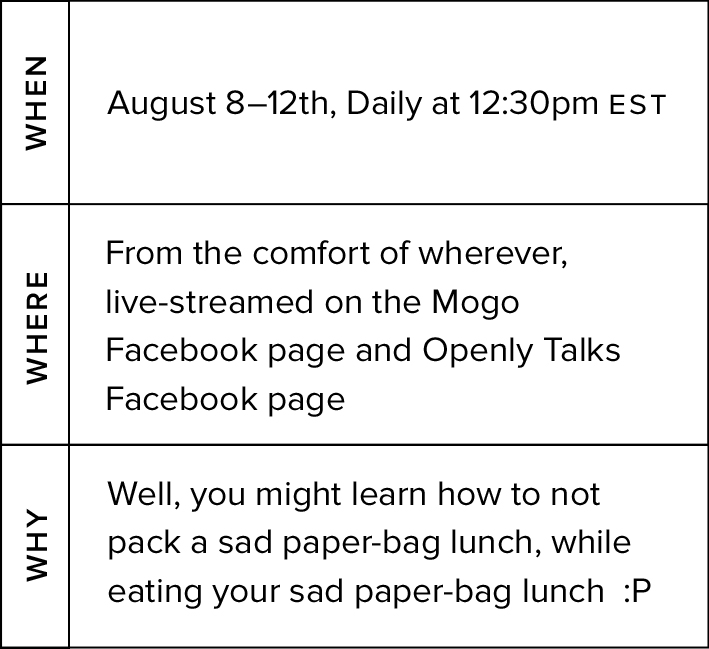 ---
![](/content/images/2016/08/mogo_benefit39_valueprop_1.gif)
Not a MogoMember? Sign up now so you can get more discounts on cool stuff.