Sounds… pointy.
There's been lots of chat in the news about the animal classification of certain financial markets—are we in a bearish period? A bullish one? Neither?!

But what do those terms mean in a literal sense, and what could  those market classifications mean for you?

Let's get back to basics! This series unpacks commonly misunderstood terms so you can level up your financial vocab. Today: bull markets!

What's a Bull Market?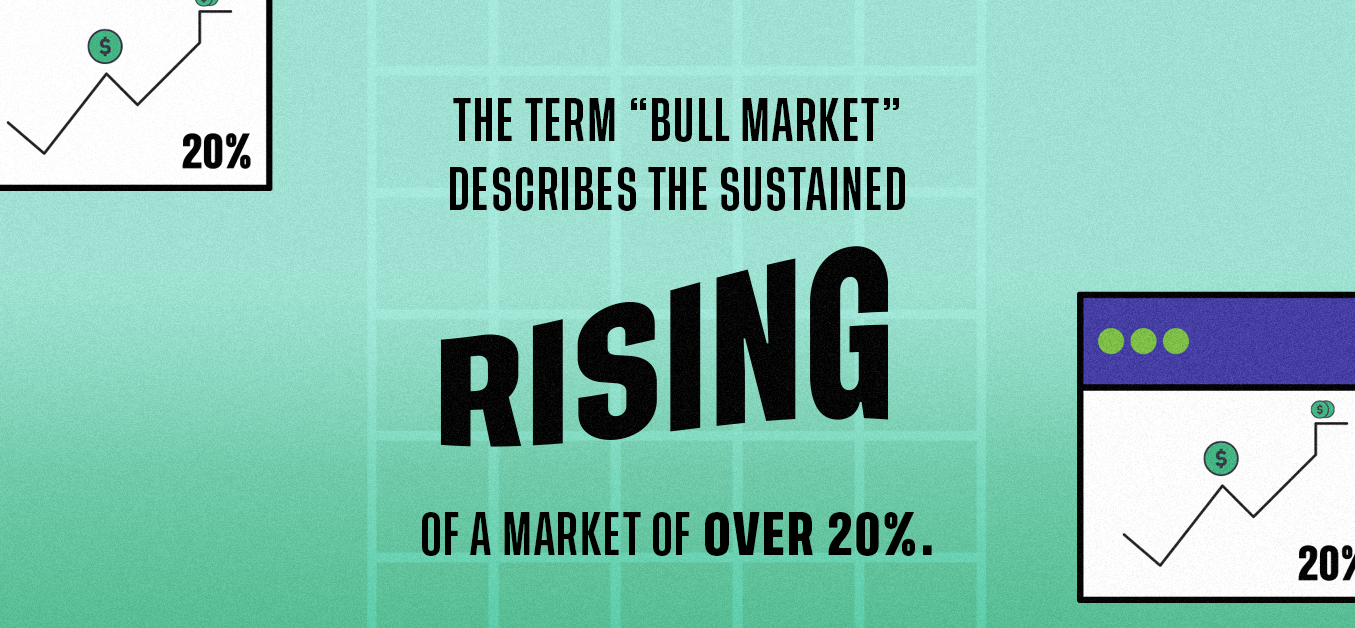 The term "bull market" can be used to describe the behaviour of any market where things are traded. Typically, we use it to refer to the continuous rising of prices in the stock market.

Like a bear market, which refers to a sustained drop in prices of over 20%, the term "bull market" describes the sustained rising of a market of over 20%. This 20% marker is arbitrary, but it is widely accepted that when prices rise past this point and show signs of further probable growth, that market is "bullish".

Bull markets can last for months or even years.

The Phases of a Bull Market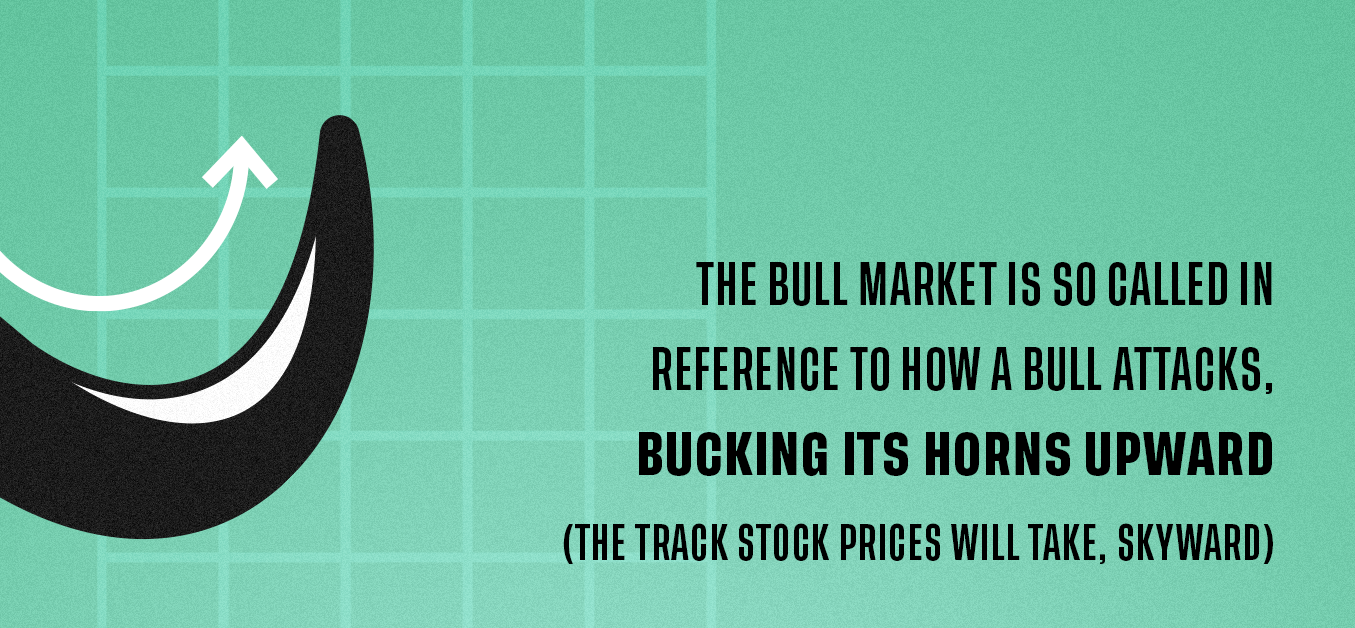 Bull markets—like bear markets—can coincide with or even precipitate wider economic change.

The bull market is so called in reference to how a bull attacks, bucking its horns upward (the track stock prices will take, skyward), or by the notion that bulls get charged up and race around (a reference to increased economic activity) when provoked.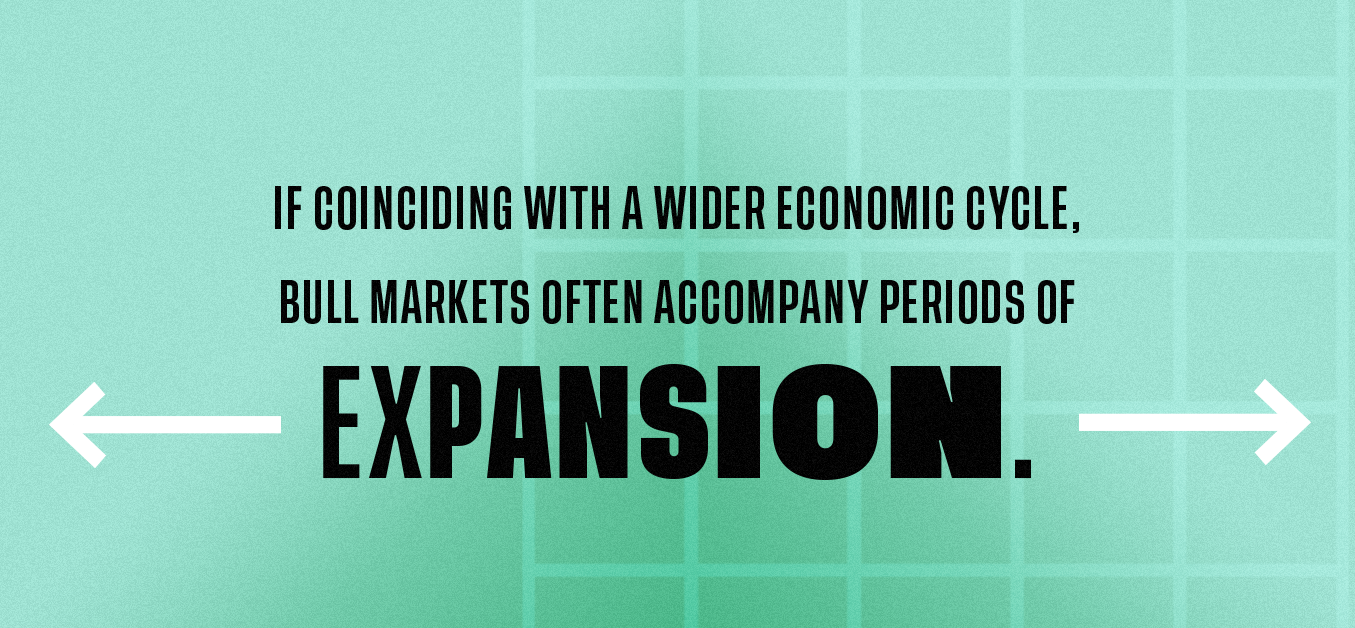 If coinciding with a wider economic cycle, bull markets often accompany periods of expansion. Investor sentiment is strong, employment is good, and the mood is optimistic.

As is the case in bear markets, bull markets are brought on and also produce high investor sentiment. Typically, bull markets may end if there is a serious shock to the financial system (like a pandemic!), or they can peter out over a period of time with the natural rhythm of the economy.

As a bull market is ending, they may give way into a bear market, which sees steep declines. Or, the market may simply grow more slowly, which is a gentler end to a bullish period.

Investing in a Bull Market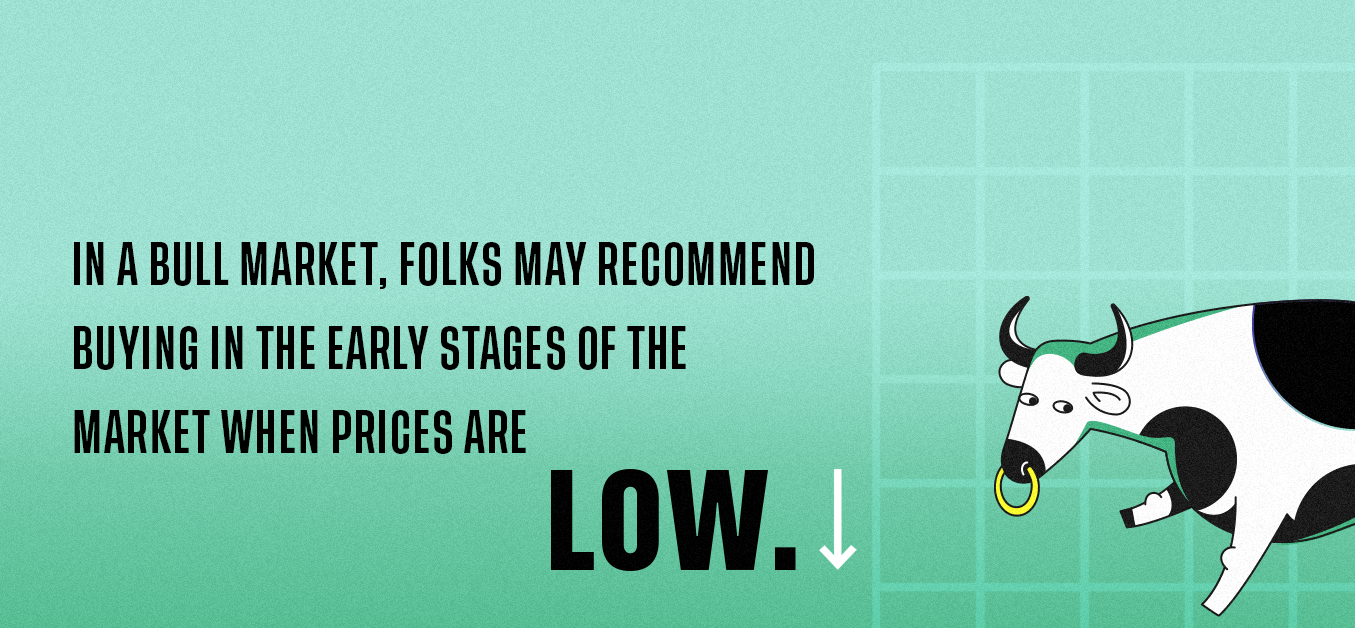 Strategies concerning investing in a bull market look similar to investing in a bear market. In a bear market, it could be beneficial to invest at the bottom of the market (because there's nowhere to go but up!).

In a bull market, folks may recommend buying in the early stages of the market when prices are low. Buying low and holding while the market appreciates presents a good opportunity to maximize gains.

Conversely, as bull markets proceed, prices will rise—making it more expensive to buy in, therefore diminishing your total possible gains. This is an example of the phrase "buy low, sell high" in action.

The trick? It can be very hard to time the market, and to recognize a bull market in its early stages.

Typically, buying and holding assets over a long period of time can make for strong returns. Others argue taking an active approach in a bull market, buying and selling assets rather than holding them, can be better.

The right strategy comes down to your comfort with risk, your investment goals, and your confidence in the market. If you want to try taking advantage of a bull market, it's best to consult with a financial advisor or broker to develop a strategy.

Ready to start investing?
You have two great options:
Moka, powered by Mogo, is an auto-investing platform that makes it easy to invest consistently to achieve financial freedom.
With Moka, you can automate your investing, skip the high fees and double your money compared to investing in a mutual fund.
If you want a more hands-on approach to your investing, you can start actively trading with our new commission-free stock trading app, MogoTrade.
It's the easiest way to trade stocks commission-free while erasing Canada's carbon footprint.
Whatever your decision, be sure to do your research and choose wisely. If you haven't already, there's no time like the present to get started investing. You got this!
READ NEXT: What's A Bear Market?
This blog is provided for informational purposes only, isn't intended as investment advice, and isn't meant to suggest a particular investment or strategy is suitable for any particular investor. If you're unsure about an investment, you may wish to obtain investment advice from a qualified professional.

All images, names, financial details are fictitious examples only. They do not represent real Moka or Mogo users, past or present, and are not testimonials or guarantees of any particular result. Past performance is no guarantee of future results. Any historical returns, expected returns or probability projections are hypothetical in nature and may not reflect actual future performance. Investment values are for illustrative purposes only.

The MogoTrade app is owned by Mogo Finance Technology Inc., a wholly owned subsidiary of Mogo Inc. Your investment account is opened with MogoTrade Inc., an order execution only broker registered with IIROC. https://www.iiroc.ca/