Artist Series: Q+A with Niklas Lundberg
![niklas-lundberg](/content/images/2015/04/niklas-lundberg.jpg)
Niklas Lundberg, born and raised in Umeå, Sweden, is known for his abstract and inspiring digital work.  Specializing in design and illustration he has worked with a wide range of international clients such as Nissan, Infiniti, Red Bull Racing and the Grammy's. His work has also been featured in various publications including IdN Magazine and Computer Arts.
Q+A with Niklas Lundberg

What inspired the Mogo Card design you created? Perhaps you can talk about where the elements come from and how everything comes together?
During the concept phase I was really inspired by dark sci-fi films like Prometheus / Alien. In the beginning I intended to go completely alien but then I came up with the idea of incorporating a guy to make the transformation. One of my colleagues Simon Sjödin was more than happy to participate in a quick photo shoot. Totally committed to the character, he screamed his guts out during the photo shoot. It was pretty intense!
Everything was built using Zbrush, textures, lots of line work and endless hours of grinding and obsessing over details.
Thanks to Robert Elmengård who helped me set up the lighting and take the final images.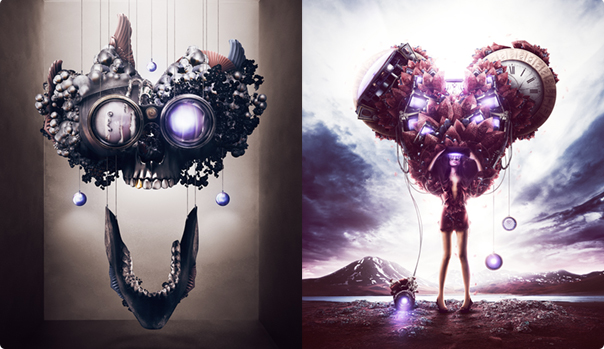 How did you get started as a designer/illustrator?
I kind of fell into it by coincidence. I got my hands on Photoshop when I was around 12 and could never stop fooling around with it. I've always loved creating and problem solving. The transition from a hobbyist to a professional has been an interesting journey. I always dreamt of doing freelance but it wasn't until I got my first big job back in 2009 that things took a turn. I got to work with Ars Thanea on a big worldwide campaign for Nissan. Afterwards I felt confident that I wanted to make my living this way.
How would you describe your design aesthetic?
Abstract, surrealistic and contemporary.

Can you briefly describe your creative process?
I usually start off with a subject that I find interesting and make a few quick drafts to try compositions, elements and colors. For client work, I usually have to follow a brief but for personal work I like a bit more freedom and sometimes the piece turns out completely different but often in a good way.
What inspires you the most?
Travel, art, architecture, life and music
Any words for the aspiring designers out there?
Keep creating. You need to love what you do in order to succeed. Never stop believing in yourself and don't forget to have fun along the way.

Check out Niklas' work at Diftype.com