"Mogovember" - Use our Prepaid Visa® Card to Help Raise Movember Bucks
Here at Mogo, we love creative solutions. That's why we want to join the Movemeber movement, harness the power of the Mo, and shine a spotlight on the important men's health issues that Movember addresses.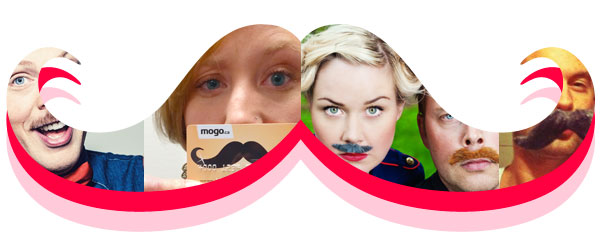 In addition to a few bristly upper lips around Mogo HQ, you'll see some extra moustaches on hand — with the totally refined "Stache" card. You know you want one!
You can help! Buy a card, and we'll donate $10.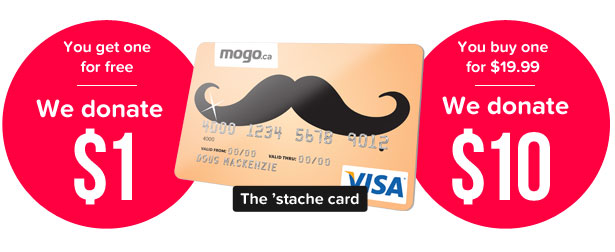 Get a prepaid Mogo "Stache" Visa card , and we'll contribute to the cause! That's right! For every "Stache" card sold, we're going to donate $10 to Movember. And, for every FREE "Stache" card ordered, we'll send an additional $1. Tell your friends, and help us raise awareness for men's health (and put a hilarious moustache into your wallet).
Don't forget, the first prepaid Visa card you order is FREE!

Visit our Mo Space to track our progress or to donate directly.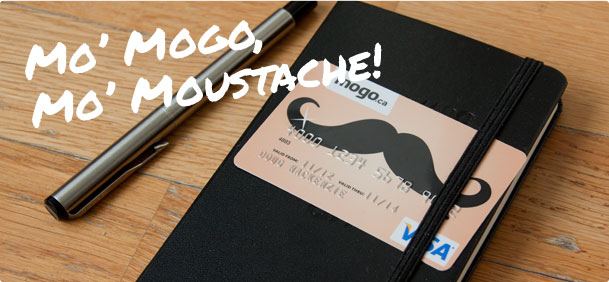 For those of you that are unaware, this is what Movember is all about:
From Movember: "As an official global charity, Movember's vision is to have an everlasting impact on the face of men's health. During November each year, Movember is responsible for the sprouting of millions of moustaches around the world. Through the power of the moustache, vital funds and awareness are raised to combat prostate and testicular cancer and mental health challenges."