Mogo My Balls Wins For A Great Cause!
Last night we (AKA Mogo My Balls) won the MOI Annual Charity Dodgeball Tournament in dramatic style by beating Lululemon in a sudden death tiebreaker game!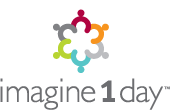 We raised $300 for imagine1day, a nonprofit organization that provides an opportunity for donors to be directly connected to projects that provide primary education for all children in Ethiopia, Africa. Click here to learn more and to donate!
We'll begin training again in a few weeks to further perfect our DUCK, DIP, DIVE AND DODGE techniques to defend our championship status next year!